Medical device maker Kensey Nash Corporation (Nasdaq:KNSY) had a rough go of it last year, what with a product recall, disgruntled investors and a business exit. What a difference a year makes: Kensey is now posting double-digit sales and earnings gains, perhaps at least somewhat consoling its ornery shareholders.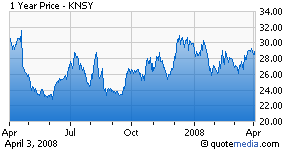 Kensey operates two businesses. Its core unit of biomaterial products — used in orthopedics (particularly sports medicine and spine), cardiology, drug delivery, oral care, general surgery and wound care — keeps investors satisfied. Biomaterials treat, augment or replace tissue and organs; they are used in a variety of resorbable or permanent implants.
Angio-Seal, a vascular closure device now manufactured and sold by St. Jude Medical Inc. (NYSE:STJ) was the Exton, Penn.-based company's first biomaterial success. Since 2001, the market share of Angio-Seal has more than doubled, to 65% from 31%, with nearest competitor Abbot Laboratories (NYSE:ABT) now at 30%, down from 43% in 2001.
Few have complaints with Kensey's biomaterial business. After all, net sales of biomaterials increased 15% to $11.5 million in the second quarter through December, led by a 67% gain in orthopedic product sales to $7.2 million. Sales of spine products increased 140%.
Kensey's endovascular business is what annoys investors, namely Ramius Capital Group, the company's largest shareholder. The institutional investment fund started amassing shares of Kensey last summer, after Kensey reported a disappointing quarter, a recall of an embolic protection platform and a more general miscalculation of market demand for its protectors against traveling embolisms. Kensey decided in July to halt its embolic activities and refocus on biomaterials and endovascular devices, which are used in a variety of medical procedures.
A maddening series of events, to be sure. So Ramius went activist and, by Dec. 31, owned just over 20% of shares. Ramius wants Kensey to refocus on its biomaterials business, and reduce spending and management effort on endovascular … or just get rid of it, among other ideas. Last fall, Ramius placed two of its own on Kensey's slate for board of directors. Kensey now has agreed to seek strategic alternatives for the business.
But despite it all — and not to mention competition from the largest medical device companies around — Kensey's sales of endovascular products increased 36% to $1.7 million in the second quarter ended Dec. 31, 2007, from a year ago; sales were up 22% sequentially. International endovascular sales more than doubled year over year. Growth in the United States was up 13% from the year-ago quarter, even though sales were slowed by a smaller-than-projected sales force. Attrition due to the uncertainty of the business was partly responsible for the reduction in sales people.
Total company revenues were $19.6 million for the second quarter, exceeding company guidance, and up 14% from $17.3 million in the year-ago quarter. Second-quarter net income was $2.61 million, or $0.21 per share, compared with $1.58 million, or $0.13 per share, in the prior-year quarter. Guidance for the third quarter through March calls for revenues of $20.3 million to $21 million, and earnings per share of $0.25 to $0.27.
Kensey's endovascular unit manufactures and sells products that address thrombus, or blood clot, management and vascular occlusive markets. Although money spent on research and development fell below year-ago levels in the first six months of the 2008 fiscal year, the company continues to improve its next generation endovascular products: "Those are areas where we continue to invest," said CEO Joseph Kaufman on the second-quarter conference call in late January.
Some observers aren't convinced Kensey is free of its up-and-down history. While acknowledging the second quarter's solid revenue growth, "the endovascular business has not yet taken off as we expected, and FY3Q08 guidance was a little light," wrote analysts at Susquehanna Investment Group. They added: "The market for endovascular products has several large competitors with advanced products and much larger sales forces. Strategic shifts can be difficult to execute."
Noting the Ramius factor, Susquehanna said it will remain on the sidelines waiting for more evidence of a sustainable endovascular business, a compelling change in strategy or a better entry point value-wise before getting more bullish on shares. Susquehanna has a "hold" rating.
Not so at Jesup and Lamont, where analysts initiated coverage in mid-March with a "buy" rating. "Kensey's current valuation discount mischaracterizes the company," analysts wrote. "Investors should view Kensey as a profitable, successful biomaterials company with an option on the fast growing endovascular market."
Jesup and Lamont said it valued Kensey at an industry average of 30 times forward earnings, which would put shares at $37. Kensey shares closed Wednesday at $28.58, or about 23 times the average estimate of $1.24 in earnings for 2009. For 2008, analysts look for earnings of $0.95. Kensey's market capitalization is $341 million.
Cash and equivalents reported at the end of the second quarter were $60 million, an amount large enough for further business improvements, acquisitions and share buy-backs, said the Jesup and Lamont analysts. "We think we have a very strong balance sheet," said CEO Kaufman.
Kensey may continue its choppy ways; after all, shares have not been able to bounce out of their four-year range of $24 to $36.85 each. But continued sales and earnings growth through this year just may do the trick, and soothe shareholders along the way.
Disclosure: none