In my previous article, I discussed various issues that troubled me about this rally, originating off early June at about 1270, pointing to lower prices in the future. After re-examining my argument and assumptions, I still believe that the risk, contrary to recent price actions, remains on the side of the bulls. The following are the most compelling warning signs I am seeing:
Spanish Yields
Click to enlarge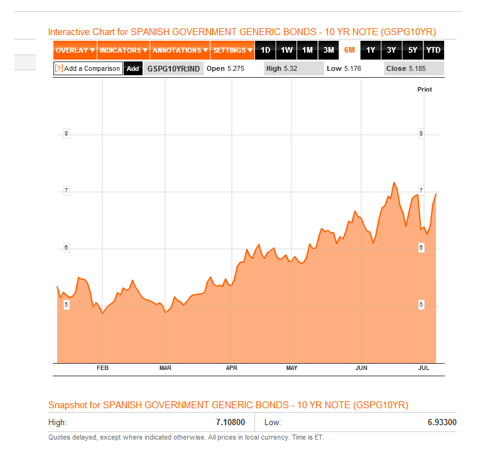 This chart of yields on the Spanish 10-year note is quite scary. After the bailout, the credit markets did ease up a bit. However, these gains have been completely reversed.
It took quite a bit of effort by European leaders to craft the most recent bailout plan; however, the credit markets are not reflecting any sort of relief. I believe that when push comes to shove, politicians will choose the path of printing money and inflation, rather than default and deflation. Yet, in Europe, it seems that much more pain needs to be felt before policymakers will be compelled to choose this route.
Bonds
I wrote an earlier article highlighting the extreme divergence between stocks and bonds (iShares Barclays 20+ Year Treasury Bond ETF: TLT). This divergence has only intensified. While, the SPDR S&P 500 Trust ETF (NYSEARCA:SPY) remains about 75 points above its June low, the 10-year yield is barely up from its June lows.
In fact, the 1- year yield has given up half its meager gains from the June lows. Clearly, the bond market is not buying the stock market's recent optimism.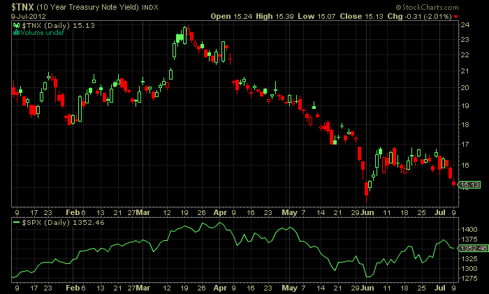 European Banks
One of the main risks facing the markets is concern about Europe, specifically weaker countries such as Spain and Italy. These look close to being caught in the vortex of a weakening economy and climbing interest rates with each problem feeding off the other. The most exposed to sovereign default would be the euro-centric banks which are loaded up on all types of European sovereign debt.
I watch these stocks closely because a legitimate solution or improvement in the situation should affect their prices the most. Up till now, these do not provide hope that any significant improvement is on the horizon.
I have chosen to highlight Credit Suisse Group AG (ADR) (NYSE:CS), Deutsche Bank AG (NYSE:USA) (NYSE:DB), and Banco Santander, S.A. (ADR) (NYSE:SAN).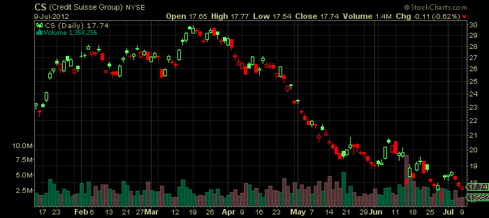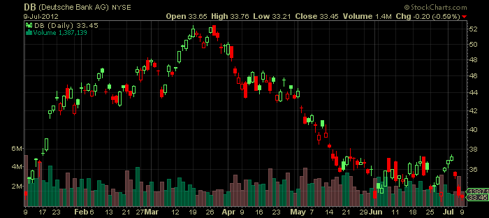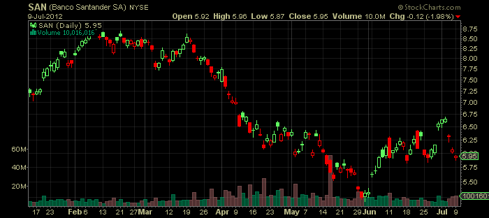 China
China is an important piece in the puzzle due to it being one of the world's largest economies and still growing. Much of the world's marginal growth and consumption comes from China. Economic reports from China impact commodity prices. From the March 2009 bottom, the Chinese market has severely underperformed most world indices.
The Chinese market topped in late 2009 and has since given up half its gains from the bottom. From a purely technical perspective, it seems poised to retest its 2009 low. In contrast, the S&P500 is a mere 5% off its recent high, post 2009 bottom.
This 10-year chart of the Shanghai Stock Exchange illustrates the weakness of Chinese stocks (iShares FTSE China 25 Index ETF: [[FXI]]) versus US stocks.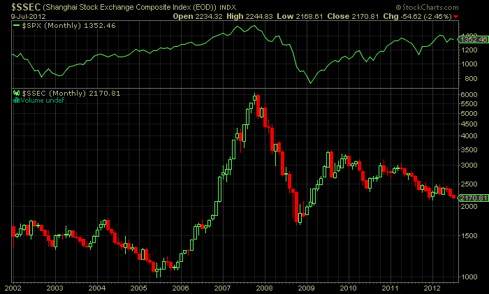 Cyclical Stocks
I find the cyclical stocks a useful gauge of traders' perceptions about the economy. Often, the rallies that persist for months, grinding higher with shallow dips, such as the one from December 2012, take place with cyclical stocks outperforming. These types of advances are a bull's best friend. In these conditions, strong stocks will make new highs, while oversold stocks enjoy huge advances.
On the other hand, bull traps are marked by rallies in which cyclical stocks do not outperform. This makes sense as a sustainable rally needs improving fundamentals or at least the perception of improving fundamentals to continue. If traders are anticipating weaker economic conditions in the future, then there will be sustained selling pressure even if temporarily prices can advance based on liquidity, short squeezes, newsflow, etc.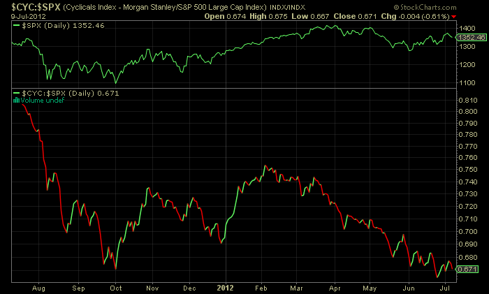 Currently, the cyclical stocks are under-performing and have been for months, indicating traders are not sanguine about future economic prospects.
Conclusion
These factors lead me to take a very cautious stance towards equities. I think the big question for traders following the S&P 500 is whether the June low will be broken or the April high will be taken out. Currently, we sit basically in the middle of those two levels. Of course, the equity markets these days are swayed more by policymakers than technicals or fundamentals.However, I remain hesitant about taking long positions at this juncture and prefer to focus on the short side.
There are various ways to position for a decline in prices from the very conservative of simply raising cash to the extremely aggresive option of buying puts. In between, choices include buying treasuries that tend to negatively correlate with equities, buying volatiliy products such as the iPath S&P 500 VIX Short Term Futures TM ETN (NYSEARCA:VXX), or bearish ETFs like the Direxion Daily Small Cap Bear 3x Shares (NYSEARCA:TZA). One warning about volatility products and leveraged ETFs is that they should not be held for the long term, as fees and re-balancing lead to significant under-performance over longer time periods.
Disclosure: I am long TZA.