The auto industry revved up in June as pent-up demand, low interest rates and retail deals lured in consumers. The focused exchange traded fund Global X Auto ETF (VROM) may be able to get out of the red as consumers begin to purchase big ticket items.
"There are a lot of used cars out there and I think we are seeing the post recession effect of people replacing them," Michael Brown, a Wells Fargo economist, said on Investors Business Daily.
Auto sales have been anemic for years, which makes the pent up demand the main driver of the surge in sales. An average vehicle on the road today is about 11 years old, in the United States, according to auto consultants at R.L. Polk. Lower gas prices have also relieved consumers, giving them more confidence to spend along with more spare change.
Sales at General Motors (NYSE:GM), the largest U.S. auto manufacturer, were up 16% from one year ago. Ford Motor (NYSE:F) sales gained 7%, while Toyota (NYSE:TM), the third largest U.S. seller rebounded 60% from one year ago. This rebound comes after the devastating March 2011 tsunami and the flooding in Thailand one year ago.
"The combination of new products, available credit, lower fuel prices and modest economic growth was a stronger influence on consumer behavior than economic and political uncertainty," Kurt McNeil, VP of GM U.S. sales said.
Furthermore, dealers were getting higher prices for their cars in June. According to TrueCar.com, the average price tag was at $30,508.00, up 2.9% from one year ago.
The ETF, VROM, has been in the red, or flat, most of the year. The latest surge in auto sales could signal a turnaround for this sector of the market. About 70% of the portfolio tracks cars and light truck sales, with Toyota the largest holding.
Global X Auto ETF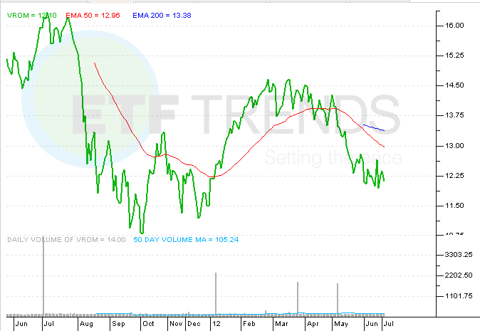 Click to enlarge
Tisha Guerrero contributed to this article.
Disclosure: I have no positions in any stocks mentioned, and no plans to initiate any positions within the next 72 hours.