When insiders buy shares on the open market, their companies are usually undervalued. Corporate insiders often have the inside track on their companies' prospects. Insiders probably wouldn't risk investing too much of their own money into their own companies unless they thought the stock might rise.
I screened for Chinese companies for which at least one insider made an insider buy during past three months. Here are 7 China stocks that I found:
1. China Information Technology (CNIT), is China's leading provider of information technology [IT] - including geographic information, digital public security and hospital information systems, as well as interactive display technology and the Internet of Things services.
The company owns and operates a number of state-approved High-Tech Enterprise designated subsidiaries. Under its umbrella, the company has built a comprehensive pillar domain which focuses on three core business sectors, which include IT, DT and the Internet of Things. The breadth of its technology offerings lends the company a unique advantage in China's developing IT industry. These offerings include its proprietary police geographic information Systems [PGIS]; "Map World," an online interactive map; and digital hospital information systems [DHIS]. In the Internet of Things sector, the company owns and operates an interactive education resource website called "360 Big class'' or "360dkt.com," and "51mobapp.com," a mobile application platform for users to share and download Android apps and other services. In the digital display technology [DT] sector, the company offers digital signage platform management, interactive touch screens, interactive desktops and multi-unit digital image mosaics systems, as well as other products and services.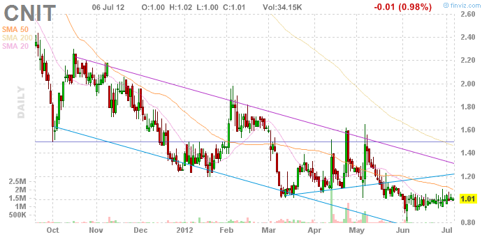 Insider buys
2. China Automotive Systems (NASDAQ:CAAS) is a leading supplier of power steering systems and components to China automotive industry, operating through eight subsidiaries. It has more than 19 years of experience in power steering manufacturing. In 2011, the company sold over 3.5 million systems and components, compared with 3.1 million in 2010, with a market share of 19%.
Its product offering encompasses a full range of auto parts incorporated into steering systems for both passenger automobiles and commercial vehicles. It currently offers four separate series, 300+ models of power steering including rack and pinion power steering, integral power steering, electronic power steering and manual steering, steering columns, steering oil pumps and steering hoses.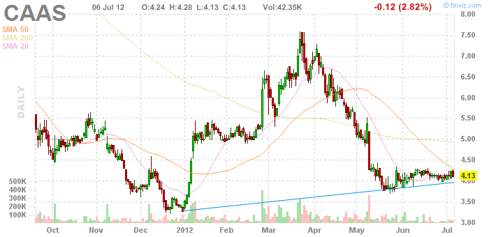 Insider buys
3. China Biologic Products (NASDAQ:CBPO) is one of the largest non-state-owned fully integrated plasma-based biopharmaceutical companies in China. The company's products are used as critical therapies during medical emergencies and for the prevention and treatment of life-threatening diseases and immune-deficiency related diseases. The company's core capabilities include plasma collection, research and development, production and commercialization of biopharmaceutical products. Currently, the company produces more than 20 plasma-based products and has a pipeline of new and developing products to drive its future in China's growing plasma market. To complement its organic growth, the company considers acquisitions to expand its plasma collection capabilities. China Biologic Products manufactures, through a base of majority-owned subsidiaries, Shandong Taibang Biological Products and Guiyang Dalin Biologic Technologies. The company also has an equity investment in Xi'an Huitian Blood Products. CBPO mainly sells directly to hospitals and other healthcare facilities, and also markets its products through a limited number of independent distributors.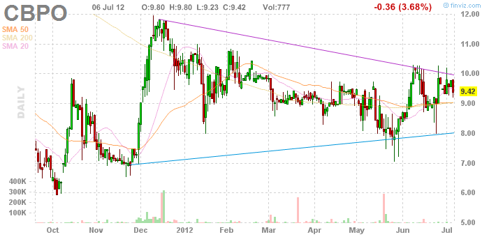 Insider buys
4. ChinaNet-Online Holdings (NASDAQ:CNET) provides advertising and marketing and sales management services to small-to-medium enterprises (SMEs) in China. Through its core online advertising portal, 28.com, the company helps small business owners expand their sales and franchises and grow their brand. Successful companies are one of the best sources for incubating more successful entrepreneurs. ChinaNet;s integrated platforms, also help connect entrepreneurs in China seeking high-quality entrepreneurial business opportunities, with franchise owners looking to expand in new and existing markets across China. ChinaNet Online offers a growing portfolio of cloud-based management tools and value-added services that help business owners manage their operations more efficiently. In 2010, ChinaNet-Online became the first Chinese internet company in this segment to be listed on NASDAQ.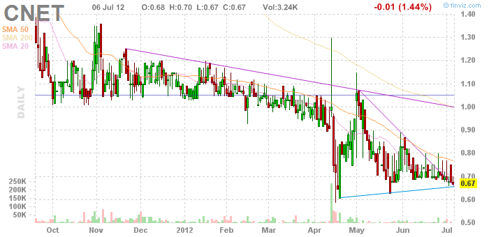 Insider buys
5. Cogo Group (COGO) is one of the leading gateways for global semiconductor companies to access the rapidly growing Industrial and Technology sectors in China. Through its unique business-to-business services platform, Cogo designs customized embedded solutions using technology from suppliers including Intel, Broadcom, Xilinx, SanDisk, Freescale, Atmel and others for a customer base of over 1,800 Chinese OEMs/ODMs. Cogo's customer list includes approximately 100 blue-chip companies, including ZTE, BYD and NARI, as well as over 1,700 Small and Medium Enterprises (SMEs). The company serves a broad list of rapidly growing end-markets in China, including 3G Smart phones, Tablets, Automotives, High-Speed Railway, Smart Meter/Smart Grid, Healthcare and High Definition Television (HDTV).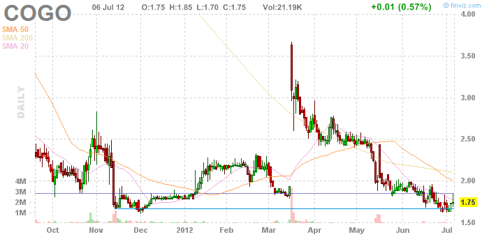 On March 15 Cogo Group announced that its founder, CEO and Chairman, Jeffrey Kang, proposed to the Cogo Board of Directors that he purchase a series of operating entities accounting for approximately 30% of Cogo's total assets, liabilities and revenue through his personal investment venture, Envision Global Group.
The total purchase price is expected to be between $60 million and $82 million, depending on the results of an appraisal by an appraisal firm. The transaction provides an implied share valuation of $6-$8 a share. The company provided an update on this proposal on June 29th.
Insider buys
6. Trunkbow International Holdings (NASDAQ:TBOW) is a leading provider of Mobile Payment Solutions [MPS] and Mobile Value Added Solutions [MVAS] in PRC. Trunkbow's solutions enable the telecom operators to offer their subscribers access to unique mobile applications, innovative tools, value-added services that create a superior mobile experience, and as a result generate higher average revenue per user and reduce subscriber churn. Since its inception in 2001, Trunkbow has established a proven track record of innovation, and has developed a significant market presence in both the Mobile Value Added and Mobile Payment solutions markets. Trunkbow supplies its mobile payment solutions to all three Chinese mobile telecom operators, as well as re-sellers, in several provinces of China.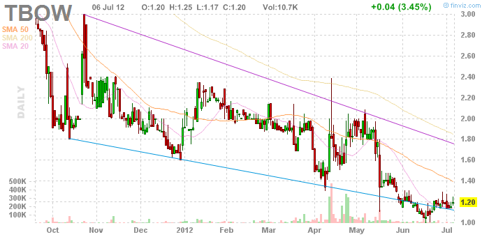 Insider buys
7. New Energy Systems Group (OTC:NEWN) is an innovative manufacturer and seller of Anytone and MeePower branded consumer mobile power products for a variety of portable electronics; solar panels, and related solar application products for municipal power application. The company's end-user consumer products, mobile power, are sold under the Anytone brand in China, and the company has begun expanding its international sales efforts. The fast pace of new mobile device introductions in China combined with a growing middle class make it fertile ground for New Energy's end-user consumer products. Besides, the supports from Chinese government to the solar industry also provide the great opportunity for the company's solar related products.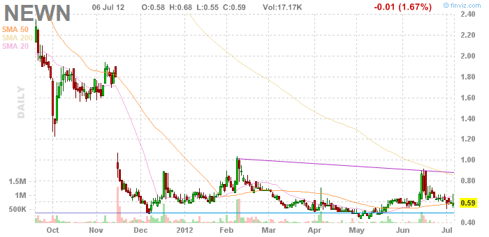 Insider buys
Conclusion
I would pay heightened attention to the insider buys, especially in Chinese stocks due to recent "Going Private" proposals by several Chinese companies. I have written two articles about these deals titled "ShangPharma Going Private" and "3 China Stocks With Announced Going Private Proposals". I believe we will see more of these deals during the summer months. It is important to note that all these "Going Private" companies had high insider ownerships before the deals were announced and were trading below their respective book values.
Disclosure: I have no positions in any stocks mentioned, but may initiate a long position in (COGO) over the next 72 hours.