Impact of Facebook's jump into recruiting services on LinkedIn
Recently, there have been rumors about Facebook (FB) partnering with Branchout, Jobvite, and Work4 labs, to start its own job board. LinkedIn's (LNKD) shares dropped 5% and Facebook's shares jumped 2% after the news came out on Monday. We are of the view that the introduction of new job services by Facebook (FB) is not expected to have a material impact on LinkedIn's growth in the immediate future. We are doubtful that any new job service introduction by Facebook will become a success overnight, and allow the social media giant to directly compete with LinkedIn as users prefer to keep their social profile separate from the professional one.
Last month, we analyzed the futures of both LinkedIn and Facebook. We recommended buying LinkedIn due to a strong interest from recruiters in the social media platform. LinkedIn users are growing rapidly, with impressive monetization of the website's large user base. Revenues from hiring solutions have more than doubled in one year, and are expected to expand further in the near future. Plus, marketing solutions and premium subscriptions are also displaying impressive growth. We also commented on the changing dynamics of the job market, as recruiters are switching towards specialized social media companies, like LinkedIn, to capitalize on the rich user base and obtain access to detailed user profiles. This shift is taking place at the expense of traditional job market companies like Monster.com, who are losing out on clients and money. Therefore, we suggested that we see bright prospects for LinkedIn in the near future and recommended a long position in the stock. We believe that LinkedIn will be able to beat analysts' earnings again, with a strong second quarter. The shares were trading at $102.98 yesterday.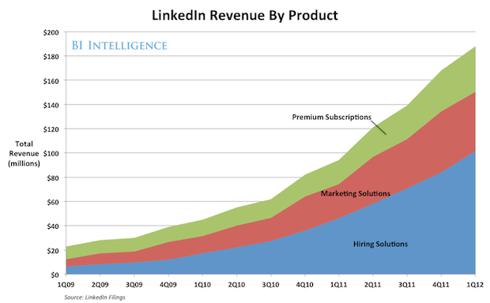 Click to enlarge
On Facebook , however, we recommended a cautious investment strategy with a possible hold in the short term. In our view, effective user monetization plans, especially related to mobile users and a better ROI-driven performance measurement system, will be the primarily upward drivers for the stock price. The announcement of newsfeed ads could be a step in the right direction, but investors would like to see growth transformation into revenue growth for Facebook. Therefore, we suggested holding Facebook with a possible buy recommended contingent upon transformation of these recent developments into better financial results in 2Q2012. Shares of Facebook were trading at $32.17 yesterday.
We believe that if Facebook jumps into the job market with the introduction of a new job board, it can snatch some revenues from LinkedIn, and therefore, slow down LinkedIn's growth. If that were the case, recruiters will be forced to shift some focus towards Facebook to take advantage of the social media giant's user base, which is currently almost seven times the size of LinkedIn's. But, we also agree with JPMorgan (JPM) that users will be reluctant to switch to Facebook's new job services, as most users want to keep social and professional profiles separate. Still, we believe Facebook has the potential to introduce a complete new professional network within its social network, where users' professional profiles and activities will be detached from personal profiles and activities.
There are applications like Branchout, Jobvite, and Work4 labs, that help Facebook users in finding and posting jobs, but most of the users are still afraid of the mix up of professional and personal profiles. Therefore, these applications were unable to attract enough users quickly enough as LinkedIn had in the past few years. Therefore, it cannot be concluded with confidence that any job board service by Facebook will become a success overnight, and have material negative impacts on LinkedIn's revenue growth. Facebook will, on the one hand, need to make the new job service functionality simple enough to be understood by general users, and on the other hand, design the service with strict privacy controls. Still, we believe the exclusive focus of LinkedIn on the development of professional networks, the expertise it has gathered over the years, and the distinct and specialized recruitment services it has developed and is still developing, will make it harder for Facebook to take the lead role from LinkedIn. Therefore, Facebook's new job service won't impact LNKD materially, however, the long term impact can only be accurately predicted once the new service has been launched and analyzed.
Disclosure: I have no positions in any stocks mentioned, and no plans to initiate any positions within the next 72 hours.