FMC Corporation (NYSE:FMC) was founded in 1883 and is engaged in agricultural (34%), specialty (25%), and industrial chemical (41%) businesses. I believe FMC holds the future of battery technology. FMC Lithium Division is the world's largest developer and supplier of Lithium based materials for primary and rechargeable batteries used in cell phones, laptops, and now in an emergent class of automobiles called ZEVs and PZEVs.
Industry Endorsement of Lithium Ion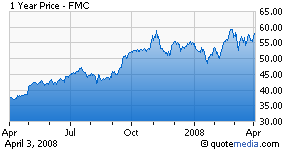 The compactness, duration as measured by capacity, power and lightweightness of Lithium Ion batteries make it the de-facto battery of choice for next generation battery electric vehicles [BEV], fuel-cell vehicles [FCV], and plug-in hybrid electric vehicles [PHEV]. According to FMC, Lithium batteries are preferred worldwide for their unique properties and performance. Over 60% of the worldwide cell phones and 90% of the laptops are powered by lithium batteries.
Zero Emissions Vehicles [ZEV] and Partial Zero Emissions Vehicles [PZEV] are an emergent class of vehicles that will increasingly become a greater part of the mix of vehicle product offerings for all major automobile manufacturers in the next few years. The decision will stem from not only government mandates to fight urban pollution and the recently engaged "global war" to reduce the harmful effects of greenhouse gas emissions, but also from rising consumer sentiment to drive less polluting and better fuel economy vehicles.
Moreover, there is an national imperative to reduce dependence on foreign oil and continued expectations for the federal and local governments to hand-out healthy rebates for the purchase of these energy efficient vehicles and encourage their development with arms wide-open.
Sustained business of lithium ion batteries from use in cell phones and laptops is still a growth market. New portable wireless devices such as the iPhone (NASDAQ:AAPL) depend on the lithium batteries for high energy density and light weight.
I believe demand for smart-phones will continually be strong in the replacement cell phone market as people demand more functional and powerful personal devices, and their sales cannibalize low end product lines. A near YOY double in Research in Motion's (RIMM) revenue and profit announcement yesterday and rumors of iPhone shortages in the market are testimony to this effect.
FY08 EPS Projections and Valuation
According to Yahoo Finance, four of four analysts who cover FMC rate the stock as a strong buy, with a mean price target of $68.50. Consensus EPS estimates for FY08 are $3.87, valuing the company at a forward p-e of 14.5 or around the market multiple (which suggests a floor price around $56). Going forward, the company in it's 08 outlook,expects double digit revenue growth across all business segments. The company is a beneficiary of increased demand for its products in Asia / Latin America, as well as benefiting from higher prices for soda ash (used in glass making; a commodity used in construction). The outlook is best presented by Chairman / CEO Walter who is quoted as follows:
We will derive significant benefits in 2008 from our global footprints,the non-cyclical nature of our end-use markets, and our limited exposure to rising petrochemical costs.
FMC Technical Analysis
FMC 1-year chart shows steadily inclining 200-day and 50-day moving averages. Price-Volume trends appear to be very favorable for those who are long FMC. The stock last split in September 07. Its market capitalization has progressively increased and almost doubled since September 06. That kind of momentum in its equity leads me to believe that its addition to the S&P 500 Index, where it can benefit from large cap and growth fund manager visibility is also imminent. Moreover, the company has been in existence since 1883, making it a venerable addition to the 500 Index.
If the recent performance of Potash (NYSE:POT) and Monsanto (NYSE:MON) are any indication, FMC could perform as well as these peers. Incidentally, and ironically, FMC Agricultural, Potash, and Monsanto complement each other's primary businesses rather nicely!
Disclosure: I presently own a long position in FMC