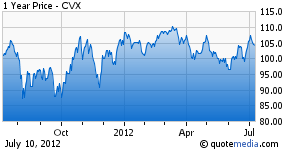 Chevron's (NYSE:CVX) second quarter 2012 earnings are due very soon. Energy price volatility and the ongoing mess in Europe have played heavily into the market for Chevron's shares. Chevron, with its $207 billion market cap, is one of the major players in the international oil and gas business. Chevron is next to Exxon Mobil (NYSE:XOM) and Royal Dutch Shell (NYSE:RDS.A) at the top of the heap in size and global reach. Chevron's earnings are being watched closely by investors. Its last quarter of 2011 showed weakness and hopefully this next quarter will show improvement. Peak oil is probably a thing of the past, natural gas prices have a long way to go before they can be viewed as being exciting again, the refining business is scaling down in OECD countries, and traditional energy companies are facing a lot of pressure from environmental groups and government agencies to bring the industry in line with new guidelines for climate and population safety. What does the future hold for Chevron?
The Financial Times forecast from 21 investment analysts covering Chevron indicates that the stock will outperform the market. After a lower fourth quarter in 2011, the first quarter indicates that the company is back on track for earnings growth. The company has demonstrated yearly earnings growth since 2010 on average of 28%. First quarter earnings were $61 billion, which were lower than the $72 billion estimated, but still 1.25% above earnings for the same period in the prior year.
Chevron's common shares trade around $104. The stock trades within a 52-week range of $86.68 and $112.28. The price earnings multiple is 7.71. Chevron's earnings per share are $13.62. The dividend yield is 3.40%. The company has total cash of $19.77 billion and total debt of $9.28 billion. Its book value per share is $63.61. Chevron has total cash of $19.77 billion, and total debt of $9.28 billion. The current ratio is 1.61. A current ratio above one indicates the company can meet its short term debt obligations as they come due.
The Energy Information Administration reported that oil supplies grew by 2.9 million barrels for the week ending June 15, 2012, negating the prediction that supplies were predicted to drop by 1.3 million barrels in the same period. The recent increase in North American oil production has seen supplies rise to their highest levels in 22 years. U.S. production at 117,000 barrels a day for the week ended June 15, is the highest since 1999. Europe - no need to go into detail, slower than anticipated growth in China, and overproduction from Saudi in advance of the Iranian oil embargo have increased world supply.
The company recently published its outlook for 2012, which stated that the world refining business demonstrates two very different trends. In emerging markets, primarily Asia, huge, state of the art capacity is being built. Developed markets are experiencing low operating rates and seeing profitability hindered by newer additions. Chevron expects that there will be excess refining capacity in the next several years which will push European and other OECD refineries to cease operations.
The refinery business has been under economic and operational pressure since the recession. Capacity in emerging markets is built more for strategic than economic reasons. New refineries will put pressure on OECD refining businesses as the new facilities are more efficient, larger, and are not subject to the same environmental standards that put OECD refiners at a cost disadvantage.
Emerging markets are driven by the objectives of product self sufficiency and to become regional hubs. Some are trying to shift to becoming exporters of high quality product or a combination of all of these goals. India is expanding its refining capacity to establish itself as a key product exporter in the Asia Pacific. It already exports to the U.S., Latin America and Europe. In the Gulf, Saudi Aramco is resuming its refinery expansion plan which was put on hold in the recession.
OECD refining is moving in the opposite direction. Since the recession 1.8 billion barrels per day of capacity has been shuttered as a result of declining demand and increased competition from non-OECD countries. It is particularly bad in Europe with seven refineries already closed. Several other plants have been sold to cash -rich non-OECD interests. The US is interesting as it is changing to a significant product exporter as a result of exploiting its shale properties. ConocoPhillips (NYSE:COP) restarted LNG exports from its Alaska plant, which it had previously planned to shut down. It sent a shipment of LNG to Japan last month and expects to send another four or five shipments by the end of the 2012 year. ConocoPhillips purchased full ownership of the plant after acquiring Marathon Oil's (NYSE:MRO) 30% share in September.
The lack of import needs from the U.S. has put pressure on European refineries as they are structured towards the needs of the U.S. market for gasoline. Heavy oil development continues to be economic in North and South America. Horizontal drilling and fracturing will provide trillions of dollars of new oil and gas shale reserves in the Americas, Europe and Asia. The life of these reserves is likely to last multiple decades. In a measure that showed some thinking outside of the North and South American box, Chevron entered into and agreement with Kosmos Energy (NYSE:KOS) through Chevron Global Energy and will receive a working interest in two blocks offshore Suriname. Chevron will become the operator following any commercial discoveries. The agreement allows Chevron to explore in this frontier.
Chevron will have to adjust its long term goals to function in a market where the U.S. is moving to the supply side and in need of refining and transmission capacity to meet both international and domestic demand. The company recognizes that the future of fuel is to diversify into more environmentally friendly, long life fuel sources to meet growing energy needs. Chevron has invested a lot into the research and development of extraction methods for existing fuel sources, bio-fuels and non feed-stock fuel sources for future energy. The company will rely on technical innovation which will improve energy production by producing more long lived, diverse supplies of cleaner energy products. Environmental goals have always been viewed as conflicting with economic growth. Advances in research and development of technologies are becoming more positive in coal, shale, petroleum, bio-fuels, wind, and solar. While they are not presently, non-food crops will eventually prove to be cost effective sources of energy. Investments in research and development of non feed-stocks and bio-fuels will continue to be part of Chevron's future plan.
Chevron knows that it has to measure the demand for and the capacity of its downstream assets and continue to exploit its traditional energy sources in the most cost effective geographical areas. It also is aware that it has to employ new and existing technologies to support new and cleaner fuel sources and extract traditional sources in such a way to prolong the life of the availability of the resource.
Chevron is a smart and well capitalized company. It has a fraction of the debt held by many of its peers in the same industry. It has had one bad quarter since 2009, and it continues to award investors with a comparatively healthy dividend among other oil and gas companies. The company is 64.3% held by institutions. 1.2% of the float is short as of June 15, 2012. There is plenty of room for retail investors to move in and out of this stock. An investment in Chevron is a smart investment in the energy sector. I think we will see strong numbers from the Q2 earnings release, along with a short rally in its stock price.
Disclosure: I have no positions in any stocks mentioned, and no plans to initiate any positions within the next 72 hours.