PRICELINE (PCLN)
Priceline 's consistent financial performance to date, coupled with significant growth potential, and its outperformance of the competition, are why we recommend that investors buy the company's stock.
Company Description:
Priceline Incorporated is an online travel company that offers reservations for hotels, flights and rental cars, offered by its partner suppliers at a discount. They also offer vacation packages and cruise trips, along with insurance for traveling, as an optional service. It operates under the brand names: priceline.com, booking.com, rentalcars.com and Agoda.com (for Asian markets). There are two ways in which Priceline receives its revenues. The first is the "Name you own price" deals where Priceline earns the difference between what a supplier charges and what the customer wants to pay. The second is the traditional way where a customer can choose from a range of prices and Priceline gets the commission.
Industry Scenario:
The overall travel, and in particular the Hotel Industry, is recovering after 2009. This is good news for companies like Priceline and Expedia (EXPE), which are heavily dependent on revenues from hotel reservations. Occupancy rates at hotels and average daily rates per hotel room have shown increases since last year, as shown by the graph below.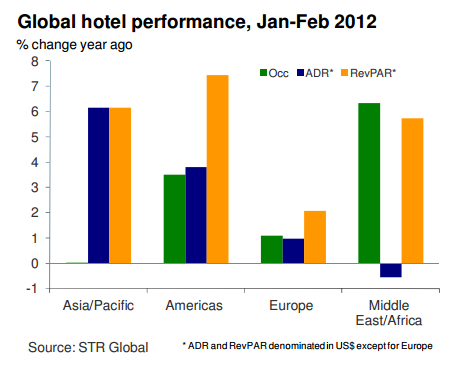 Financial Performance:
Priceline continued to show solid performance in the first quarter of 2012, primarily driven by the revenue coming in from hotel bookings.
Summary of annual results 2011 vs 2010:
Gross bookings, which include revenues from all sources, were up 59% in 2011, operating income was up 78% and operating cash flow was up 72%.
International operations account for 78% of the gross bookings, while domestic account for 22% of the total. Bookings from international operations were up 70% while those in the U.S. increased 14% in 2011. This shows that both segments are not only healthy, but the larger segment has almost three times as much growth as the smaller.
The largest source of revenue for the company is from the hotel reservation service. Currently, the company's site booking.com offers reservations at 210,000 hotels worldwide and is available in 41 languages. The hotel nights stays booked through PCLN increased 53% in 2011.
Additional services like rental car service, whose performance is measured in terms of rental car days, was also up by 45.6% as compared to 2010.
Summary of quarterly results 1Q 2012 vs. 1Q 2011:
It has consistently beaten market earnings estimates. In 1Q2012, EPS turned out to $4.28, 8.4% above the analyst estimate of $3.95.
1Q2012 gross bookings were 44% higher than the same period last year.
Debt is not an issue, as the debt-to-equity is only 52% compared to Expedia's 58%. The cash held by the company ($3.62 billion) can easily cover all its debts ($1.44 billion).
The company plans to focus on international growth. It plans to expand in Asia-Pacific, as well as North and South America. This is the primary reason why the PEG (5-year expected) is low i.e. 0.92, compared to Expedia's 1.61. International operations of Priceline are not only high growth opportunities, but also have higher margins for hotel and rental car service.
Priceline recently introduced a mobile application that provides customers even greater flexibility with regards to the time it takes to get their bookings done. People can now get their hotel bookings once they have reached their destination with the help of this application. This move is in line with similar measures taken by competitors like Travelocity.
Competition:
Priceline's primary competitor is Expedia. Orbitz Worldwide Inc. (OWW) and Travelocity are other smaller competitors. Both Expedia's and Priceline's stock price has tripled since 2009.
Profit margin for Priceline is 24.7%, compared to EXPE's 11.8%.
Quarterly revenue growth for Priceline is 28% compared to Expedia's 12.2%.
Priceline beats Expedia in terms of ROE by a large margin too. PCLN's ROE is 50% compared to EXPE's 13.9%.
The graph below sums up the growth in revenues for Priceline, Expedia and Orbitz. Priceline has clearly beaten all its competitors in the last year.
The competitive rivalry between Priceline and Expedia is so tough that a move by one is followed by a move by the other. An example can be the partnerships with airlines to gain an edge in the Asian markets by both companies in 2011. Agoda (Priceline's brand) partnered with Jetstar at a time when Expedia had announced a joint venture with AirAsia.
Travelocity is trying to regain its lost market share by focusing only on providing customized services in three areas i.e. hotel reservations, mobile platforms and vacation deals. The American Consumer Satisfaction Index named it the top travel site.
Bearish Scenario:
One of the problems that Priceline can face is a possible worsening of the economic situation in the U.S. and across the globe. Uncertainty regarding the economy leads people to cut down the money spent on leisure activities. This might lead to reduced demand and put pressure on the high margins that the company has been able to consistently achieve thus far.
Similarly, the company might have to spend on advertisement and promotion in order to deal with the tough competition it is facing. This can squeeze operating margins.
Valuation:
The share is up 37% YTD as of July 9, 2012. This rise has been continuous over the last couple of years.
The recent dip of 20% in the stock price in May was attributed to concerns over the European economic situation, and the company's exposure to it. According to Credit Suisse, Priceline's share of the European hotel nights is roughly in the 3%-to-8% range. This means that the company still has room for growth in Europe, which was the most popular tourist destination in 2011.
The drop may have also been due to the fact that the company announced in May that it expects 2Q2012 revenues to be up 18%-to-23% over the last year. The consensus estimate of the market was 26.4% sales growth, so the stock price dropped.
Priceline does not pay any dividend because it plans to spend all retained earnings on business expansions.
In the past five years, the growth rate for Priceline has been 53%, and for the next 5 years it is expected to be 23% compared to Expedia's 11%. The PEG ratio expected for the next five years is 0.93, which again shows a favorable picture.
PCLN's forward P/E is 17x compared to EXPE's 15x. The table below gives the expected price calculated using an average P/E of the last five years of 26x.

*Calculated by using a growth rate of 22%
Based on the solid financial performances delivered by Priceline, and future growth prospects, we recommend buying the stock.
Disclosure: I have no positions in any stocks mentioned, and no plans to initiate any positions within the next 72 hours.