Most investors know about CarMax (NYSE:KMX) and AutoNation (NYSE:AN) due to their high profile minority holders.
As of year-end 2007 Warren Buffett's Berkshire Hathaway (NYSE:BRK.A) held around 21 million KMX shares or 9.62% of the company. Eddie Lampert's ESL Investments held almost 65 million shares [or about 36.1%] of AutoNation as of March 11th.
CarMax recently had 7 new-car and 75 used-car super centers across 17 states.
AutoNation sells new and used cars through around 325 dealerships in 16 states.
There's nothing wrong with either company.
CarMax closed yesterday at $20.31 with FY 2007 [ended February 29] earnings of $0.83/share – a trailing P/E of 24.5x. KMX had FY 2007 sales of $8.2 billion.
AutoNation closed Thursday at $15.77 on trailing 2007 EPS of 1.43 – a P/E of 11x. AutoNation showed 2007 revenues of just under $18 billion.
Neither one pays a cash dividend or is expected to initiate one anytime soon.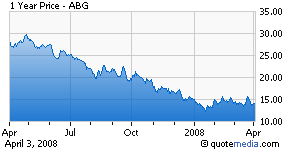 With recessionary conditions weighing on auto sales, forward estimates have been trimmed to $0.95 for KMX and $1.43 for AN.
For my money, I see better value in the under-followed Asbury Automotive Group (NYSE:ABG).
Asbury [NYSE:ABG] April 3, 2008 close: $14.20
52-week range: $11.71 [Jan. 22, 2008] - $30.06 [Apr. 30, 2007]
Yield = 6.34%
Asbury Group is one of the largest auto dealership owners in America. They operate 124 franchises at 93 dealer locations in 21 metropolitan areas. They sell and service 35 different brands with an emphasis on higher-end vehicles. They carry top names including:
…………………………# dealerships.............% of Total New
…………………………………………….. Light Vehicle Sales*
· Honda………...…14……………….....23%
· Nissan…………...12………………….13%
· Mercedes…………5…………………..9%
· BMW…………….9…………………...8%
· Toyota……………4………………...…8%
· Lexus……………. 3…………………..7%
· Acura…………….6…………………...5%
· Infiniti……………4
· Lincoln…………...4
· Volvo…………….4
· Cadillac…………..3
· Mini……………....2
· Audi……………...2
· Volkswagen……...2
· Porsche…………...1
· Jaguar…………….1
· Land Rover………1
· Mazda……………1
· * brands without percentages indicated represent < 5% of sales.
Mid-Line Domestic brands totaled 34 franchises and accounted for 16% of sales.
Ford contributed 6% of new light vehicle sales in 2007.
They also have some outlets for Heavy Trucks and Value-Priced vehicles although those number just 8 of their 124 total franchises.
Asbury Group is well positioned with most of their sales coming from brands that are gaining market share and selling without the need for major rebates. ABG has had excellent results over the past five years.
Year…Sales [billions]….EPS [cont. ops.] ….Annual Dividend…….Total Assets [billions]
2003……$4.126…………..$1.34…………….....none…………………..$1.814
2004……$4.783…………..$1.48……………….none…………………..$1.898
2005……$5.357…………..$1.76……………….none…………………..$1.931
2006……$5.694…………..$1.97………………$0.40…………………..$2.031
2007……$5.713…………..$2.09………………$0.85…………………..$2.016
The dividend was increased to an annual rate of $0.90 in last year's third quarter. At today's price the current yield is 6.34%. That's about three times money market and double most CD rates now available. It represents a well-covered payout ratio of 43.9% on last year's earnings from continuing operations.
Management sees the slowdown in the U.S. economy as a challenge but also an opportunity to pick up more dealerships at favorable prices. Analyst estimates for 2008 are now centered on $1.89 /share making ABG's forward P/E multiple an extremely low 7.5x. Peak earnings multiples of > 20x were hit in 2002 and 2007 when the shares traded at $22.50 and $30.10 respectively on EPS of $1.15 and $1.53.
If Asbury Automotive Group trades back at even 10 times recessionary earnings of $1.89 these shares can be $18.90 or up over 33% from today's quote. Add in the 6.34% yield and a 40% total return looks quite achievable.
Some top-flight money managers held large positions [as of March 10th proxy]:
FMR [Fidelity Funds] …………13.4%
Dimensional fund Advisors……..9.5%
LaGrange Capital Partners………5.1%
Barclay Global Investors………...5.0%
Officers and Directors held ……………..2.3%
There have been seven separate insider buys since August 2000 against zero sells. The latest insider trade was a 3000 share buy at $14.50 on February 28, 2008.
The only knock I can see is the poor macro environment for the auto industry. This seems to be already factored into the share price with the 7.5x forward P/E. The 6.34% current yield makes waiting for the recovery quite palatable. If you wait for 'good news' on the economy ABG shares are not likely to be available anymore at today's prices.
Their auto brand mix is in the sweet spot of the U.S. market and management seems quite capable. Is my target price of around $19 per share reasonable? Sure. Asbury shares hit peak prices of between $18.10 and $30.10 at some point in each of the six calendar years from 2002 – 2007.
Disclosure: Author owns shares of Asbury Automotive Group.