I spent some of the weekend reviewing the performance of my portfolio so far in 2012. Not surprisingly given how strong the biotech sector has been in 2012, three of my best performers were from that space. My investments in Horizon Pharma (HZNP), SciClone Pharmaceuticals (SCLN) and Novavax (NVAX) all scored 50% to 100% gains in the first half of the year. Ironically, Novavax was also the subject of my most read article on Seeking Alpha in 2012. In this article, I will revisit the case for NVAX and offer up another biotech that might also make a good speculative play.
"Novavax is a clinical-stage biopharmaceutical company, focuses on developing recombinant vaccines for infectious diseases using its virus-like particles (NYSE:VLP) and recombinant nanoparticle vaccine technology." (Business description from Yahoo Finance)
Five reasons NVAX is still a solid speculative play at under $2:
Insiders are still buying the stock as they added new shares in both April and May.
Some important Phase II trial data on its vaccines should be available in the third quarter.
Revenues are expected to grow more than 90% in FY2012 and over 65% in FY2013.
Analysts are still positive on NVAX with the median analyst price target of $5 on the stock. The low target of the four analysts that cover the stock is $4 a share and the high target is $9.50.
The stock looks like it is breaking out after a long bottoming process and recently crossed its 200 day moving average (See Chart).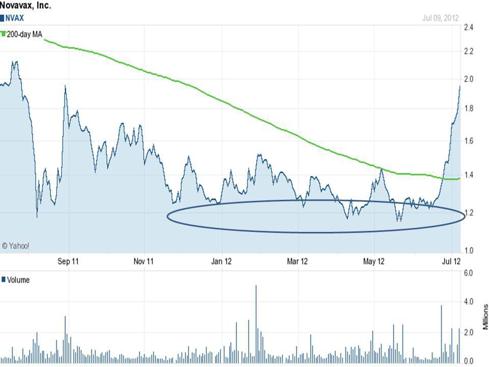 "Chelsea Therapeutics International (CHTP) a development-stage pharmaceutical company, focuses on the acquisition, development, and commercialization of pharmaceutical products." (Business description from Yahoo Finance).
Four reasons CHTP is a worth a gamble at just $1.25 a share
Insiders have been persistent buyers (over 300,000 shares) over the past year at prices as high as $5 a share.
Over 60% of its approximately $80mm of market capitalization is in net cash on its balance sheet.
The stock took a major hit when the FDA did not approve its Northera product, mainly because of the way the study was conducted. The company has opportunities to change its study approach and resubmit at a later date.
The median price target for the 3 analysts who cover the stock is $4 a share. Its largest shareholder is also becoming more activist and pushing the company to explore options.