Bolsas y Mercados Espanoles (BME) (OTCPK:BOLYY) is the exchange operator of all stock markets and financial systems in Spain. BME has been a listed company since July 2006 and an IBEX 35 Index constituent since July 2007. BME's stock price has been under pressure over the last few years, as the Spanish stock market, leading to a very high dividend yield of close to 10%. Given the financial distress occurring in Spain, the company can be a clear takeover target within an industry that is going through a global consolidation process.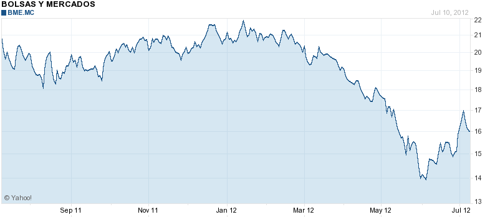 Click to enlarge
(Click to enlarge)
Source: YahooFinance
The company makes money basically by volume, which means that every time an investor buys or sell a Spanish stock, through its Spanish listing, BME receive a fee. More than 40% of its revenues are derived from the equity business, 25% from clearing and settlement services, 10% from market data, and the remaining from derivatives, fixed income and other services.
Although the company isn't directly affected by Spanish economic performance and by austerity measures implemented, it isn't also completely isolated from domestic woes. Its business can be negatively affected by local taxes and regulation and demand (especially foreign demand) towards domestic assets.
Given recent data published on capital flows, demand for Spanish assets is decreasing and should remain low in the short-term. The company's high dependence of volumes, particularly equities, is making its effects on earnings. In 1Q 2012, BME posted net income down 14% and revenues 9% lower compared to the 1Q 2011 and equity volumes dropped by 28% from last year.
In the medium-term, transactions volumes can be hurt by the increasing regulation of equity markets and banks disinvestment form trading activities. Additionally, alternative multi-trading platforms have a low market share in Spain and if they converge to the average of other European stock markets it will pressure BME's volumes.
Takeover Target
The industry has faced a recent period of consolidation over the last few years, given their loss of market share to alternative trading platforms. However, the recent cancellation of the merger between Deutsche Boerse (OTCPK:DBOEY) and NYSE Euronext (NYSE:NYX) showed that big deals can face regulatory constraints and that small acquisitions could be easier to implement.
BME is a small player with business only in Spain, so the possibility of a merger with a larger player could be just a question of time. Its current market value is only €1.3bn ($1.6bn), enabling an acquirer to easily fund the takeover even with an attractive premium.
BME has become, in the last few years, a reference in the sector in terms of solvency, efficiency and profitability. BME has a very strong profitability with an EBITDA margin of 70% in 2011, a margin that has been stable since 2008. Compared to its closest peers, it as higher operating margins which shows how attractive its business can be to another competitor.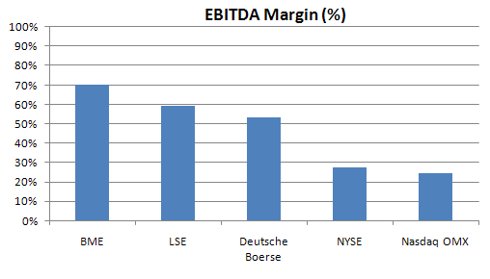 Click to enlarge
(Click to enlarge)
Source: Bloomberg
BME's valuation is undemanding, given that the stock is currently trading with lower multiples than peers, another reason why BME could become a target. BME is trading at 9.5x forward earnings and 4.4x EV/EBITDA, a high discount to Deutsche Boerse 7.62x ratio and NYSE Euronext 7.32x EBITDA multiple. Although part of this discount is justified by its, at least in the short-term, weaker growth expectations, on the other hand BME has no leverage, a higher dividend yield and higher profitability, factors which should balance BME's weaknesses.
| | | | | | | | |
| --- | --- | --- | --- | --- | --- | --- | --- |
| Company | Market Cap ($bn) | Div. Yield | Payout Ratio | P/E Ratio | P/BV | EV/EBITDA | Net Debt/Equity |
| BME | 1,6 | 10% | 89% | 8.9 | 2.78 | 4.40 | Net Cash |
| Deutsche Boerse | 10,1 | 5.4% | 55% | 10.3 | 2.43 | 7.62 | 17% |
| NYSE Euronext | 6,4 | 4.8% | 53% | 11.2 | 0.96 | 7.23 | 24% |
| Nasdaq OMX (NASDAQ:NDAQ) | 3,7 | 2.4% | 20% | 8.5 | 0.72 | 5.43 | 27% |
| LSE (OTCPK:LDNXF) | 4,2 | 3% | 16% | 5.2 | 1.97 | 5.93 | 3% |
Source: Bloomberg
Moreover, the shareholder structure is highly fragmented favoring a takeover attempt. The principal shareholders are Spanish banks, like BBVA (NYSE:BBVA) and Caixabank (OTC:CIXPF), which given the financial outlook in Spain and the higher capital needs that should be required following the recent banks' bailout, should be willing to sell their stakes if an offer is placed.
Dividends
As discussed in my previous article "3 exchange operator stocks yielding above 4.70%", BME has one of the highest yields within the sector. In the last three years, the company has maintained the ordinary dividend stable at €1.60, and paid extraordinary dividends of €0.372 per share, in 2009 and 2010.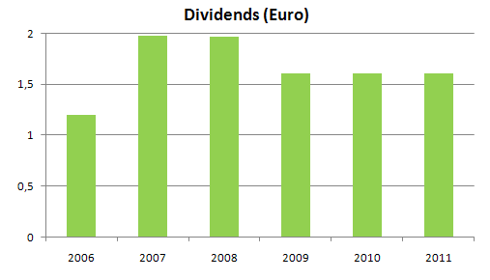 Click to enlarge
(Click to enlarge)
Source: BME
Over the last five years, and taking into account only the ordinary dividend, the average payout ratio is high at 86%. However, given the business high level of profitability, it has enabled the company to have a very attractive shareholder remuneration policy through a high distribution of profits to shareholders. Additionally, the company has a very strong balance sheet with around €344 ($423) million of cash, which represent close to 25% of its market capitalization.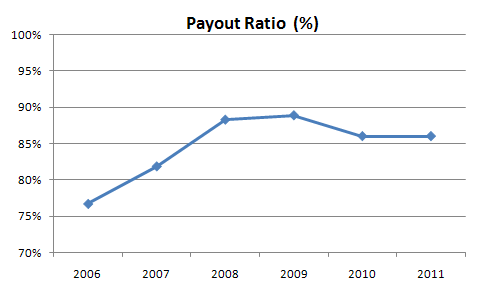 Source: BME
Conclusion
Although to predict the timing of an offer is extremely hard, investors are well rewarded to wait through a very high yield. BME offers great value to its competitors and given the ongoing consolidation among the industry, it's a perfect takeover target.
Nevertheless, investors should be aware that BME suffers from being a Spanish company, impacting more its share price than its business fundamentals as it isn't directly affected by the Spanish macroeconomic outlook. However, it offers a unique combination of a very attractive dividend yield and the possibility of strong capital appreciation, if the company is ultimately subject to a takeover offer.
Disclosure: I have no positions in any stocks mentioned, and no plans to initiate any positions within the next 72 hours.