Microsoft Corporation (NASDAQ:MSFT) is planning to release its Windows Phone 8 operating system this fall with supporting carriers, including Nokia Corporation (NYSE:NOK), Samsung, HTC, and Huawei. Speculation has also circulated following the recent Surface announcement that Microsoft will be releasing its own phone hardware, but a recent interview with the company denies these rumors as it states it is a big believer in third party phones.
Research In Motion Limited (RIMM) Delay
Research In Motion has stolen recent press highlights and has seen its stock plummet further following an earnings-accompanying announcement that BB 10 phones will be delayed until Q1 2013. With RIMM out of the way for the critical fall release cycle, Microsoft must still focus on stealing away market share from Apple Inc.'s (NASDAQ:AAPL) iPhone and Google Inc.'s (NASDAQ:GOOG) Android phones.
Current Market Share and Trends
According to a recent comScore report (shown in the chart below), over February 2012-May 2012, Google, Apple and Microsoft all grew their market share primarily by taking share away from Research In Motion. However, Research In Motion still has almost three times the amount of phones on the market as Microsoft, and a strong BB10 launch this fall could have severely overshadowed Microsoft's launch and perhaps crippled its sales.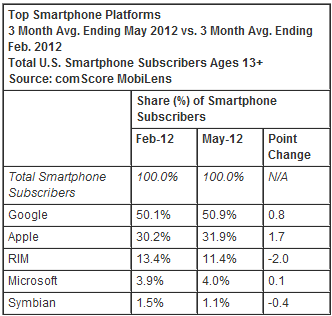 The Fall 2012 Launch Environment
BB10 will not be here this fall, so consumers looking for new tech will have only three main choices. Android has already released its Ice Cream Sandwich OS and with the exception of the Jelly Bean patch, there's little in the realm of OS. Android's success this fall will hinge on the manufacturers, primary Samsung and HTC, which also will be making Windows Phones. It appears that the Samsung Galaxy S3 is currently the front-runner in sales with 19M units expected to ship by this fall. It is in the best interest of companies like HTC and Samsung to keep the smartphone market competitive, and Nokia is fighting for survival, so they will likely release top-notch products. With strong launch partners guaranteed and the right use of media, Microsoft has the chance to outshine the Galaxy.
The iPhone 5, according to many rumors, will be released this fall with several key features, including World Phone (LTE) support, full 3G backward compatibility, and NFC purchase abilities. Other rumors include a slightly bigger phone with a full 16X9 display and a full HD front camera. It appears that Microsoft and Android already have all of these bases covered, but it remains to be seen how consumers will react this fall. I am slightly skeptical about the iPhone 5 "dominating 2013."
Microsoft's Chance to Stand Alone
iPhone 5 and new Android offering were always roadblocks to Microsoft's successful WP8 launch, but the Research In Motion delay on BB10 is huge! Even if impatient Research In Motion users are wary of WP8, there are still several million more customers available. Windows will have strong hardware to support WP8, the only questions concern the software quality and public reception. Initial reviews of Windows Phone software have been glowing. WP8 uses the full Windows kernel, so with the Surface release, the transition to a complete ecosystem will be nearly accomplished.
Investment Opportunities
Microsoft's stock does not have high expectations for WP8 programmed in, so a strong launch will definitely move the stock more than a weak launch will hurt it. I recommended Microsoft as a great long-term investment even without WP8. Nokia's survival depends on WP8 success, so obviously its stock will be more volatile.