The European sovereign debt crisis has lead to renewed focus on governments' ability to repay or refinance debt. Further, with the government sector leveraging in most countries post the financial crisis, the debt for the government sector is ballooning. This article discusses why most governments in the advanced economies are in an inescapable debt trap. Also, the article discusses the investment options in an environment of massive government leveraging.
Why Governments are in an Inescapable Debt Trap?
It is not just the current debt to GDP for United States and some major European economies that makes me believe that the governments are staring down a bottomless pit.
Consider the following factors:
A weak economic scenario in the eurozone coupled with an uncertain and sluggish economic growth in the United States necessitates more government spending in the foreseeable future. Further, I expect economic growth in the advanced economies to remain anemic for the prolonged period.
The total budget deficit from 2012 to 2022 for the United States is expected to be USD12 trillion according to the CBO. This effectively means that the federal debt would swell to around USD25-28 trillion by 2022. If yields on Treasury bonds do trend higher over long-term, the interest payment burden would be significant and total debt will only continue to creep up.
The net present value of healthcare spending change (2010-2050) for some of the major advance economies is significant in terms of percentage of GDP. These unfunded liabilities will ensure that governments will continue to pile on debt at much higher cost of debt than at present.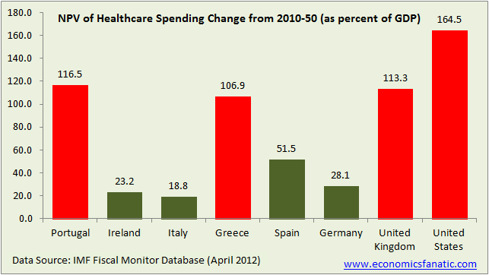 Click to enlarge
The net present value of pension spending change (2010-2050) for some major advance economies also deserves a mention and will contribute to pressure on government finances in the long term.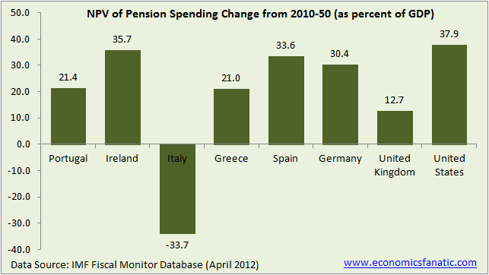 Click to enlarge
Given these factors, it is impossible to forecast a scenario where government debt will reduce or even stabilize at higher levels. Government debt in the above discussed economies will only continue to rise and debt monetization will be the way forward for governments.
Therefore, one can expect meaningful devaluation of major currencies. Currently, the dollar might be looking relatively better when compared with the euro. However, when compared with hard assets, all currencies are bound to lose their value in the long term and should ideally return to their intrinsic value of zero.
Long-Term Investment Options Considering the Discussed Scenario

A long-term bearish view on major currencies would by default mean a long-term bullish view on gold. I would look to keep buying physical gold or also invest through the SPDR Gold Trust ETF (NYSEARCA:GLD).
In my opinion, investing in farmland is also an excellent option for the long term. Besides buying farmland, investors can consider exposure to Alico Inc. (NASDAQ:ALCO), a land management company operating in Central and South West Florida.
Industrial commodities will also do exceedingly well in the long term in my opinion. I must mention here that the next 2-3 years might not be very pleasant for industrial commodities on the back of a slowdown in China. However, for long term, I would consider exposure to industrial commodities like copper. Some of the copper ETFs to consider could be iPath Dow Jones UBS Copper Tota (NYSEARCA:JJC), First Trust ISE Global Copper Index (NASDAQ:CU) and Global X Copper Miners ETF (NYSEARCA:COPX).
Conclusion

In the history of capitalism, there have been numerous occasions when paper money has become worthless. I am not indicating the collapse of all major currencies. However, I can say with a lot of conviction that we are headed in the wrong direction and one needs to protect their savings through investment in hard assets.
Disclosure: I have no positions in any stocks mentioned, and no plans to initiate any positions within the next 72 hours.