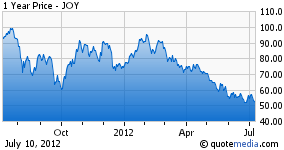 For over a year, investors have been buzzing over the idea that Japanese heavy machinery giant Komatsu (OTCPK:KMTUY) would be interested in acquiring mining equipment manufacturer Joy Global (NYSE:JOY) and basically matching Caterpillar's (NYSE:CAT) move to into mining equipment. While the combination would make a certain amount of sense, Komatsu would seem to have laid the rumors to rest in an interview with Bloomberg.
Kicked The Tires
Komatsu's CEO Kunio Noji acknowledged that he has "studied" Joy Global, but held no talks with the company, and concluded that there weren't enough synergies to justify an acquisition.
That a curious conclusion. Apart from wheel loaders, there's no real overlap between Joy Global and Komatsu. Komatsu has a strong presence in surface mining equipment like dozers, wheel loaders, trucks, and hydraulic shovels, and that's about it. Komatsu really doesn't have much of a presence in drills, draglines, belt systems, nor in underground equipment like shearers, drills, and continuous miners. Combine the two, and you have the only other soup-to-nuts mining equipment company (other than Caterpillar), and one with extensive exposure to the fast-growing Asia-Pacific mining sector.
Instead, it sounds as though Noji would prefer to develop products internally, or perhaps do a select deal here or there to add a technology or product that it can not economically develop in-house. In particular, it sounds as though Komatsu may be focusing its product development on automated equipment that can reduce the risks and costs associated with underground mining.
Few Better Options
Curiously, Komatsu seemed much more interested in a deal about eight months ago, when Noji told Bloomberg that he was looking for acquisition targets.
Acquiring a company like Sandvik, Metso, or Atlas Copco would give Komatsu some much-needed underground mining exposure, but there would seem to be even less synergy there as those companies get about one-third of their revenue from mining, and other products like Sandvik's cutting tools or Atlas Copco's compressors and tools wouldn't seem like good fits with Komatsu.
Maybe Borat Longyear, with its specialty in drills, would appeal to Komatsu. More likely, if Komatsu is serious about selling automated/robotic technology, it will do so by buying much smaller companies (with key enabling technologies or patients) or developing it all in-house.
Any Other Buyers?
Komatsu is not the only fish in the sea that could buy Joy Global. General Electric (NYSE:GE) has started to buy its way into the mining space (acquiring Industrea and Fairchild), and if GE's mining playbook resembles the one it used for building its oil and gas equipment business, further deals are highly likely. Likewise, a company like Deere (NYSE:DE) or Hitachi could show some interest in Joy Global, though it would be an out-of-character aggressive move for Deere.
It is not as though Joy Global has to find a buyer, though. The company does carry a lot of debt, and the stock has been quite weak as the outlook for mining capex (particularly in coal) has withered, but the company would likely have to see a multi-year collapse in demand for free cash flow to go back into the red.
The Bottom Line
Drawing the line between Komatsu and Joy Global made sense, even though Komatsu's leadership clearly sees it differently. Komatsu's apparent interest in automated mining technology is logical, and it will be interesting to see to what extent Caterpillar, Joy Global, Sandvik and others devote resources to these efforts -- especially in light of how government regulations in the U.S. have increasingly made it more expensive to operate underground mines.
With a weak outlook for U.S. underground coal activity and a definite slowdown in China, Joy Global is probably not a great stock to own today. The long-term cash flow outlook is encouraging and suggests Joy may be undervalued, but it takes a fairly high pain threshold to ignore such negative sentiment and buy into declining expectations.
Disclosure: I have no positions in any stocks mentioned, and no plans to initiate any positions within the next 72 hours.