In the week ahead, less than 100 companies will report their earnings as the first quarter season winds down. Of the all the upcoming releases, 3 companies passed our rigorous screen as candidates for a potential upside surprise.
Genentech (Private:DNA): Reporting Thursday after the close.
International Speedway Corp (NASDAQ:ISCA): Reporting Wednesday before the bell.
Pier 1 Imports Inc (NYSE:PIR): Expected to report Thursday.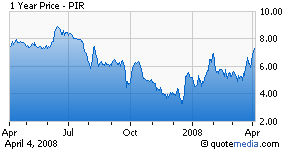 While we feel that DNA and ISCA are superb 3-to-6 month investments, it's Pier 1 that we believe has the best chance to blow past Wall Street's and investor's expectation.
Here are 4 reasons why we believe that Pier 1 will be The Correct Call:
Studies have found that companies with the widest disagreement between the Highest & Lowest estimates tend to deliver the biggest surprises. According to Yahoo, Pier's estimates differ 42 cents from top to bottom: A low of a loss of 12 cents to a profit of 30 cents.
Large upside surprises tend to be followed by additional upside surprises. Last quarter Pier delivered a whopping 54% surprise.
The most recent estimates are the highest for the quarter. Ninety days ago estimates stood at 6 cents, 30 days ago 5 cents, today they are 7 cents.
In an April 1st upgrade, Deutsche Bank analyst, Mike Baker says "near-term earnings are likely to be stronger than Wall Street expects as Pier's merchandise and execution are both improving, which in turn are lifting sales and merchandise margins, despite a soft economy."
Looking at Pier's chart, a return to profitability coupled with better than expected profits could push PIR's share price towards $9.
Disclosure: none