Oil and gas investors are constantly trying to find the small explorco that will hit the "company maker find", raising the stock 5 to 10 fold. The problems are constant for the small explorco, drilling locations, risk tolerance, technical talent and, most of all, money.
The current credit situation is in the process of hitting small explorcos even harder on the borrowing front than drilling failures. Even if a small explorco has some assets, borrowed money is now harder to come by for the small explorco. The LSE AIM market is being littered by the small explorco dead or they are being gobbled up by larger companies at cheap prices, leaving the IPO investor with a loss. Small explorcos working in the North Sea started to see lending facilities dry up back in March of 2006 and it only has gotten worse.
Consolidation in the North Sea is taking place and ultimately we will see only about 15 to 25 surviving explorcos left standing. The assets and unproven prospects of the smaller companies will be gobbled up by the survivors at relatively cheap prices due to credit risk, no matter the asset relationship to the future price of oil or gas. Even with all these problems, investors are still looking for the next Oilexco or something like it. Something like it could be Endeavour International Corporation (NYSE:END), based in Houston but drilling only in the North Sea. Trades on the Amex at a $1.30 as of this writing.
The bad news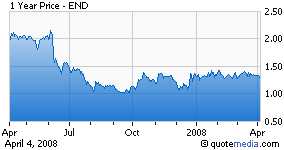 Most of END's current production assets are scheduled for abandonment in 5 and 6 years and current production is 50 percent hedged at an average of $65.00 per boe in order to satisfy loan covenants. END works exclusively in the North Sea, a mature basin with a high tax rate. Markets are stubbornly not giving any credit to END's 2P reserve value. Company stock is selling at 45 percent of its 2P NAV, undoubtedly due to current short production life assets, a preferred stock issue, a past strategy of taking small single digit and low double digit ownership percentages in multi-owner wells and an overly skeptical credit market believing that END still needs cash.
Another stock price hindrance is that END trades primarily on the Amex, where pure play North Sea oil companies have little investor exposure or understanding by the average American investor.
END now has a dual listing on the LSE and so far that hasn't helped the stock price. The company competes with 150 other companies for North Sea assets and exploration blocks. The company has high debt levels as of this writing and a borrowing agreement that dilutes common shares on an interest payment basis with an explosion in common shares the last 2 years. END is very gassy in her current production and END's management must execute well in the coming 3 years in an environment where delayed production has become common place for oil companies big and small.
The good news
After reading the bad news what could be the good news? Its drilling success, its high ROI on two acquisitions and its money. END has a darn good amount of cash flow for exploration and acquisition for the next 5 to 7 years. Operating cash flow came in at a whopping 124 million USD for 07 taking the Street by surprise. Discretionary cash flow came in at 91 cents per share for a stock that sells at a 1.33 USD per share. The current production is 10,000 boed.
An experienced management team in the North Sea gives END advantages. END has 21 geo-scientists and 9 engineers on staff, far more than most for a company this size. The company currently has 5 development projects ongoing that will double production by 2010 and these costs will be funded by internal cash flow and should therefore avoid any production hedge oriented borrowing.
Oil production will increase with the development of several blocks to come on stream from the so-called R blocks. First phase for the R blocks are for production in 2009. Endeavor has a controlling working interest in these blocks.
The company has 10 exploration or delineation projects also ongoing. END has some big partners in these projects like Gaz De France, Exxon, Talisman and Stat Hydro. END's Agat project in Norwegian waters has the potential to contain 1.5 trillion cf of gas. END has a 65 percent working interest in Agat and END's exploration success rate is double the North Sea average.
END is on schedule to move 20 million barrels of 2 P to 1 P, thereby tripling current 1P and even with the large uptick in common shares the 2 P value of her reserves are at a 50 percent discount. The billionaire Smedvig Family of Norway will put in up to 100 million USD for future financing. The Smedvigs will receive payment of principle in cash and interest in common stock of END. This is a big vote of confidence by a well known European family, known for their no nonsense investments, willing to roll the exploration dice with the other common share holders.
Additionally, this financing arrangement along with future cash flow handles credit facility in spite of the current risk adverse credit markets. The increased cash flow has enabled the company to stop share diluting interest payment on a preferred stock issue and now pays cash dividends instead of diluting the common share base. The company in 07 has retired 40 million in USD debt, extinguished a 75 million USD second lien and is on schedule to retire a 25 million USD credit facility this year.
Bottom line
The strategy of small stakes on multiple projects has paid off for END. As END moves her 2P reserves into 1P in greater volumes than yearly production, and as production increases start to be realized, the stock price will surge forward.
END will be in the position of taking larger stakes and operatorship in future projects.The company has true sustainability in asset acquisition and exploration with a cash flow stream that can clean the balance sheet even further. END will have a minimum of 73 million USD and up to 85 to 90 million USD a year for the next 5 to 7 years for exploration and acquisition in internal funded cash alone.
A credit line has been extended to END where the lender is willing to take their interest in END common shares rather than cash. Previously, END preferred shareholders were willing to take their interest payments in END common. Both instances speak volumes.
END is in the enviable position to last through and capitalize on the current and future trend of North Sea asset acquisition, exploration and consolidation. The investor pays a very cheap price relative to 2P NAV to participate at END's current stock price.
Disclosure: none