On May 24th 2006, Vonage (NYSE:VG) went public at $17 a share riding high on a new technology at an affordable price point. The company's key product, Voice over Internet Protocol, (VoIP), had been making the price of communicating cheaper since its inception in 2001. Vonage was not shy about touting this fact in the face of traditional communication giants like AT&T (NYSE:T) and Verizon (NYSE:VZ). The sky was the limit or so Vonage thought.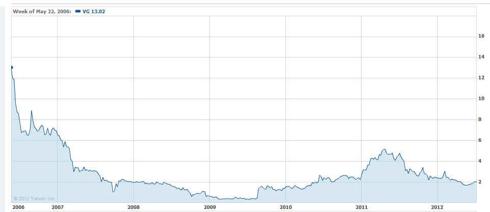 While the value of VoIP in communication has increased, Vonage has spent the better part of the last six years reeling from a poor IPO and fending off lawsuits from all sides; competitor, client, and shareholder. During this time, the niche Vonage once tried to pioneer has expanded. Microsoft (NASDAQ:MSFT) has acquired Skype for $8.5 billion and larger internet companies such as Google (NASDAQ:GOOG) have built presence with the likes of Google Voice. Cable and satellite companies like DirecV (DTV), Dish Network (NASDAQ:DISH), Charter (NASDAQ:CHTR), Comcast (NASDAQ:CMCSA), and others began bundling VoIP into packages while Vonage struggled.
So why talk about Vonage now? Yesterday's patent news may indicate a major fact - Vonage now is not just the IP defendant. With two new patents, Vonage will now be recognized as innovator of intellectual property which has created a lot of benefits utilized by VoIP today. One such patent, U.S. Pat. No. 8,213,594, (titled "Method and Apparatus for Placing a Long Distance Call Based on a Virtual Phone Number"), relates to the IP which makes VoIP so useful to travelers and business alike. The virtual number allows an entity to call from a number that appears to be in the same country and at local rates. The virtual number and other Vonage IP may lead to a swing from the unfavorable legal landscape that once led Vonage below a dollar a share to future profitability.
As Vonage IP expands, it increases the likelihood of the company regaining a competitive advantage over competitors like 8x8 (NASDAQ:EGHT). In addition, those communication giants who once fought Vonage on IP issues may be paying royalties in the future. Vonage IP realization also increases the likelihood of an acquisition by a suitor looking to get into the telephone market. Perhaps Vonage and Facebook (NASDAQ:FB), which may want to quickly expand into a diversified internet business, would make interesting bedfellows beyond their association as IPO failures.
Disclosure: I have no positions in any stocks mentioned, and no plans to initiate any positions within the next 72 hours.