iShares FTSE NAREIT Mortgage Plus Capped Index Fund (REM)
For those investors who are not interested in picking up a single REIT due to their inherent risk, and prefer to invest broadly, REM, the mortgage EFT, is an option. The dividend gem provides benefits of both high dividend yield as well as diversification, resulting in less risk as compared to a single REIT stock. We have also recommended our own highly liquid, high dividend REIT portfolio.
| | | | |
| --- | --- | --- | --- |
| | YTD | Dividend Yield | Beta |
| REM | 14.61% | 11.9% | 0.57 |
| Qineqt's Portfolio | 14.3% | 8.4% | 0.56 |
Composition
The graph below illustrates the sector-wise breakdown of REM, an exchange traded fund (ETF) as of July 9, 2012. It invests over 97% of assets in high yielding mortgage REITs, followed by 0.35% in industrial and office REITs. The combined weight of Annaly Capital Management (NLY) and American Capital Agency (AGNC) is 39%, with 21.5% and17.5% weight for NLY and AGNC respectively. AGNC and NLY offer lucrative dividend yields of 14.4% and 13% respectively. Cypress Sharpridge Investments (CYS), Invesco Mortgage Capital, Chimera (CIM) and Two Harbors Investment (TWO) are the other yield enhancing mortgage REITs offering double figure dividend yields. In comparison, Qineqt s REITs portfolio, which seeks to invest 100% in highly liquid REITs, allocates 25% weight to AGNC and NLY each, with the rest of the 50% invested in HCP, Inc. (HCP), Simon Property Group Inc (SPG), and Simon Property Group Inc (EQR). Both AGNC and NLY drive their advantage from the low-cost borrowings that they are able to obtain and the spreads they earn over these costs.
Qineqt Portfolio's Recommendations

AGNC

25%

NLY

25%

HCP

17%

SPG

17%

EQR

17%

Total

100%
Performance
The ETF is up 14.4%, compared to only 8.03% appreciation in value of the S&P500 index and 14.3% in Qineqt's REITs portfolio since the beginning of the year. This is still below the outperformance demonstrated by AGNC, whose shares have appreciated in value by over 23% on a YTD basis, while NLY was up by 5.45% over the same period.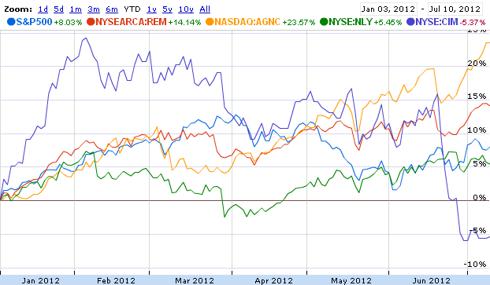 Click to enlarge
(Click to enlarge)
Fees and Expensive
REM has a beta of 0.57 combined with an expense ratio of 0.48% compared to 0.4% for Van Eck Market Vectors Mortgage REIT Income ETF (MORT). Qineqt's REITs portfolio and REM have a similar beta, which means they have the same market risk.
Dividends
REM offers an unmatched dividend yield of 11.9% compared with 8.4% for Qineqt's highly liquid portfolio of REITs. Most constituent REITs have the ability and financial muscle to continue distributing dividends. They generate higher cash flow yields than their shareholder distributions. However, the risk stemming from the flattening of the yield curve looms large.
Risk
The favorable trend in the spreads that REITs are earning is not expected to continue. With the flattening of the yield curve, the spreads for these companies are expected to narrow down, resulting in depressed yields. Lower long-term rates will lead to an increase in prepayments, resulting in higher amortization costs. This has the potential to depress earnings for these companies.
In conclusion, REM is well diversified; it offers higher risk adjusted returns. REM is an ideal investment and should be considered while building a retirement portfolio.
Disclosure: I have no positions in any stocks mentioned, and no plans to initiate any positions within the next 72 hours.