Occidental Petroleum Corporation (NYSE:OXY)
We have a positive outlook on OXY due to its strong fundamentals and its majority share of domestic oil production. We also favor OXY because it is primarily a liquids play (70%) and has a strong dividend yield of 2.5%.
Industry
The Oil and Gas Industry consists of three main segments, namely Exploration & Production (Upstream), Pipeline and distributions (Midstream) and Refining and Marketing (Downstream).
Companies in the Oil and Gas Industry can be in any of the aforementioned business segments, or can be having all three business segments, in which case the company functions as an integrated company.
The primary factors affecting revenues and profitability of companies in this industry are oil and gas prices.
Company Overview
Occidental Petroleum Corporation's three business segments include the Oil and Gas Segment, the Chemical Segment, and the Midstream and Marketing Segment
Oil and Gas Segment
The company has oil and gas operations in several countries including the U.S., Bahrain, Bolivia, Iraq, Oman, Libya, Qatar, Yemen and the United Arab Emirates (U.A.E.).
Following is a table showing the oil and gas reserves and the sales of OXY

Source: 10K- pdf
Midstream and Marketing Segment
OXY is a producer of oil, condensate, natural gas and natural gas liquids (NYSE:NGL). The company competes with several other producers in selling its products that are extremely sensitive to prevailing global and local market conditions.
Chemical Operations
OXY owns and operates chemical manufacturing plants at 22 domestic sites in the U.S. and two international plants in Canada and Chile, and has holdings in a joint venture in Brazil. OXY's strategy is to be a low cost producer for its products to compete on price. It produces Chlorine, Caustic Soda, Chlorinated organic, Potassium chemicals, EDC, Chlorinated isocyanurates, Sodium silicates, Calcium chloride, VCM, PVC and Resorcinol.
Financial Performance
As can be seen below, revenue for the company and all three segments has shown an improvement from the previous time period.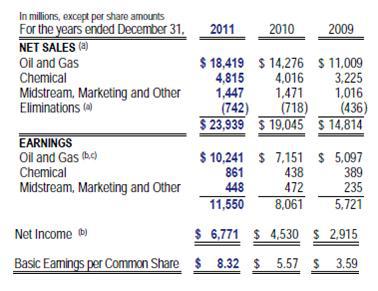 Source: 10K - pdf
The company's earnings and each segment have also shown an increase from the preceding time periods.
This increase in revenue and earnings has been due to the better pricing scenario and increased production.
The Importance of Oil and Gas Production, and Pricing for OXY
The production of oil and gas from different regions is as mentioned below
U.S. production was 59%.
Production from Middle East was 37%.
Production from Latin America was 4%.
The Oil and Gas Segment contributes 77% of revenues and 89% of earnings. Therefore, the most important facts affecting the revenue and profitability of OXY are the prices of oil and gas, and the exploration of new oil and gas formations to replace the already discovered and depleting fields, to maintain its growth path.
OXY is the largest producer of liquids in the lower 48, it is primarily a liquids play (70%), and volatility in oil prices has a more significant impact than gas prices.
Cash Flows
| | | | |
| --- | --- | --- | --- |
| | 2011 | 2010 | 2009 |
| Cash flow from operations | 12,281 | 9,566 | 5,946 |
| Capital Expenditures | (7,518) | (3,940) | (3,245) |
Source: 10K - pdf
Cash flow from operations has shown a significant improvement over the previous time periods. However, the CAPEX showed a higher percentage increase than the previous time periods.
Dividends
| | | | |
| --- | --- | --- | --- |
| | 2011 | 2010 | 2009 |
| Dividend per share | 1.84 | 1.47 | 1.31 |
Source: 10K - pdf
Dividends have also shown improvement over the previous time periods with an increase of 25% in 2011 and 12% in 2010. The company announced a dividend of $2.16/share for 2012, which is an increase of 17%.
Competitors
OXY's competitors include Exxon Mobil Corporation (NYSE:XOM) and Chevron Corporation (NYSE:CVX).
Permian Shale and California
OXY is the largest producer of oil in the Permian basin of Southwest Texas. It is the largest producer of natural gas and the second largest producer of oil in California.
Due to the decrease in natural gas prices in the past one year, OXY has indicated that it will shift its production in California to oil and liquid plays to improve profitability.
Outlook
OXY has shown improving profitability over the years and is expected to do so with its presence in the Permian shale and its shift to liquid plays in California.
It is trading at a P/E and P/B ratio of 9.7x and 1.7x, and offers a dividend yield of 2.5%, which is in line with its competitors.
We believe the company is well placed to take advantage of the oil and shale gas boom in the U.S. Therefore, we have a positive outlook on the stock, while oil prices remain a key risk to our thesis.
Investors willing to take a long position or already holding OXY in their portfolio, can hedge their position against a decline in oil prices by taking a short position in the Oil ETF (NYSEARCA:USO).
| | | | |
| --- | --- | --- | --- |
| | OXY | CVX | XOM |
| P/E | 9.76 | 7.98 | 9.83 |
| P/B | 1.78 | 1.64 | 2.49 |
| P/S | 2.82 | 0.87 | 0.88 |
| Dividend Yield | 2.50% | 3.60% | 2.70% |
| 3 month performance | -5.98% | 2.76% | 1.66% |
| YTD performance | -9.45% | -2.02% | -1.45% |
| 52 Week Performance | -20.72% | -1.55% | 1.11% |
Disclosure: I have no positions in any stocks mentioned, and no plans to initiate any positions within the next 72 hours.