I enjoy the straight forward approach that Nordic American Tanker (NYSE:NAT) and their CEO, Herbjørn Hansson take to their business. Mr. Hansson will issue a letter letting us all know the state of their business well before the official earnings report comes out. He has just released this letter with good news concerning first quarter results and the dividend.
The letter states that spot rates for their tankers have been good and the first quarter dividend will be over $1.00. This will be a nice change from the last two dividends of 40¢ and 50¢. Official earnings and dividend declaration will be in early May.
Nordic American does not try to do anything fancy with their business, stock or dividends. Their fleet of tankers is managed to have very low overhead, they lease only in the spot market and the majority of earnings are paid out as dividends each quarter. The tanker fleet has grown over the last several years and they should continue to add new ships. The dividend can fluctuate tremendously with spot tanker rates. Mr. Hansson believes the spot market will give the best returns over time and that is where the company places 100% of their efforts.
Investors and money managers looking for steady results should stay away, but I find the company very intriguing and an investor with a longer term investment horizon can definitely pick up discounted shares when the dividend is low and reap the rewards when spot rates pick up.
A few months ago, I found this video from CNBC very entertaining. If you know anything about NAT it is filled with errors.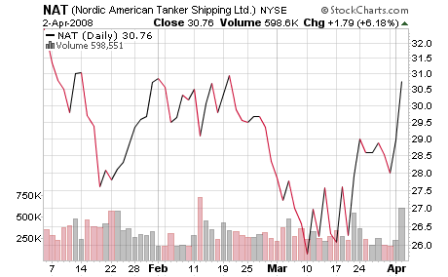 Note: I currently do not have a position in NAT.