Finding an energy industry small-cap stock forces investors to drill down and sift out the shams from the legitimate possibilities. It's a rocky process, but with oil prices soaring, smaller oil and gas producers are attracting more notice for their potential to help satiate the world's craving — and enrich shareholders.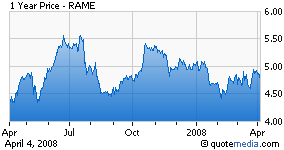 Ram Energy Resources, Inc. (Nasdaq:RAME) is one of those well-established, independent oil and gas companies, ramping up its expansion in size and scope beyond its principal exploration focus on Texas, Louisiana and Oklahoma. No multinational here, Ram Energy's attention has remained with its core operations.
Analysts who follow Tulsa, Okla.-based Ram Energy appear to find its prospects enticing, with four of the six analysts tracked by Thomson Financial giving the stock a rating equivalent to a "strong buy;" the remaining two have it at "buy."
The median price target at Thomson is $7.25, roughly a 50% upside potential from where Ram Energy has traded in recent months. Shares closed Thursday at $4.80,and have not cracked $5 since early January.
The 52-week high for Ram was $5.64, seen last July 17, while its low point was $4.17 on Aug. 20. Shares appear to have topped out at $7 just once, in May 2006. Trading volume is typically low, and with 41 million shares outstanding, insiders hold roughly a third of them; institutional investors claim an 18% stake.
Ram Energy began in 1987, and Larry Lee (one of the founders), remains as company chairman, president and CEO, and is the largest shareholder. Many of the senior managers have been associated with the company for more than a decade.
Last October, Ram Energy announced plans to acquire privately held Ascent Energy of Plano, Texas, for $289.5 million. The acquisition was completed in late November. The purchase of Ascent added 18.6 million barrels of oil equivalent [BOE] of proven reserves, daily production of approximately 3,162 BOE, and about 83,000 net acres of undeveloped leasehold, most of which are in active shale areas. It also expanded Ram's reach into Appalachia.
In early March, Ram Energy said its proven oil and natural gas reserves as of Dec. 31, 2007, more than doubled to 39.4 million BOE, mostly on the Ascent acquisition.
Ahead of releasing 2007 results, on March 10, Ram Energy posted an update of fourth-quarter operating activity, along with an optimistic 2008 outlook that helped its shares post a one-day gain of 5%. The company said in the final three months of 2007, production rose 37% to 436,000 BOE, bringing full-year oil and gas output to 1.4 million barrels, up 10% from the year before. While fourth-quarter average daily production was 4,739 BOE, up 37% from the 2006 period, production was 6,580 barrels in December, the first full month following the Ascent acquisition.
The update led Neal Dingmann, senior vice president of equity research at Dahlman Rose & Co., to write investors that "Ram has built a portfolio of assets through smart acquisitions and solid operations," and predict that the company could be in a position to acquire other assets this year. Dahlman Rose has a "buy" rating on Ram Energy, with a $7.50 price target.
Spreading the good news early helped blunt the blow of an earnings miss for the fourth quarter reported on March 17, blamed on derivative expenses and rising general and administrative outlays. Ram Energy posted a net loss of $6.3 million, or $0.13 per share, for the quarter ended Dec. 31, compared with a profit of $1.1 million, or $0.03 a share, the year before. For the full year, Ram had a net loss of $1.25 million, or $0.03 a share, compared with a profit of $5 million, or $0.16 a share, in 2006.
Higher expenses and $8 million in derivative losses weighed on Ram in the fourth quarter, while the 2006 quarter included a $1.1 million derivative net gain. Revenue increased 37% in the 2007 quarter to $19.2 million, while full-year oil and gas sales rose 20% to $81 million.
"As we start out now with a full year of Ascent under the umbrella of Ram we are going to invest $80 million in our growth for production and our reserves," CEO Lee told investors on a March 18 conference call. That's triple last year's capital expenditure budget. Lee also cited the potential from untapped acreage.
Analyst Leo Mariani of RBC Capital Markets, in a March 19 note to investors, maintained an "outperform" rating with a $7 price target on Ram Energy. Pointing out that Ram "trades at a 34% discount to NAV," RBC raised its 2008 cash flow per share estimate by 11%, saying the company is likely to benefit from falling interest rates. Mariani is expecting 10% year-over-year production growth from Ram Energy in 2009.
An energy industry expert associated with Gilford Securities in New York explained why companies such as Ram Energy are often off the radar of investors. "In this kind of an energy market," he said, "people are looking for the next big thing. The companies that hit the singles and doubles are being ignored."
Disclosure: none