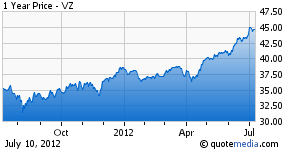 With increased household data usage to power smartphones, tablets, and other portable devices, telecom companies must continually find ways to offer affordable service plans, but still remain competitive. Recently, Verizon (VZ) released its latest "Share Everything Plan" which allows customers to include all devices in their household under one plan. Verizon plans to charge customers based on the amount of data they use each month, rather than per device or number of minutes and text messages used. Customers can choose a price option based on estimated monthly data usage.
Even though this new plan structure seems to make sense and provides added convenience to customers as they would only have to pay one bill each month for all devices instead of multiple bills, how will this new phone plan affect Verizon's bottom line? And what does this mean for investors?
Phasing Out Other Plans a Smart Move?
Existing Verizon customers do not have to change their current plan if they don't want to, but new customers may be forced to choose a data usage price option exclusively on the "Share Everything" plan as the company plans to retire many existing phone plans. But when existing customers want to upgrade their phone plan, they will most likely have to choose a price option under the 'Share Everything' plan.
The 'Share Everything' plan includes unlimited calling and text message sending and receiving, but Verizon's main objective is to get people to spend more money on larger data plans to run all of their devices.
The company plans to retain one or two plans for those that only want calling and texting phone options - this is a dwindling percentage as most customers now carry at least one smartphone or portable device that requires additional data allotments.
Whether or not this move is a smart one in terms of generating more business for Verizon remains to be seen, but from an investment perspective offering fewer products and services may not sit well with investors. Limiting phone service plan options may cause existing customers to go elsewhere when looking for the best deals. Investors should pay close attention to Verizon's income statements for the next two or three quarters to determine the impact of this move on net profits.
Currently, Verizon's net income from the fourth quarter of 2011 and first quarter of 2012 were $2.02 billion and $1.69 billion, respectively. What's interesting is that, during both quarters, the company earned about the same in gross income, $12.17 billion in the fourth quarter of 2011 and $12.9 billion in the first quarter of 2012, but spent over $3.62 billion more in SG&A Expenses during the fourth quarter of 2011 than in the first quarter of 2012. The company also reported an 'unusual expense' of $5.63 billion in the fourth quarter of 2011, which is a one-time expense that contributed to the company ending in the red for that quarter.
Investors should pay close attention to net income for the next three quarters to see if the new plan greatly affects the company's bottom line. If investors notice a sizable dip in income, then it may be time to invest in another company with healthier revenue.
Investors should also pay close attention to the company's SG&A Expense as this indicates what a company spent on administrative, advertising, and selling. Currently, Verizon's SG&A Expense for Q1 2012 is $4.03 billion. This is down from $7.65 billion in Q4 2011. This many indicate that the company spent a larger portion of its earnings last year in pre-promotion of its "Share Everything" plan and doesn't plan to spend as much this year.
Other Telecom Companies Trying to Keep Up
Verizon isn't the only company banking on big profits for data usage-based phone plans. AT&T (T) is expected to structure similar plans based on the amount of data customers use each month.
Sprint (S), on the other hand, has no plans to stop offering unlimited data plans to new and existing customers. Since Sprint currently has a smaller stake in the 4G LTE market, offering unlimited data is one way the company can keep up with the fast pace of Verizon and AT&T, which are the two largest telecom companies to offer next generation data transfer speeds.
Even though lesser known companies like Windstream (WIN) and CenturyLink (CTL), continue to expand into new territories on a regular basis, these companies have yet to compete with Verizon and AT&T. Both companies continue to move forward to build their respective brands, however. Windstream, for example, recently launched a new line of products and services aimed at small businesses, while CenturyLink's Network Event Management Center has earned TL 9000 NOC certification (quality management) - the company is only one of six companies in the world to hold this type of certification.
Both companies also offer more variety of when it comes to service plan options. For example, for those in rural areas where phone and Internet services are limited, having the freedom to choose from more than one or two plans may be more convenient than having only one plan to choose from. Also, people in these areas may use their phones more often than those in more populated areas to make phone calls or send text messages, especially if Internet service remains slow.
Investors should carefully consider each of these companies as a viable investment opportunity, especially if Verizon's latest data service plan flops.
Going Forward
Investors should play it safe for now and keep a close watch on Verizon before investing additional monies in the company. Depending on the popularity of Verizon's new data plan, investors may have to rethink how much then invest going forward. Even though Verizon earned about the same in sales revenue from the fourth quarter of 2011 and first quarter of 2012 ($28.44 billion and $28.24 billion), this could take a turn for the worst if the "Share Everything Plan" fails to impress customers.
Disclosure: I have no positions in any stocks mentioned, and no plans to initiate any positions within the next 72 hours.