For the exclusively buy and hold investors, now is a good time to look to make smart additions to your portfolio depending on the earnings results and associate price reaction histories of the companies reporting. With that in mind, we'll take a look at just a couple of stocks with a history of trading actively in the extended-hours following their release and how to get positioned ahead of the opening bell.
For buy and hold investors, take a look at the reaction histories of the following stocks to determine if, based on how they report next week compared to historical performance on similar results, there is an opportunity to get some shares at a discount ahead of the opening bell.
Short-term traders can find some overnight information arbitrage opportunities by taking a similar approach as described for buy and hold investors (going long or short in the extended-hours) but closing out the position by the close of the regular session following the extended-hours earnings release.
Alcoa (NYSE:AA)
Reports on Monday: Short Candidate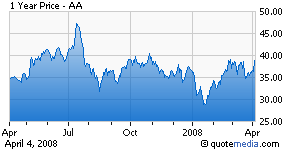 In looking back at Alcoa's session-to-session performance following after-hours earnings events, shares tend to fall from their after-hours levels by the following 4 pm regular session close, doing so in nine of the past 12 quarters.
Latest quarter
On January 9, 2008, After-Hours: +3.2%; 1/10 Regular Session +0.6%
On October 9, 2007, AA edged up 0.3% in after-hours trade after beating on sales but missing on earnings. It turned south the following day, losing 2.4% by the closing bell.
On July 9, 2007, AA dipped 0.7% in night trade after Q2 profits slipped from a year ago on lower-than-expected sales. Shares eased further the next day, closing the regular session down 1.6%.
On April 10, 2007, AA came off a trading halt and edged up 2.2% after topping Q1 estimates. However, shares could not hold onto that momentum and closed the following day session up only 0.5%.
Bed Bath & Beyond (NASDAQ:BBBY)
Reports on Wednesday: Long Candidate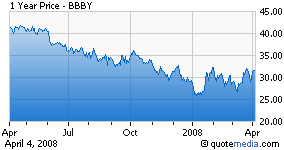 BBBY tends to add to after-hours price levels in the day following its earnings release, posting improved next-day percentage closing levels following nine of its last 12 after-hours earnings events. In the near-term, the stock has also maintained the trend, improving its next day performance in three of the last four quarters.
Last quarter
On January 3, 2008, After-Hours: -6.2%; 1/4 Reg. Session: -4.4%
On September 26, 2007, BBBY advanced 1.5% in after-hours trade after beating Q2 sales expectations and approving a $1 billion stock buyback. It saw its upside evaporate the next day, closing the September 27 regular session down 1.1%.
On June 27, 2007, BBBY dropped 5.2% in after hours despite the company's topping Q1 estimates. Shares managed to claw back some of those losses but still ended the next day session down 3.9%.
On April 11, 2007, BBBY lost 2% in night trade despite topping Q4 expectations. Shares recovered slightly the next day, ending the regular session down 1.8%.
If you haven't considered trading in the after-hours or pre-market, it's not too late. Stay tuned for more stock specific earnings reaction insight to come. While the stocks are modestly earnings sensitive, others I'll cover in the future are much more earnings sensitive and represent even greater trading short and long-term trading opportunities.