By John J. Critchley, Jr.
More bad news for the American retailing icon, J.C. Penney (NYSE:JCP). J.C. Penney is continuing its death spiral (-3.95%) after analysts at Credit Suisse lowered numbers for the one of the largest department store chains in the United States. Analyst Michael Exstein says that sales at the retailer are lagging the dismal first quarter numbers. (Source: Click Here) In May, J.C..Penney announced store sales fell 20 percent from last year and for the company to underperform these numbers in upcoming quarters is spooking investors today. (Source: Click Here)
This downgrade comes just a few weeks after the unexpected shakeup in its executive suite which caused shares of J.C. Penney slide to a two-year low following the resignation of president, Michael Francis. (Source: Click Here)
This is in stark contrast to the ebullient reaction to the hiring of Ron Johnson as the new CEO in January. Investors embraced J.C. Penney's new leader, the architect of the reinvention of Target and retail guru at Apple and lifted the shares 23% to $40.72 on that day in January, on 10X greater than normal volume of nearly 47 million shares.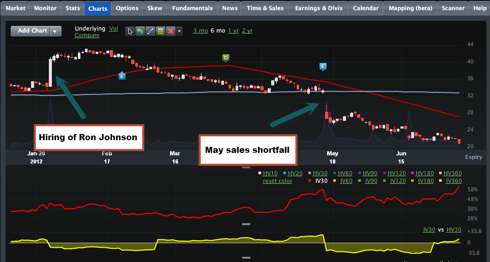 Click to enlarge
Source: Livevol(NYSE:R) Pro (www.livevol.com)
Johnson's initial strategy at J.C. Penney was to replace the store's dependency on special discounts (hundreds of sales in 2011) with a "fixed and square" policy where prices start 40% lower and remain there.
So far, the strategy appears to be a colossal failure and for the last month, many financial pundits have been kicking sand on Ron Johnson's grave. Whether or not this strategy succeeds in the long run is anyone's guess, but the surging implied volatility in J.C. Penney options present an opportunity to take advantage of these elevated premiums to express a directional view.
Options Plays
With J.C. Penney's collapse following recent events and continued weakness, the 30 day implied volatility of the options is quite elevated. The 30 day implied volatility is trading around 60.90%, significantly higher than the 52 week implied volatility low of 30.88% hit in March of this year.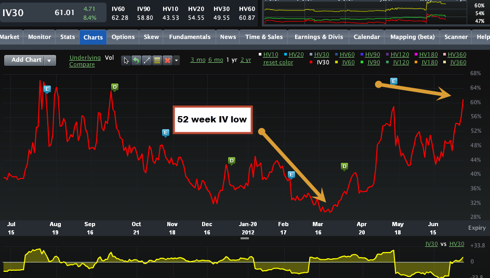 Click to enlarge
Source: Livevol(R) Pro (www.livevol.com)
Let's take advantage of these elevated implied volatilities to either initiate a brand new short position or to speculate on a bullish turnaround in J.C. Penney.
Trade idea #1 -A Bearish Options Play
If you believe this may be an opportune time to initiate a bearish position, the elevated implied volatility across the board in J.C. Penney options creates opportunities in the options marketplace through some put plays.
To take advantage of abnormally elevated downside implied volatility skew and to benefit from any further downward pressure in the stock in the next month, let's go out to the AUG 18th '12 options. With earnings tentatively set to be released on August 8th, the purchase of these August options allows us to also participate in any post earnings underlying activity.
The play:
a) Buy August 18th '12 22-17 put spread for $ 1.68 Receiving about 12.81% in implied volatility skew ( buying 63.23 IV vs. selling 76.04 IV)
To finance this spread:
b) Let's sell the August 18th '12 24 calls for $ .74 This is approximately a 61.3% Implied Volatility.
Net debit: $.94
Why sell the August 24 line? Two main reasons:
1) There is a group of investors that believe in the J.C. Penney turnaround story and therefore the upside call options are still quite bid. By selling the August 24 line at 61.3% IV, you are only giving up a 1.43% discount to the August 22 puts. Normally, one would see a more pronounced skew (difference) between the OTM calls and puts. Let's take advantage of this anomaly.
2) If your view turns out to be faulty, you still may be able to get away with being short some upside calls as you only start to incur losses if the underlying rallies nearly 13% between now and August 18th '22 expiration.
Risk: You will be Short the stock over $24. A 13 % upward move in J.C. Penney over the next month.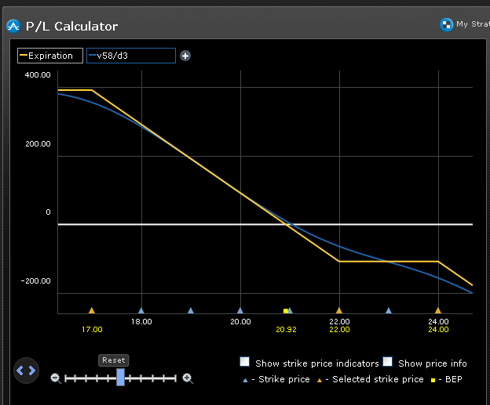 Click to enlarge
Source: http://sogotrade.com
Trade idea #2- A Bullish Options Play
If you agree with those who view this recent selloff in J.C. Penney as a tremendous buying opportunity and believe in the "Johnson magic," there is a downside implied volatility skew that allows for a compelling upside speculative play.
In order to accomplish this, let's again go to the August 18th '12 options.
Trade idea -
The play: To capitalize on the reverse upside call implied volatility skew.
a) Outright Buy August 18th '12 25 calls for $.51
This purchase is a 57.6% implied volatility and could be viewed as not expensive for 7 weeks of upside plus an earnings release. It is worth mentioning that this purchase is higher in implied volatility terms than the nearer term July 13th '12 weekly and July 21st '12 regular options that are priced in the low 50% implied volatility area. This discrepancy, however can be explained away by the fact that there is earnings announcement premium factored/priced into these options.
To finance this purchase:
b) Let's sell the August 18th ' '12 17 puts for $ .46
This is approximately 70.11% implied volatility. You are selling implied volatility in these puts at a skew premium to your call purchase. This is very normal and standard option pricing behavior. Let's take advantage of the downside-implied volatility skew in these options to lessen the debit of our call purchase.
Net debit: $.05
Risk: You will have J.C. Penney stock put to you @$17. In other words, you will be long and own the stock at $17 if the underlying trades below $17 and you are assigned the puts. A 19.8% downward move over the next month.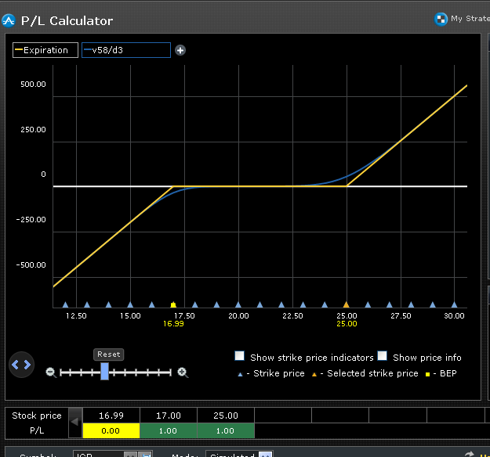 Click to enlarge
Source: http://sogotrade.com
Stay tuned………
Notes: Prices quoted where the prices at time of submission and do not reflect current market
Disclaimer: We are not liable for any trading decisions made by any reader. NO advice is given or implied. The information offered in this article is for demonstration purposes ONLY and should not to be either construed as an offer or considered to be a recommendation to buy or sell any options .
Your use of this information is entirely at your own risk. It is your sole responsibility to evaluate the accuracy, completeness and usefulness of the information. You must assess the risk of any trade with a professional broker, or financial planner, and make your own independent decisions regarding any trades mentioned herein. This is not a solicitation to buy or sell any options, or to purchase or sell any credit spreads. Trading options only carries a high degree of risk, is not suitable for all traders/investors, and you may lose all of your premium money invested in the options. If you have never traded options before, we strongly recommend that you read a little background information made available by the government. Only you can determine what level of risk is appropriate for you. Also, prior to buying or selling an option, a person must receive a copy of Characteristics and Risks of Standardized Options.
Past performances DO NOT guarantee future results. Please consult with your own independent tax, business and financial advisors with respect to any trade. We will NOT be responsible for the consequences of anyone acting on this purely demonstration material.
Important Note: Options involve risk and are not suitable for all investors. For more information, please read the Characteristics and Risks of Standardized Options.
Disclosure: I have no positions in any stocks mentioned, and no plans to initiate any positions within the next 72 hours.