Blackrock (NYSE:BLK) is a stock that has been on my radar for a while, pushed to the forefront recently by my usage of a stock screener with my online brokerage account. While the screener can't be extremely extensive, and it does not make a stock inherently a buy simply because of its inclusion on this list, it is a notable achievement to be on it, considering the quantity of entrants.
Blackrock is one of only two companies that have:
5-year revenue growth > 25%
5-year EPS growth > 25%
P/E ratio < 15
Dividend yield > 3%
Market Cap > 5 billion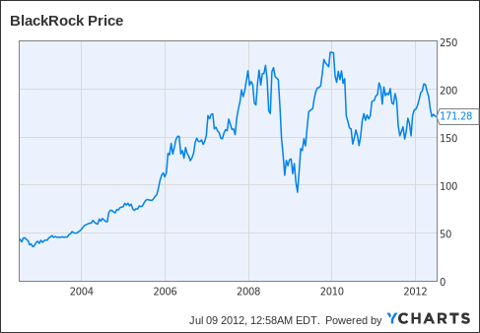 BLK data by YCharts
The other stock is Cliffs Natural Resources (NYSE:CLF). The eliminating factor for endless amounts of companies, of course, is the recession of a few years ago. Blackrock was saved by its diversified products and the fact that it does not engage in proprietary trading. As Warren Buffett says, "It is only when the tide goes out that we learn who has been swimming naked." Their performance in the face of that crisis is a real testament to their stability.
Among my favorites of its products now are its IShares ETFs, which garnered nearly 600 million in revenue for the first quarter of 2012 alone. The net new business generated by these products was 18.2 billion for 1Q 2012. Continually releasing new products, 44 were released during the first quarter of 2012, which received 700 million of new flows on their own. Currently its most sought after ETFs are emerging market and income oriented.
The ETF business is charging ahead, full steam, and it is a great place to be and what I expect to be a major positive for Blackrock in the coming years. Currently the U.S. ETF market stands at 1.1 trillion dollars. Forecasts currently exist of it hitting 10 trillion by 2025, and more conservative forecasts still have it hitting 6 trillion by 2025, which would still be a 13% compounded annual growth rate. If ETFs can break into the 401(k) market in a material way, the growth would be even more.
Important amongst all this is Blackrock's IShares battle with its main competitor, Vanguard. Take for example the IShares Barclays US Aggregate Bond ETF (NYSEARCA:AGG). With just shy of 8 billion in assets in 2007, it has grown to just shy of 14 billion by 2011, for growth of around 75% in those 5 years. Very impressive, but the Vanguard Total Bond Market ETF (NYSEARCA:BND), launched in April of 2007 now has slightly more than its IShares counterpart. Both track the Barclays Capital Aggregate Bond Market Index. The main factor in Vanguard being able to play catch-up successfully is that it is able to offer a lower expense ratio.
There are other examples of this happening, and it remains a point of concern for Blackrock, which it is dedicated to remedying. Able to increase market share in years such as 2009, it has fallen slightly in recent years to where it currently stands at about 46%. To be sure, a falling market share in such a fast growing industry is not ideal, but it still provides room for ample growth. Even if IShares' market share fell a full 16% to 30% by 2025, using the conservative 6 trillion market figure previously stated gives IShares 1.8 trillion out of that market, or around 1.3 trillion more than it has now. This would still be over a 10% annualized gain.
Of course that is not the goal, and I don't view it as probable. The key for it moving forward, aside from keeping expense ratios down, is innovation and it is here where it has a strong reputation for succeeding. Recent fund launches by IShares include specific credit quality ETFs for corporate debt. For example, one can choose from A rated bonds, B rated bonds or C rated bonds all in one ETF. It seems it constantly is coming up with new ideas.
It is important to be "first out of the gates" with new products, because they tend to have higher liquidity than "copy-cat" products, which is important to many investors. Short of offering those lower expense ratios it is hard to play catch-up this way. Aside from Blackrock and Vanguard, State Street (NYSE:STT) and Invesco (NYSE:IVZ) are two other major players in the ETF market, but Blackrock's IShares remain my favorite.
Disclosure: I have no positions in any stocks mentioned, but may initiate a long position in BLK over the next 72 hours.