The small cap biotech and medical device space holds a fascination for me as the right positions in these sectors can lead to outsized rewards if the selected company develops a viable product and/or receives a lucrative buyout from a bigger player in their business. I believe in the "shotgun" approach of taking small positions in a lot of different stocks as the failure rate is high. One stock I picked up during today's sell-off, EnteroMedics (NASDAQ:ETRM), seems to have exponential sales growth ahead of it as well as some substantial and recent insider buying.
7 reasons to pick up ETRM is a good speculative play at just over $3 a share:
Net insider buying in the second quarter amounted to more than 2mm shares.
The company has net cash of 10% of its market capitalization on its balance sheet.
The three analysts that cover the stock have a median price target of $5 a share on ETRM. The low target is $4.50 and the high target is $6 a share. Northland Securities initiated the shares as an "outperform" in late July.
The company beat earnings estimates last quarter and the consensus losses projected for FY2012 and FY2013 have narrowed slightly in the last two months.
EnteroMedics' revenues are projected to soar more than 700% in FY2013 and it just had its first successful implants of its Maestro Rechargeable System.
The stock was just added to the Russell 2000 and 3000 indexes and will be presenting at the upcoming JMP Securities Healthcare Conference.
The stock has momentum after a very long bottoming process and is now solidly above its 200 day moving average (see chart).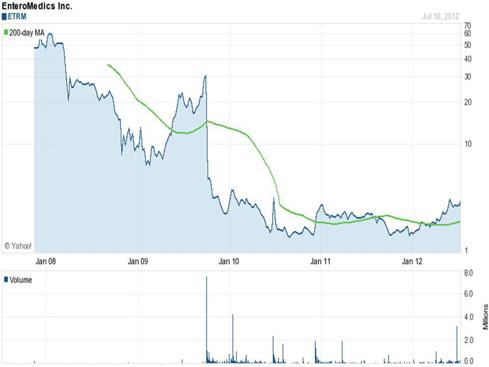 Click to enlarge
(Click to enlarge)
Disclosure: I am long ETRM.