Writers have focused a great deal of energy on the January and/or March lows for the stock market. That's with good reason -- investors crave information that refutes or supports the idea that we've seen the bottom.
Very little attention was focused on the month of February, 2008. That probably explains why you haven't seen a story about the possible "decoupling" of Switzerland stocks from their U.S. counterparts.
From the October highs all the way through the 3rd week of February, there was little difference between the movement of the iShares MSCI Switzerland Index Fund (NYSEARCA:EWL) and the movement of the 500 largest U.S. companies in the SPDR S&P 500 Trust (NYSEARCA:SPY).
Then it happened. The Swiss ETF began charting its own path higher. In just 5 weeks time, the Swiss ETF had a "spread" of 10 percentage points over the S&P 500 Trust.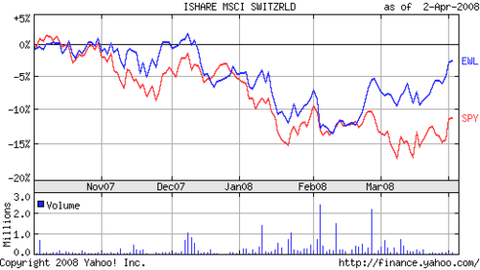 Even as the mega-giant Swiss bank UBS (NYSE:UBS) writes down humongous losses from U.S. sub-prime debt, the Swiss ETF hasn't been hampered that dramatically. Tom Lydon of ETF Trends noted that the country boasts political neutrality, low inflation, low unemployment and strengthening economic growth.
Yet none of these factors explain the dramatic change in sentiment circa February 21. What does explain it? A huge spike in demand for the Swiss Franc.
The Currency Shares Swiss Franc Trust (NYSEARCA:FXF) literally skyrocketed from the 3rd week of February to the final week of March. It managed 10% appreciation against the struggling U.S. dollar in that short-time period.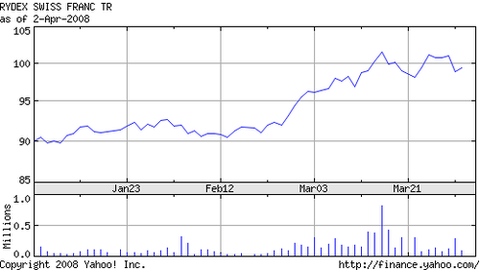 With the Currency Shares Swiss Franc Trust (FXF) performing remarkably well as a safer haven from global equity risk... perhaps it is premature to declare that Swiss stocks are separating from U.S. stocks. If one requires greater exposure to old and newer Europe stock assets, one should be more comfortable with an allocation to the MSCI European Monetary Union Fund (BATS:EZU). (Read more about this exchange-traded fund here.)
Disclosure Statement: As a Registered Investment Advisor, Pacific Park Financial, Inc. may hold positions in the ETFs, mutual funds and/or index funds mentioned above. Investors who are interested in money management services may visit the Pacific Park Financial, Inc. web site.