By Brendan Gilmartin
JPMorgan Chase (NYSE:JPM) is scheduled to report Q2 2012 earnings before the bell on Friday, July 13. The results are typically released at 7:00 a.m. ET, with a conference call slated to follow at 7:30 a.m. JPMorgan Chase is the first of the major U.S. financial institutions to report quarterly results. Therefore, the numbers could have a significant impact in the trading of other names in the financial sector, as well as U.S. index futures and other broad market securities. Aside from the quality of its earnings, the Street will focus heavily on the amount of the trading losses announced in early May related to an overseas portfolio.

Outliers & Strategy
JPMorgan Chase is expected to earn $0.79 per share (the range is $0.19-$1.05) on revenue of $21.9 billion (Source: Yahoo Finance).
At a recent price of $33.94, JPMorgan Chase is now trading at a mere 7.55 times trailing earnings, well below the five-year average (16.9 times). The shares are also trading at a sharp discount to book value of $47.60 (as of March 31, 2011).
Recent News
July 3: According to a CNBC interview, banking analyst Meredith Whitney downgraded JPMorgan to a Hold rating, following the recent LIBOR scandal, while the widely publicized trading losses are "certainly larger" than the announced $2 billion.
June 28: According to a report in the New York Times, JPMorgan's trading losses disclosed in May could reach $9 billion as the bank unwinds those positions. The report cites people that have been briefed on the matter and an internal report.
June 26: Goldman Sachs added JPMorgan Chase to its Conviction Buy List with a price target of $42, according to a report on StreetInsider.com, based on capital strength and earnings power, offsetting the recently announced $2 billion trading loss.
June 21: Moody's announced it lowered the long-term senior rating on JPMorgan Chase from A3 to A2 with a Negative outlook, based on increased risk and volatility tied to capital markets activities as well as the operating environment in Europe.
May 15: JPMorgan declared a quarterly dividend of $0.30 per share. Following the recent stock sell-off, shares are yielding 3.53%.
May 14: JPMorgan announced that Ina R. Drew, the Firm's chief investment officer, had made the decision to retire from the firm.
May 10: JPMorgan shares sunk more than 7% in after-hours trading after disclosing a nearly $2 billion trading loss in a portfolio intended to hedge against risk.
Technical Review
Over the past quarter, JPMorgan shares have slipped more than 20%, with a bulk of the declines following the May 10 trading loss disclosure. The shares are currently sitting on support near $34 -- a level going back to mid-January. Should earnings disappoint and trading losses exceed estimates, there is downside risk to $32, followed by the June low near $31. Conversely, resistance is $36.50 -- just above the 50-day and 200-day SMA crossover, with further upside toward $38, the low end of the gap following the May 11 sell-off.
Click to enlarge image.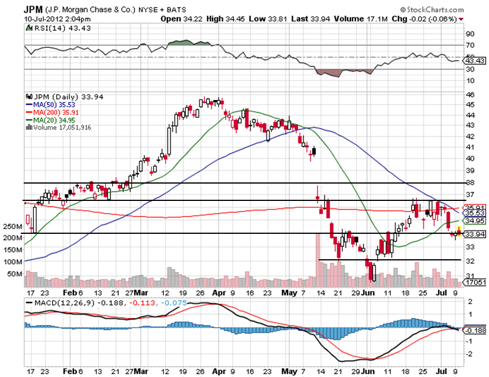 Click to enlarge
Summary
JPMorgan shares have come under heavy pressure this quarter after disclosing back in May it incurred more than $2 billion in trading losses in a portfolio intended to hedge risk, along with the recent volatility in the capital markets, weaker investment banking revenues, and the tougher operating environment in Europe. While the earnings merits close examination, investor focus is expected to center primarily on the final tally for the aforementioned trading losses -- expected to range anywhere from $2 billion to $9 billion. That final figure is likely to influence the direction of the market and JPMorgan shares.
Disclosure: I have no positions in any stocks mentioned, and no plans to initiate any positions within the next 72 hours.
Disclaimer: By using this report, you acknowledge that Selerity, Inc., is in no way liable for losses or gains arising out of commentary, analysis, and or data in this report. Your investment decisions and recommendations are made entirely at your discretion. Selerity does not own securities in companies that they write about, is not an investment adviser, and the content contained herein is not an endorsement to buy or sell any securities. No content published as part of this report constitutes a recommendation that any particular investment, security, portfolio of securities, transaction or investment strategy is suitable for any specific person.