Things were ticking along nicely in the search world with not so much as a speed bump to be seen (set aside the market panic about Google's (NASDAQ:GOOG) paid click decline). Then along came March. Overall volume of search in March exploded, with total queries increasing over 6% and surpassing the 9 billion mark. That's the biggest month-over-month increase in total search volume since July of last year. Interestingly enough, this growth was not driven by our perennial search leader Google. In fact, Google actually underperformed the market for the first time in 9 months and saw market share decline more than ½ a point. So where were the big gains?

Windows Live search kicked into high gear in March. Month-over-month Windows Live search queries increased 28.8%, pushing market share up almost 2ppts to just over 10%. Year-over-year, Windows Live search queries were up nearly 52%. Wow! My guess is that there are some dollars flowing out of Redmond that may be driving this. Maybe this April fool's joke wasn't a joke.
Then there was Google. Normally 5% month-over-month gains in search volumes would be stellar considering the average for the past year has been about 3%. Unfortunately in March that 5% growth meant Google lagged the market by about 1% and saw market share dip back under the 70% threshold to 69.4%. That's the first time Google has lost market share in nine months. Oh boy … what will the markets do now?
In other news Yahoo! (NASDAQ:YHOO) just can't seem to self arrest the precipitous seven month slide they are on. Query volumes remained essentially flat with market share dipping again to a new record low of less than 15%. Yahoo! holds the dubious distinction amongst the top 5 search engines of being the only one to post a year-over-year decline in market share. Ask managed to ride the market wave holding share steady while AOL continued to slip into oblivion.
click to enlarge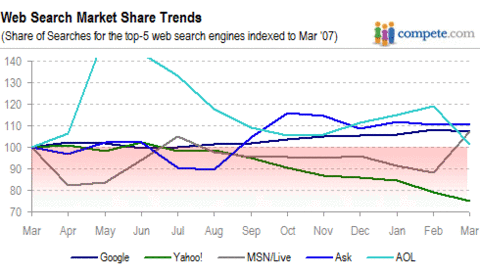 The overview …
Google market share declined 0.6ppts despite 5% volume growth, the first decline in nine months
Yahoo! continued the slide with market share dropping another point to a new record low and was the only engine with year-over-year share losses
There's something going down up in Redmond with Windows Live Search queries increasing nearly 30% month-over-month to push market share up almost 2ppts
Ask moved with the market with volume increasing a little over 6% and no change to market share
AOL was the only major engine to post a decline with volume off 10% month-over-month
March madness apparently goes well beyond the b-ball court
*Search market share includes web search only for the Adult US Online Population and is calculated based on unique queries within each session during the given month.