It is conventional investing wisdom to invest in companies whose products we use on a daily basis and that do business in industries we know and understand. Unilever (NYSE:UN) is one of the world's largest producers of consumer goods such as foods, refreshments, detergents and personal care products. Its brands include household names such as Axe, Dove, Ben & Jerry's and Hellmann's.
Living in Europe, or almost anywhere else for that matter, it is difficult to avoid either Unilever's products or their advertising. Valued quite attractively and providing a fair yield of 3.61%, Unilever offers investors lower volatility and relative stability in the troubled Eurozone, and a conservative play on emerging markets growth.
Valuation and Measures
Trading at about $33.00 in the US, Unilever is valued at 16.1x earnings, compared to an average of 18.4 in the industry and 19.7 in the sector. Unilever reported an EPS of $2.03 over 2011 and analysts expect $2.39 over 2012. The company boasts an outstanding ROE of 31.4 and has a healthy operating margin of 14.9%. On the other hand, the company has quite a bit of debt with a LT Debt to Equity of 54.5 and a Current Ratio of .81.
Still, Unilever appears to be trading at a bit of a discount compared to its peers looking at P/E and Return on Equity. Procter & Gamble (NYSE:PG), the world's largest producer of consumer goods, trades at 18.8x earnings with an ROE of 15.0 and Nestle (OTCPK:NSRGY), a European competitor, trades at 18.7x with an ROE of 17.1.
Corporate Strategy and Outlook
The Dutch-British company has traditionally been a defensive, low-beta stock due to its steady growth and high market share. With a Beta of .81 Unilever is a low-volatility play in a currently tumultuous region. In recent years Unilever has increased its activity in emerging markets, which currently accounts for a sizeble portion of its growth. While the company still maintains a great deal of activity in Europe, and thus risks being bogged down by the European recession, 56% of total revenue is now generated in emerging markets. In the first quarter of 2012, emerging markets revenue grew by 11.9% compared to 4.2% in developed markets.
For further growth, the company hopes to expand in three areas, namely the budget segment of emerging markets, premium product lines and the exploration of new markets. The company is furthermore a market leader in terms of sustainable development through its 'Sustainable Living' project. Unilever should be able to maintain 4.5-5.5% growth according to analysts, largely fueled by sales in emerging markets. The outlook for 2012 remains somewhat cautious however, as the company cited the bleak macro-economic backdrop and relatively high commodity prices as continuing challenges.
Risks and Competition
Slowing global growth and especially the recession in the Eurozone are putting pressure on Unilever's margins and may put a damper on growth in the near future. Increasing competition in emerging markets from rivals in the developed world is another risk, and will test the company's ability to develop their product range in order to keep up. The president of Unilever North America explains here why he believes the company's extensive product portfolio and strength in emerging markets has so far allowed them to better weather the economic crisis than competitors such as Procter & Gamble. The high volatility in commodity prices is another concern. Finally, currency risk remains an issue as Unilever pays out its dividends in Euros.
The Technical Picture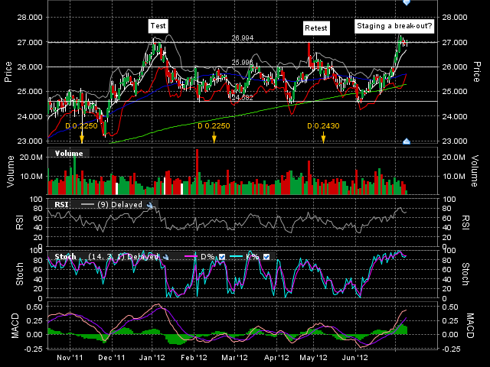 The daily chart provided above (from Interactive Brokers) shows the price action of Unilever NV traded at the Amsterdam Exchange, as the NYSE chart is particularly choppy. The stock price has been seen range bound between about €24.6 and €27.00 since the end of 2011. The stock now appears to be attempting a break-out after testing strong support again in early July.
The 50 day SMA has been comfortably above the 200 since late 2011 and both are rising at the moment. The RSI has good positive momentum but is now approaching overbought territory. A pullback to €26.00 would not be unlikely, and also a good entry point, but a break-out above 27.00 would be a strong buy signal. More conservative investors could wait for a pullback to €24.6. The price action over the next few days and weeks should provide further clues.
Conclusion
Based on the data, arguments and opinions presented in this article, I believe Unilever is a solid choice for value investors looking to gain exposure to the daily necessities of consumers in the developed world as well as emerging markets. The stock is valued attractively compared to peers at the moment, and is a market leader in an industry known for its resilience during times of economic and financial crisis. Price action in the coming weeks should provide clues on a suitable technical entry point for those interested in opening up a long position.
Disclosure: I am long UN.