The market continued its weak streak for day No. 4, despite early gains as the market moved from up 100 to finish down more than 100 points. The market saw early gains on the back of the eurozone's official approval of a bailout for Spain. Yet that approval was not taken well by the market after early gains, and the issues in that country seemed to continue to linger. Additionally, the dollar continued to strengthen, hurting resource stocks as well as causing market weakness. Without any catalyst to the upside, this market continues to weaken. Alcoa (NYSE:AA) earnings were mediocre and at least did not cause any weakness on their own.
So what, if anything, can get this market moving upward? Tomorrow we get the FOMC minutes that are probably not destined to bring any surprises, as well as trade balance and wholesale inventories. The real catalyst may lie in the hands of financials JPMorgan (NYSE:JPM) and Wells Fargo (NYSE:WFC), which report at the end of the week.
Two Trades
Two trades we like right now are a conservative options play in Starbucks (NASDAQ:SBUX) and going long on American Express (NYSE:AXP)/short on Visa (NYSE:V). For SBUX, we believe that the company will hold $51 through the end of July options expiration due to a triple bottom there and earnings being around the corner for the company. Earnings look strong, and the company has now priced in a lot of the weakness that was seen after hitting $60. The stock definitely got ahead of itself, but it should maintain a nice consolidation here. We also like going long AXP and shorting V after the recent developments that seem to suggest that both companies will need to reduce swipe fees from retailers. AXP is not part of that lawsuit, and the company may see a nice movement to it over V and MasterCard (NYSE:MA).
Trade No. 1: SBUX -- July 21, 50/49 Bull Put Spread
Trade No. 2: AXP Long, V Short
Click to enlarge images.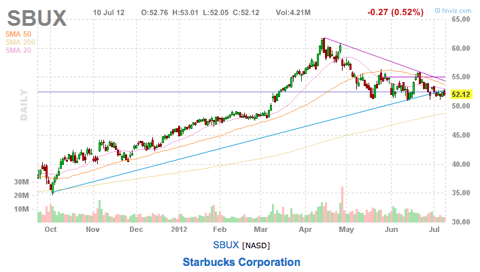 Click to enlarge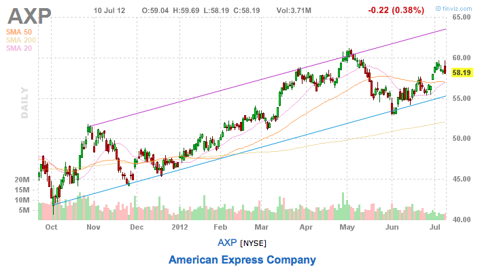 Click to enlarge
Charts courtesy of Finviz.com.
Tomorrow's Outlook
The lack of positive movement off of the bailout approval does not bode well at all for the marketplace. There are some important data points out tomorrow that, as a whole, can definitely provide lift -- or at least some understandable direction. The lightness of headlines has made the trading a bit unpredictable over the past two days, but at least we get wholesale inventories, crude inventories, trade balance, and the FOMC minutes. All of those points together should give the market some direction.
Outside of the U.S., we'll see some important data points as well. We get the German Consumer Price Index as well as Chinese yuan loans. Both data points are pretty important to currency movement, which continues to dominate the markets. It's hard to say if we continue lower from here, but we are looking at some technical support now. We could see a weekly reversal as shorts close positions, but that probably won't come until Thursday. Stay neutral for now.
Oxen Group Moves
We had a decent day in the market. We exited the rest of our Apple (NASDAQ:AAPL) long and SPDR S&P (NYSEARCA:SPY) short for a 3% gain. We exited half of the pair trade in Expedia (NASDAQ:EXPE) long and Life Sciences (NASDAQ:LIFE) for 2% gain. We also closed out the rest of our Wal-Mart (NYSE:WMT) long from our Extended Value Portfolio for a 20.5% gain. We were stopped out of VeriSign (NASDAQ:VRSN) at 2% loss for the rest of the position. We added the above bull put spread in SBUX, added a long in Whole Foods (NASDAQ:WFM), and added a long in Mako Surgical (NASDAQ:MAKO) to our Goldman Sachs Portfolio.
We have the following positions:
Disclosure: I am long PNRA.