Let's consider three facts about non-cyclical consumer stocks.
Non-Cyclical Consumer Stock Fact Number One
The "medicine chest and fridge" stocks are traditionally a defense against a slumping economy.
"Well, we're out of toilet paper. Honey, should we get more or does the yield on Spanish bonds mean we are using newspapers again this week?"
No, discretionary things like cars and vacations depend on the economy. But the soap from Unilever (NYSE:UL), Colgate's (NYSE:CL) toothpaste, Coca-Cola's (NYSE:KO) Coca-Cola, Philip Morris' (NYSE:PM) smoke-a-cola, and Cleanwater Paper's (NYSE:CLW) bathroom tissue have steady demand even as Spain flows down the drain.
Sometimes called non-discretionary, non-cyclical companies contrast with the cyclical companies' goods and services that do depend upon the economy. These include Ford's (NYSE:F) cars, Harley's (NYSE:HOG) hogs, Stanley Black & Decker's (NYSE:SWK) tools, Whirlpool's (NYSE:WHR) dishwashers, trips to Disney's (NYSE:DIS) theme parks, and Ralph Lauren's (NYSE:RL) snazzy duds.
Non-Cyclical Consumer Stock Fact Number Two
We have had a long period of uncertainty in the markets and non-cyclical consumer stocks have enjoyed a good run.
In the trailing twelve months the S&P 500 is up 1.06%, but Google's 30 largest non-cyclical stocks are up more than 17%.

That's a good run for slow growth businesses like soap and toilet paper. Some have really outperformed:

That's Morris, Altria (NYSE:MO), Starbucks (NASDAQ:SBUX), and Anheuser-Busch InBev (NYSE:BUD) all up over 30% in the past 12 months.
Compare that to another defensive sector, utilities, up about 6%:

Non-Cyclical Consumer Stock Fact Number Three
The US dollar is getting stronger in comparison to the world's ailing nation's currencies, and especially to the sinking Euro: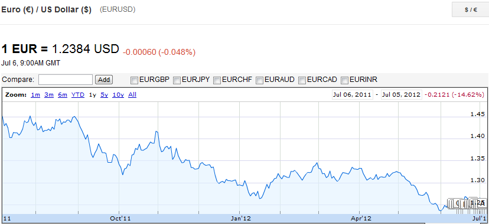 This negatively impacts domestic non-cyclical consumer stocks that sell their wares into weak currencies. Repatriated monies of weak currencies add fewer dollars to the coffers.
Philip Morris is domiciled in the United States, but sells exclusively outside the US, and gets 41% of its sales from Europe. Let's see PM compared to that euro:

Hmmm. It's hard not to call that a red flag.
Conclusion
The traditionally defensive non-cyclical consumer sector has had a good run as cautious-minded investors have sought safety. Now though, it appears that slow growth non-cyclicals may be overvalued as compared to utilities, another defensive sector.
Another trend is that the American dollar is getting stronger compared to the euro. This negatively affects firms selling into the euro.
Philip Morris is flashing bright warnings on both of these counts and we recommend selling this stock for those two reasons. Here is where we think defensive-minded investors who prefer to buy and hold should be:
With the world and the market being so problematic and opportunity-filled...what I am going to concentrate on is: domestic utilities, railroads, domestic telecom, powder river basin coal, and domestic transports.

Here are my picks for a "buy and holder": Union Pacific (NYSE:UNP), Kansas City Southern (NYSE:KSU), Genesee & Wyoming (NYSE:GWR), Norfolk Southern (NYSE:NSC), CSX (NYSE:CSX), Empire District (NYSE:EDE), Entergy (NYSE:ETR), Exelon (NYSE:EXC), Plains Energy (NYSE:GXP), Westar (NYSE:WR), American Electric Power (NYSE:AEP), AES (NYSE:AES), Duke (NYSE:DUK), Consolidated Edison (NYSE:ED), Public Services Enterprise (NYSE:PEG), Southern Company (NYSE:SO), TransAlta (NYSE:TAC), Verizon (VZ, AT&T (NYSE:T), Sprint (NYSE:S), Arch Coal (ACI), Ryder (NYSE:R), Roadrunner (NYSE:RRTS), XPO (NYSEMKT:XPO)
Disclosure: I am long ACI.