Barron's magazine has a fascinating piece on Wyeth (WYE) this week.
In early 2002, Wyeth was forced to halt an Alzheimer's vaccine trial after 18 out of 300 patients developed encephalitis. Amazingly, follow-up studies found that despite the serious side effect, the vaccine apparently reduced "brain plaque" (sticky deposits thought to be the cause of Alzheimer's) and slowed the disease's advance.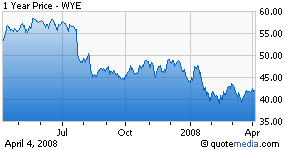 Wyeth researchers believe that what caused the brain swelling was the use of an "active" inoculation that mobilizes the body's immune system to produce antibodies. So in 2005 they began testing a "passive" vaccine that supplies the plaque-fighting antibodies directly. The FDA fast-tracked the study after patients seemed to show signs of mental improvement from even moderate doses. Results of the Phase II trial of 240 patients are due in June, and an ongoing Phase III trial, involving 4,100 people and costing an estimated $300 million speaks volumes about Wyeth's outlook for the drug.
It's important to note that all existing Alzheimer's treatments (made by NVS, PFE, JNJ and FRX) only ease symptoms. Wyeth's drug "could be the breakthrough the world needs for Alzheimer's. It's not going to be an incremental symptomatic improvement. If it works, it's going to be a huge leap," VP Joe Camardo says.
Health-care investor Larry Feinberg, whose flagship health-care hedge fund has averaged 21% over the past 18 years, says the drug ("bapineuzumab") could "easily surpass the $13 billion in sales of Pfizer's cholesterol drug, Lipitor, to become the biggest drug of all time." The effect on Wyeth's shares: 50% gains over the next year.
Other biotech companies are, predictably, doing their own Alzheimer's research. Prana Biotechnology (NASDAQ:PRAN), a tiny Australian company, jumped late February after positive Phase II results for a treatment that aims to reduce or eliminate beta-amyloid creation and plaque buildup through reduction of naturally occurring body metals.
Neurochem (NRMX), whose Alzhemed failed to get the FDA nod, said in November it would market the drug as an off-the-shelf "nutraceutical" after some patients and clinicians continued to demand it.
With more than five million Alzheimer's sufferers, a substantive cure could potentially impact nursing home stocks such as SNH, SRZ, BKD, ALC and HCR.