My chart of the week for this past week (technical difficulties prevented me from posting this sooner) belongs to Forest Oil (FST).
click to enlarge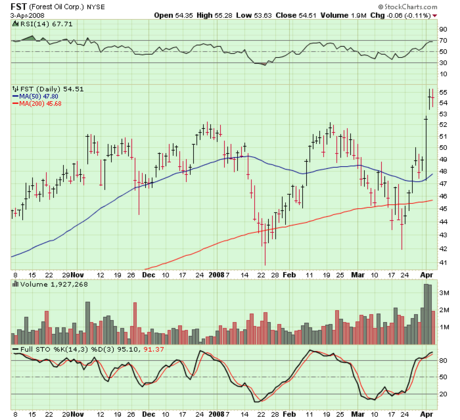 The natural gas stocks have been acting very well of late. There are a whole host of them that are showing good fundamentals, and with the price of natural gas still cheap relative to crude oil prices, I am bullish on the group.
On Tuesday, FST rocketed higher on surging volume. The move was powerful enough to help the stock make a new 52-week high. The next day, it gapped higher in the morning and stayed strong throughout the session. Volume was again more than twice its recent average (see chart above).
I pay attention to this kind of stuff, and the strong move to new highs on a huge spike in volume makes me think the move is worth noting. I think this rally will have legs, and I'm going to hang on to my FST position for a while longer.
Our firm also has a position in the iShares Dow Jones US Oil and Gas Exploration and Production Index ETF (IEO), which owns a basket of these stocks (oil and gas). I think this also a good way to play it for those looking for a more diversified bet on the group.
Disclosure: The author is long IEO, and FST.