It was fun while it lasted for shareholders of VOXX International (NASDAQ:VOXX), formerly known as Audiovox Corporation. From October lows below $5 per share, the stock took off; earnings beats in January and May led to one-day gains of 20.6 percent and 19.0 percent, respectively. In four months between mid-October and mid-February, VOXX better than tripled, going from a two-year low to a five-year high:
click image to enlarge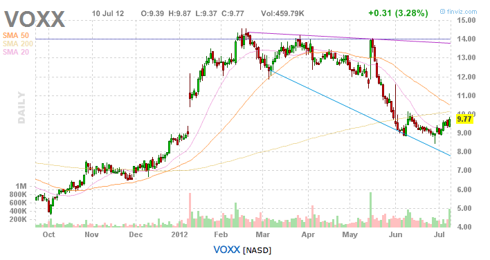 VOXX overcame some sluggishness in April and May with a big fiscal fourth quarter beat, but soon after the stock began to fall. And after fiscal first quarter earnings disappointed, VOXX collapsed. As of this writing, VOXX is trading after-hours Tuesday at $8.20, down 16 percent from its 4 p.m. ET close of $9.77, and off 40 percent from its mid-May peak.
A review of this evening's earnings release shows the market has severely overreacted. VOXX did swing to a net loss in the quarter, due in large part to an $8.4 million settlement charge from patent litigation. For a small-cap like VOXX, the charge is not immaterial; it reflects lost value of about 36 cents per share. But that charge had already been disclosed in an SEC filing in late May, and should have long since been baked into the stock's price. One-time expenses from the company's acquisition of Hirschmann, which closed in March, also factored into the weakness. But as the company noted, Adjusted EBITDA actually rose slightly from the year-prior quarter. With the addition of Hirschmann, a larger rise was likely projected, but currency headwinds in Europe added yet another barrier for VOXX to overcome.
In other words, quite a lot went wrong for VOXX in the fiscal first quarter, but the market should have been well aware of the litigation charge, the acquisition expenses, and the weakening Euro. Now, with VOXX nearing $8 per share, its fundamentals look outstanding. The company is trading at less than 4 times its guidance for FY13 EBITDA; revenue guidance of $900 million was maintained, putting the forward price-to-sales near 0.2 and implying revenue growth of about 27 percent year-over-year.
Even including the fiscal first quarter charges, trailing 12-month earnings for VOXX are 79 cents per share, putting its P/E just over 10. FY13 EBITDA guidance of $54-$57 million (which does include the one-time charges) is roughly in line with FY12's $53.8 million, when VOXX earned $1.10 per share. As such, even with the seemingly weak Q1, VOXX likely has a forward P/E in the single digits.
Still, VOXX has created modest organic revenue growth, and added Hirschmann's higher-margin products, most of which are now compatible with Apple's popular iPhone and iPad. It has new products for in-vehicle diagnostics and rear headrest entertainment systems, positioning itself in another high-growth industry. Its GPS pet tracker, called Tagg, offers yet another route to sales expansion.
VOXX's new, lower, valuation brings to mind a low-margin reseller, or a struggling electronics retailer. VOXX International is neither. It has achieved modest top- and bottom-line growth over the past three years that should be augmented by the Hirschmann acquisition and the company's new initiatives. And yet, the stock offers a single-digit forward P/E and trades now at less than half its book value, and only a 20 percent premium to its tangible net assets.
The issues raised in Q1 are short-term: one-time charges and currency translation impacts. Continued weakness in Europe may weaken VOXX International's earnings profile, and keep continued pressure on the shares.
But, at the same time, after Tuesday's 16 percent drop, those issues seem priced in. For long-term value investors, the opportunity to acquire an innovative, diversified, and profitable manufacturer at these undervalued levels seems too good to pass up.
Disclosure: I have no positions in any stocks mentioned, and no plans to initiate any positions within the next 72 hours.