Have you ever seen the television show "Shark Tank?" Small innovators who have shown a modest level of sales success will pitch their products or services to billionaires like Mark Cuban. If Cuban or his show colleagues believe that a product or service has potential, he/she may provide dollars in exchange for a rate of return and/or an equity stake and/or a percentage of profits.
On the program, Cuban and the panel are known as "sharks," presumably because they know how to swim in the shark-eat-fish world of business. And yet, what they offer is not entirely dissimilar to a unique corporate structure known as a Business Development Company, or BDC.
Prior to 2003, you may only have been able to count the number of publicly traded BDCs on a single hand. Today, however, there are roughly 30 or more publicly traded corporations that engage in lending at high yield rates to small fish.
BDCs frequently get an equity stake in the smaller company, while actively assessing and modifying that smaller company's business practices. Again, much like the sharks on "Shark Tank," BDCs are offering business acumen, not just an infusion of capital.
Business Development Companies are similar to venture capitalists and private equity firms. Yet the SEC requires BDCs to invest 70% of assets in U.S. companies, while distributing a minimum of 90% of taxable income in the form of dividends. Those distributions often lead to annual yields in the 8%-10% range for shareholders.
Not surprisingly, there are exchange-traded vehicles for BDCs. UBS E-TRACS currently boasts two investment possibilities - one that is unleveraged and one that is leveraged. According to UBS at its web site, the leveraged exchange-traded note offers a "current annual yield" of 18.7%, though recent capital appreciation in ETRACS 2xLeveraged Long Wells Fargo Business Development Company Index Note (NYSEARCA:BDCL) may put an annual yield closer to 14.5%.
Click to enlarge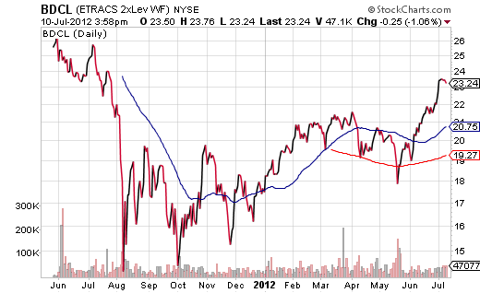 Investors have been racing to get into BDCL in the past few weeks, and that may continue up through 7/11. Why? Because BDCL's Ex-Div Date for a quarterly distribution of $.885 is on 7/12. Of course, getting in by the Wednesday 7/11 close is the means by which you will be a shareholder of record on 7/16 for the anticipated 3.8% distribution. (Be wary of volatile trading.)
If you like the BDC concept, but are less keen on the leverage, ETRACS Wells Fargo Business Development Company Index Note (NYSEARCA:BDCS) is paying $.455 on 7/12. It has the same "ex div" and "record date" as the leveraged product, with an anticipated distribution of 1.9%.
Investors need to be keenly aware that a financial sub-segment such as business development may not hold up so well in an economic slump. Just last year, BDCS experienced a high-to-low drawdown of -28%; meanwhile, BDCL plummeted -46% in the 2011 summertime swoon.
My advice? Protect your downside risk with stop-limit loss orders.
Disclosure: Gary Gordon, MS, CFP is the president of Pacific Park Financial, Inc., a Registered Investment Adviser with the SEC. Gary Gordon, Pacific Park Financial, Inc, and/or its clients may hold positions in the ETFs, mutual funds, and/or any investment asset mentioned above. The commentary does not constitute individualized investment advice. The opinions offered herein are not personalized recommendations to buy, sell or hold securities. At times, issuers of exchange-traded products compensate Pacific Park Financial, Inc. or its subsidiaries for advertising at the ETF Expert web site. ETF Expert content is created independently of any advertising relationships.