In the late 1990's Merrill Lynch was one of the prominent Wall Street financial institutions on the forefront of the internet investment wave which in retrospect is identified as one of the 20th century's largest stock market bubbles. Infamously during this time, Merrill Lynch Managing Director and Senior Research Analyst for the Internet Sector, Henry Blodget, was using the Merrill Lynch research platform to recommend stocks of investment banking clients which he actually personally believed were likely to go down. Details of the case and how Merrill Lynch ended up paying a 9-figure settlement with the New York Attorney General's office are outlined here.
Additional details of the complaints against Blodget and Merrill Lynch are outlined in an SEC action here. Conflicts of interest between investment banking and sell-side research like those at Merrill Lynch were prevalent during the tech bubble of the late 1990s and various lawsuits and settlements were supposed to lead to the creation of a "Chinese Wall" between investment banking and research departments of investment banks. This situation may have improved in some cases, but in other corners of the market, the tendency of Wall Street research analysts to give glowing recommendations to investment banking clients that are questionable money losing businesses continues, just as in those heady days.
The Web 2.0 Craze of 2011-2012 has seen a return to a number of the reckless valuation standards and business ideas that failed in the first internet bubble, and again Merrill Lynch is at the forefront of this wave. The key thing to note here is not the identity of Merrill Lynch as being deeply involved back in 1999 and again in 2012 - Merrill has since been acquired by Bank of America, a much larger company; it certainly must have had significant employee turnover and the players involved this time around are not the same as before. Blodget himself was barred from the securities industry. Rather, the problem relates to the very nature of Wall Street analysts and their tendencies to embrace the stocks of unproven companies with wildly unprofitable business models, especially when underwriting stock deals seems to be involved.
The next 12-24 months will mark the deflation of the Web 2.0 bubble as many companies with unprofitable business models burn through the funds raised in their IPOs, insiders and early investors increase company floats dramatically by cashing out of their shares after IPO lockups expire, and flaws in some companies' business models are exposed via the public company reporting process. I believe that one of the worst performers among the Web 2.0 group will be Angie's List (NASDAQ:ANGI), a company highly touted by Wall Street sell-side analysts employed by firms including B of A - Merrill Lynch that are also involved in major investment banking activities with the company.
Today I will examine how despite these glowing recommendations, ANGI has never been profitable and has historically become increasingly unprofitable with additional growth. I will examine why the company is operating an unsustainable and broken business model, how ANGI's aggressive accounting practices serve to obscure its poor operating performance and how ANGI appears to be on track to burn through its entire existing cash reserves in 1-2 years. I will elaborate on the major competitive threats faced by ANGI that could quickly diminish ANGI's value proposition. I will highlight various clues in accounting figures conveniently overlooked by the Wall Street analysts that suggest ANGI is reaching saturation in terms of the effectiveness of its marketing spend, that revenue visibility is decreasing and that the company is engaging in increasingly desperate operating practices in order to generate revenue. Finally, I will explain why second quarter results look ominous and could provide a negative near-term catalyst. I believe the company's situation will likely be reflected in its stock price as financial results are announced over year and investors become more familiar with the types of accounting tricks used by ANGI.
Company Background
As outlined on page 1 of their most recent prospectus, Angie's List is a subscription-based website that allows members to research, hire, rate and review various local service professionals; the ability to read or write ratings and reviews is available only to members. ANGI explains that its target services are generally "high cost of failure" services in local marketplaces, including home remodeling, plumbing, roof repair, health care and automobile repair. Additionally, ANGI allows local service providers to advertise to its members and also generates revenue through certain promotions that service providers run on the site.
ANGI completed an IPO on the Nasdaq in November of 2011. The IPO prospectus outlines that ANGI sold 6,250,000 shares at $13 per share which, after underwriters' discounts, raised the company $75.6 million. It is also worth noting that a number of management, insiders and early investors sold 2,543,408 shares in this offering as well, amounting to $30.7 million after underwriters' discounts and representing about 29% of the total IPO. The lead underwriter of ANGI's IPO was BofA - Merrill Lynch. There were also 7 other investment banks involved in the syndication team: Stifel Nicolaus Weisel; Oppenheimer & Co.; Janney Montgomery Scott; RBC Capital Markets; Allen & Company LLC; ThinkEquity LLC; and CODE Advisors.
Cheery projections and high price targets by BofA - Merrill Lynch and other Wall Street analysts are concurrent with another large offering of stock with Merrill Lynch as the Lead underwriter. Details of the offering are highlighted in this May 16, 2012 prospectus. It is worth noting that the 6 research analysts covering the stock from companies underwriting the deal all have buy ratings on the stock, with the exception of Oppenheimer which has a "Perform" rating. The average price target from the group of underwriters is $19, while the 3 analysts from companies not underwriting the stock have rated the stock as follows: 1 Buy, 1 Market Perform and 1 Sell, and an average price target of $15.33.

A $109.7 Million Prospectus Offering Has Insiders, Early Investors Heading for the Exit, Share Float Increasing by 96% and ANGI Receiving Only 7.9% of the Funds
The above mentioned May 16, 2012 prospectus offering is sponsored by the same group of underwriters that handled the IPO. However, this prospectus offering seems particularly unfavourable toward ANGI and its stock. The offering, which is priced at $13, is for a total of $109.7 million, or 96% of the size of ANGI's $114.3 million IPO. What is most concerning about the offering is how much the float is increasing relative to the proportion of money actually being collected by the company.
The offering has ANGI only receiving $8.7 million of the overall funds with the rest of the 92.1% of proceeds going to a series of insiders including the CEO, the founder, other directors and early investors cashing out of their shares. In total, Officers and Directors of the company that are selling shares in the offering represent 4,234,381 shares, or 50.1% of the total shares sold in the offering. The balance, 42.0% is being sold by other early investors. For the individuals who are most familiar with the company to cash out to this degree is a major red flag which should be carefully considered by prospective or existing shareholders.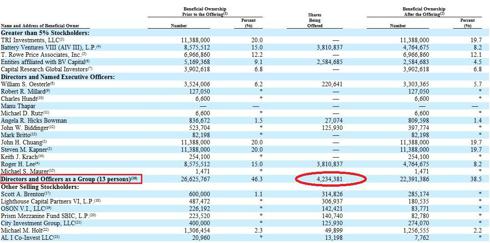 Summing it all up, over the 2 offerings, ANGI the company has sold 6,953,235 shares, or only 40.3% of the 17,233,831 shares sold. Meanwhile, management, directors and other early investors comprise the majority at 59.7% of the total shares sold, representing $133.7 million at $13/share. Prudent investors ought to cast a skeptical eye to these combined offerings as they raise far less money for the company itself than the size of the offering might otherwise indicate. They also suggest that parties in the know are not optimistic about the future prospects for ANGI's shares at $12.38, the price they receive after applying the underwriters' discount. A pessimistic view would not be unwarranted based on the many problems with ANGI's business, as I will now outline.
Troubling Historical Profitability Trends - The Bigger ANGI Gets, the More Money It Loses
ANGI has not reported a net profit in any of the past 6 years in operation. Not only has ANGI never posted a profit, it actually has a well-established trend of losing more money as it grows revenue. This trend is largely in place because in order to generate revenue growth ANGI must continuously spend well beyond its means in terms of sales and marketing expenditures and the marginal benefit of additional revenue gained appears to be negative from the perspective of the bottom line. Much of this spending is based on a fallacy that ANGI can somehow build a "Network Effect" and then drastically improve its margins.
This assumes that ANGI either hikes its prices or materially lowers its sales and marketing expenditures as a proportion of revenue without having a concurrent decrease in paying members and a commensurate decrease in the member renewal rate. Even in the face of unsustainable spending on sales and marketing, ANGI experiences a high attrition rate of its members. The Company reports ~25% annual attrition rates, but this does not include monthly subscriptions which would probably make the numbers look worse. I believe that this is because the value proposition provided by ANGI is not particularly compelling relative to competitors, but I will examine that and why I believe that ANGI will be unable to attain a "Network Effect" position later in the piece.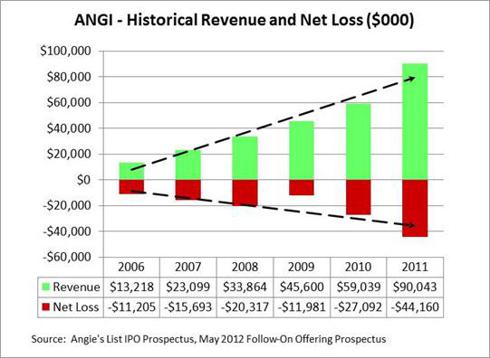 The ability of ANGI's business model to generate positive margins is completely unproven from a historical perspective. Quite the opposite, long-standing historical trends suggest that the company loses money on every dollar of revenue and that additional incremental revenue is associated with a net negative marginal return for the company. To award the company the premium valuation multiples that are currently applied by sell-side analysts simply on the basis of impressive top-line sales growth figures is highly imprudent in light of the historical financial trends and the unproven nature of the business model. These types of valuation standards, lack of attention to the mathematical basis of valuation ratios and the "Network Effect" justifications used by analysts today mirror the failed standards used during the 1999-2000 "Tech Bubble".
ANGI's Aggressive and Asymmetric Accounting
ANGI employs a number of other accounting practices that appear designed to obscure the poor state of the operating business. In this very informative article here, fellow Seeking Alpha author Tae Jo makes a compelling case that ANGI employs questionable operating metrics when reporting results to investors. Specifically, ANGI now counts all gross paying subscribers as customers within their cost to acquire customers ("CPA") calculations and but uses asymmetric accounting by not counting monthly subscribers in their customer retention ratio, obscuring the true figure. These two figures reported by management are cited often and uncritically by Wall Street analysts in their bullish pieces about the company. Any existing or prospective investors should read Tae's article carefully as it astutely lifts the veil on important aspects of ANGI's operating performance and financial reporting.
Information regarding the definition of renewal rates reported by ANGI as supplemental information is available as point 4 on page 9 of ANGI's most recent prospectus:
First-year renewal rate reflects the percentage of paid memberships expiring in the reporting period after the first year of membership that are renewed, and average membership renewal rate reflects the percentage of all paid memberships expiring in the reporting period that are renewed. Renewal rates exclude monthly memberships.
Point 3 of page 9 outlines the definition of marketing cost per paid membership acquisition:
Reflects marketing expense divided by gross paid memberships added in a reporting period.
I will also outline another key area where ANGI's aggressive accounting obscures the numbers in a headline operating indicator used by most analysts and investors to judge operating performance.
ANGI's Cashflow Situation is Dire - On Track to Fully Deplete Existing Cash Reserves in 1-2 years
Despite the Q1 2012 headline cashflow from operations figure improving on a year-over-year basis, deeper examination of sources of operating cashflow reveals highly unsustainable sources of operating cashflow and correspondingly very poor quality of already negative operating cashflows.
In Q4 2011, ANGI posted figures that appeared to show operating improvements. Perhaps this is not surprising, considering that this was the first quarter following IPO, so reporting improved results may have been a foregone conclusion. Q1 2012 is another story entirely. Page F-27 of the most recent prospectus outlines the quarterly statement of cashflows for Q1 2012 and a cashflow from operations figure of negative $2.27 million. Comparing the headline figure, this is an improvement on a year-over-year basis vs. negative $3.3 million in Q1 2011. Looking past the headline cashflow from operations figure, one can see that ANGI`s operating cashflow benefited from a $13.3 million increase in accrued liabilities. This figure grew at a rate of 96% year over year.
Over the mid-longer term accruing additional operating liabilities is unsustainable as a source of cash, so it is instructive about the current state of the business that this is far and away the largest source of cash in Q1. In fact, this figure is 4.5x larger than ANGI's next largest operating source of cash. Looking at ANGI`s full year 2011 cashflow statement available on page F-6 of the most recent prospectus, we can see that in 2011 accrued liabilities only managed to grow by $4.5 million over an entire annual period.
If ANGI's results and ability to accrue operating liabilities continue on the same, high-growth trajectory as they have over the past few years, this means that the total increase in accrued liabilities on a year-over-year basis might increase by $9-10 million for the full year 2012. This figure is also likely to include some increases in accrued liabilities from other quarters. By posting a $13.3 million increase in accrued liabilities in Q1 alone, ANGI effectively appears to be borrowing operating cashflow from future periods.
Prudent investors should try to get an idea of operating cashflow on a more sustainable basis by backing out some of this figure and arriving at a "sustainable operating cashflow" figure for the quarter. Assuming ANGI is able to increase its accrued liabilities by $10 million on an annual basis for 2012, a realistic figure for the sustainable quarterly increase in accrued liabilities would be $10 million / 4 quarters, or $2.5 million. Conversely, this means that the unsustainable portion of ANGI's increase in operating cashflow for Q1 2012 is $10.8 million. Backing the unsustainable portion out of ANGI's headline cashflow from operations yields a sustainable operating cashflow figure for the quarter of negative $13.1 million, a significant deterioration from the 2011 figure.
This figure is also troubling because based on ANGI's reported cash position of $84.5 million plus the $8 million raised in the May prospectus offering, at this pace ANGI seems on track to burn through its cash in about 7 quarters. If ANGI continues on its trend to date of increasing negative values for "sustainable operating cashflows", this could occur even sooner. Additionally, I view the timing of ANGI's accounting accruals with skepticism, in light of the May 16 offering that occurred after the reporting of Q1 Financials and where Management and Directors were heavy sellers.
Slow Deferred Revenue Growth between Q3 2011 to Q1 2012 Signals Growth in Overall New Membership and Advertising Fees is Sluggish Despite Substantial Growth in Sales and Marketing Expenses
Looking at the figures for Q4 2011 in this 8-K, we can see that in Q4 2011, ANGI had sales and marketing expenses of $19.6 million. Meanwhile, as is revealed on page F-26 of their most recently filed prospectus, in Q1 2012 ANGI had total sales and marketing expenses of $30.0 million. Despite this substantial 50% increase on a quarter-over-quarter basis, a closer look at the trends in deferred revenue in ANGI's Q1 2012 results suggests that the effectiveness of this sales and marketing spend is decreasing.
As revealed on F-25 of the most recent prospectus, at the end of Q1 2012 ANGI had total deferred revenue (current + non-current deferred revenue from membership + advertising) of $38.9 million. Page F-25 also shows the Q4 2011 figure of $34.8 million. This represents deferred revenue growth of $4.1 million or 11.8%. Juxtaposed against the increase of $10.4 million or 50% in sales and marketing costs, we can see that these costs are just not translating into corresponding increases in deferred revenues. This suggests that ANGI's increased spending on sales and marketing is not translating into significant increases in the overall fees collected as deferred revenue from customers.
Things look even worse when you compare the Q3 2011 numbers with Q1 2012. As outlined on page 9 of its IPO prospectus, as of Q3 2011 ANGI had a total deferred revenue figure of $34.2 million. So between the end of Q3 2011 and Q1 2012, ANGI increased its deferred revenue by a mere $4.7 million while spending $49.6 million on sales and marketing expenses for the 2 quarters. This translates to a figure for ($ of deferred revenue growth) / ($ spent on sales and marketing) of 0.095. This means for every dollar of sales and marketing spent, ANGI gains $0.095 in deferred revenue. Compare this with figures for the first 9 months of 2011 which are on pages F-4 (Sales and Marketing Expense) and F-6 (Change in Deferred Revenue) of the IPO prospectus. Sales and marketing expenses came out at $70.4 million, while deferred revenues increased by $10.9 million. Back then, the figure for ($ of deferred revenue growth) / ($ spent on sales and marketing) was 0.155, meaning that every dollar spent on sales and marketing for the period was translating into $0.155 in deferred revenue. This drop to $0.095 from $0.155 represents a 39% decline.
This comparison of figures is important because it signals that ANGI's effectiveness of sales and marketing in obtaining fees for long-term services from subscribers and advertisers is diminishing rapidly. Proportionally lower rates of deferred revenue also give less visibility on the company's additional future revenues. Moreover, as deferred revenue is a source of cash, a continuation of this trend will put additional pressure on ANGI's operating cashflow.
ANGI's Business Model Based on Unsustainable Assumptions, Major Existential Competitive Threats Looming
ANGI faces increasingly stiff competition now and in the future from free sites offering similar services. Major free sites competing with ANGI in this space include Yelp.com (NYSE:YELP) and Servicemagic.com, which is owned by internet giant IAC Corp. (IACI). One of the reasons that ANGI claims a competitive advantage over such sites is that customers that are willing to pay for membership to the site give better, more reliable reviews. The company states on page 1 of the most recent prospectus:
Our ratings are based exclusively on reviews from our members and we accept no anonymous reviews. As a result, we believe our reviews are a trusted resource for consumers to find high quality local service providers.
The line of argumentation relies on the assumption that it is impossible for one user to post multiple reviews anonymously or under different aliases, a supposed vulnerability among free sites. This line of argumentation is questionable as there is no one more willing than someone who derives their livelihood based on a service to try to get around this, even if it costs them a bit of money. There isn't much to prevent such a service person from registering a few monthly accounts using a series of different emails and credit cards, perhaps from friends and family, pay some minimal fees and post positive reviews of their service to the site. Any claim that ANGI provides higher quality or more reliable reviews than free sites is not grounded in logic, likely invalid and there are testimonials examining how contractors can game ANGI's rating system.
In a May 30, 2012 research note, BofA - Merrill Lynch analysts Justin Post and Paul Bieber make an argument that ANGI is a stock that is developing and will benefit from a "Network Effect". Achieving a network effect supported position is one of their primary justifications for the rich valuation they assign to ANGI in deriving their price target. At Merrill Lynch's target price of $18 per share, ANGI is valued at 600X their estimates for 2014 earnings. I dispute the ability of ANGI to operate as a true Network Effect company due to growing competition from free services like Yelp and ServiceMagic and the ease for new entrants to take their market from them.
Regarding potential new entrants, imagine what would happen to ANGI's pay-for-subscription model if Facebook (NASDAQ:FB) had a decent, free-to-use rate-a-service provider app where you knew you could really trust the ratings because they came from your own friends/personal social network. I believe that an application like this could be potentially catastrophic to ANGI because this type of app could provide a substantially stronger value proposition in terms of reliability of reviews. I also believe that an application like this will inevitably challenge ANGI as a competitor over the medium-term.
Based on the many looming competitive threats, it seems clear that ANGI does not operate in a true Network Effect environment and it is unlikely that it ever will. This means it is also highly unlikely that ANGI ever will get the chance to generate some longer-term above-average margins/economic return. The sky-high valuation ratios used by BofA - Merrill Lynch would be highly questionable in the absolute best of cases. In the case of a company that seems as though a substantial portion of its value proposition could potentially be wiped out by single Facebook application, it is extraordinarily reckless.
ANGI's Business is Increasingly Structured with Inherent Conflict of Interest Arrangements
ANGI is deriving an increasing amount of its revenue from contractors and service providers. In the most recent quarter the revenue mix was derived 68% from service providers and 32% from subscribers, vs. 60% and 40%, respectively in Q1 of 2011.
Increased revenues coming from service providers' advertising incentivizes ANGI to prioritize contractors based on money spent with ANGI. It also means that ANGI is increasingly less aligned with subscribers and less incentivized to maintain strict quality standards among service providers. It is then perhaps not surprising that examination of page 40 of ANGI's most recent prospectus defines the relatively low standards required to be highlighted by Angie's List:
Our members grade local service providers on an "A" to "F" scale, and we invite local service providers with an average grade of "B" or better and at least two reviews submitted in the last three years to advertise to our members through any or all of our website, email promotions, monthly magazine and call center.
ANGI is also collecting a portion of the money raised through service provider promotions on the site. This is expressed in somewhat indirect terms on page 44 and 45 of their most recent prospectus:
Service provider revenue also includes revenue for sales of e-commerce vouchers to our members. We recognize revenue from e-commerce transactions when the vouchers have been electronically delivered to the purchaser. When we sell a voucher, we retain a portion of the proceeds and remit the remainder of the proceeds to the service provider.
What this means is that ANGI is taking a cut of the services promoted, or adopting a revenue model similar to Groupon (NASDAQ:GRPN) or other local online coupon sites. These arrangements and the low standards by which contractors are judged will likely lead to longer-term diminished trust in the reliability of Angie's List by its own subscribers and there are reports of major conflict of interest situations with respect to shoddy work by contractors promoted by Angie's List. In the longer term, if ANGI alienates its core subscriber base and no longer has the luxury to simply grow into new markets by spending exorbitant, unsustainable amounts on sales and marketing, this will have a major impact on the sustainability of the existing business.
Reports of Questionable Renewal Practices Bordering on Desperation
Clearly, ANGI has a strong interest in seeing its renewal rates remain high. In addition to the direct and obvious business interest, these rates are also frequently cited by the company when reporting to investors and by Wall Street analysts writing about the stock. As mentioned earlier, one way the company is likely boosting this reported figure is by excluding monthly memberships from their reported renewal figures. Another seems to be engaging in highly questionable practices in terms of automatic renewal with their existing customers.
Consumer complaints, two of which are available here and here indicate that ANGI is engaging in deceptive practices on Paypal with respect to signing up and renewing customers. In another testimonial available here Angie's List apparently automatically billed a consumer for a $70 renewal on unbundled services previously included for free in a prior subscription, without informing the customer. The internet is full of consumer complaints about ANGI's renewal and billing practices and readers can easily find others if they are so inclined.
Based on the accounting definitions used by ANGI, it appears that they would include within their overall renewal rate members who have been automatically renewed absent their knowledge and then subsequently cancel. Point 4 on page 9 of their recent prospectus outlines:
First-year renewal rate reflects the percentage of paid memberships expiring in the reporting period after the first year of membership that are renewed, and average membership renewal rate reflects the percentage of all paid memberships expiring in the reporting period that are renewed.
While this type of behavior may boost short-term reported retention statistics and revenue, it is unlikely to engender longer-term customer loyalty and the number and nature of the negative testimonials regarding ANGI's renewal and billing practices is alarming.
The Stark Implications of ANGI's High Customer Attrition Rate
In the most recent prospectus the company boasts on page 65 that:
High level of member engagement and our consistently high membership and service provider renewal rates are evidence of the value we offer both members and service providers.
Closer examination of the numbers reveals that ANGI's 5-year customer attrition rate is actually quite high and investors would be unwise to overestimate the recurring nature of ANGI's existing revenue base. The prospectus reveals that in 2011, ANGI's renewal rate for first-year members was 75% while the overall average renewal rate was 78% and the rate was 89% for members who had purchased annual memberships for five years or more. In the most recent quarter, the first-year membership renewal rate was 73% and the overall average renewal rate was 76%.
Taking these renewal figures and projecting them out reveals a very high 5-year customer attrition rate, indicating that much of ANGI's revenue is likely to be non-recurring on a longer-term basis. I have plotted the data below based on the assumption of a first-year renewal rate of 75% increasing at a rate of 2.25% per year until leveling off after the fifth year at 89%. These projections reveal that after 3 years only 40% of the customers who signed up today, remain as customers at the beginning of the 4th year; after 5 years, only 30% remain for the beginning of the 6th year. This number is startlingly low if ANGI intends to build a longer-term business.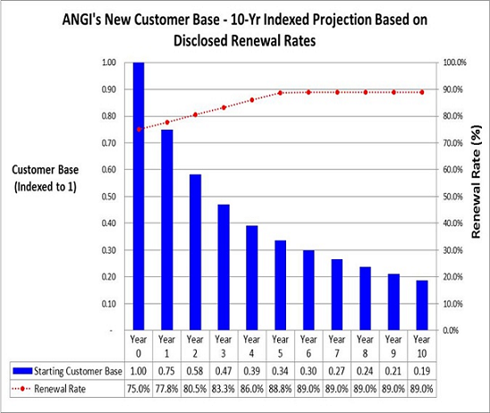 While at present ANGI has been dealing with the problem by entering new markets, spending exorbitantly on marketing in order to acquire new customers, at some point this is no longer a viable strategy once the company has already entered the most attractive markets. The implication of the high attrition rate is also that ANGI may be alienating a large customer group. If a customer has decided to stop being a subscriber within the last several years, it will likely be more difficult to attract such an individual for a subscription in the future.
Despite the company's declaration that its annual membership renewal rates are high, further examination of the rates and longer-term projection of the data suggests ANGI experiences substantial attrition of the customer base over a 5-year period.
Poor Macro-Economic Conditions Represent a Headwind for ANGI's Underlying Business
Demand for many of the types of home improvement services provided by Angie's List service providers is likely to have been soft in Q2 based on a number of generally poor and deteriorating macroeconomic indicators that have been released over the course of the quarter. The current outlook suggests that the economy as a whole will remain sluggish into the end of the year. While I cannot exactly predict the future in terms of macroeconomic conditions, what I can reasonably speculate on is the effect of weak overall macroeconomic conditions on ANGI's attraction of customers and revenue growth. I suspect that new signups are likely to slow down during such times. When disposable income shrinks, demand for non-essential home improvement services is weaker, and the number of competing free alternatives like Servicemagic.com and Yelp.com may also look more attractive to a cash-strapped consumer. This is another of the reasons existing prospective investors should approach ANGI's stock with caution going into the release of Q2 2012 earnings.
Q2's Financial Report Could be a Major Negative Catalyst for the Stock - Management Commits to Spending a Historical Record on Marketing, a Historical Record Loss From Operations is Likely
ANGI has given investors relatively little guidance regarding its expectations for Q2, only revealing anticipated revenue figures and spending on marketing. The company expects $34.5-$35.5 million in revenue and plans to spend $27.8-$28.3 million on marketing expense. For argument's sake let's assume a mid-point for those figures of $35.0 million and $28.0 million, respectively. We can probably safely assume that ANGI's other operating expenses will increase vs. Q1 2012 based on long-established quarterly trends of growth in Selling, Operations and Support, Technology and G&A expenses. Page 56 of the most recent prospectus highlights ANGI's quarterly results over the past 9 quarters. I have plotted the various expenses over the last 9 quarters onto graphs viewable below and also highlighted their 9-quarter compound quarterly growth rate ("CQGR"). By looking at these long established quarterly trends, we can reasonably estimate what these other operating expense figures may be for Q2 of 2012.
Based on a historical CQGR of 16.74%, we can estimate that Q2 2012's selling expenses will be approximately $14.5 million.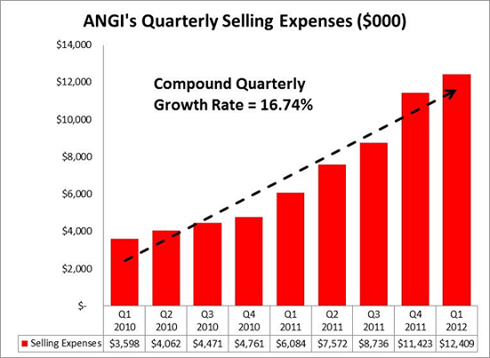 Based on a historical CQGR of 9.35%, we can estimate that Q2 2012's operations and support expenses will be approximately $6.3 million.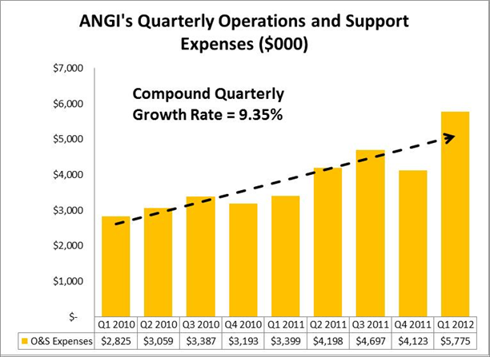 Based on a historical CQGR of 11.35%, we can estimate that Q2 2012's technology expenses will be approximately $3.5 million.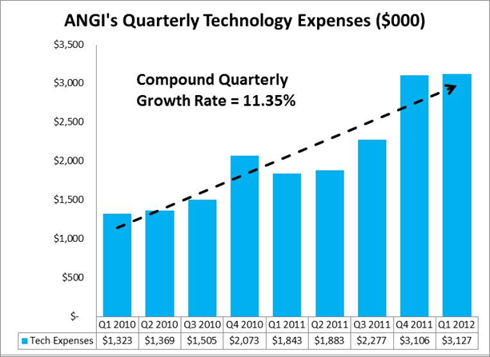 Based on a historical CQGR of 10.50%, we can estimate that Q2 2012's G&A expenses will be approximately $5.7 million.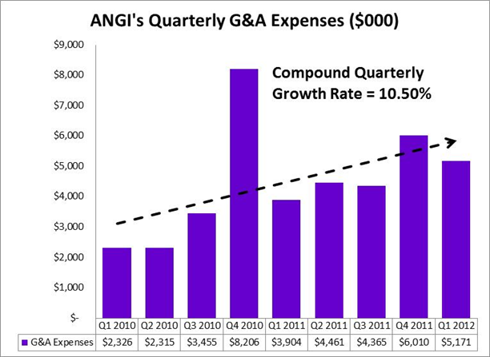 Adding all these figures together we arrive at a total of $30.0 million in additional non-marketing related operating expenses. Adding this figure to the $28.0 million in marketing expenses from management's guidance, and we arrive at a total operating expenses figure of $58.0 million. Subtracting this figure from the midpoint of revenue guidance of $35.0 million and we arrive at a projected operating loss for Q2 of $23.0 million. Such a figure would represent a historical record loss for ANGI. Based on the negative macroeconomic headwinds, I also believe that there may be a slight risk to ANGI's topline figure, though perhaps it scarcely matters given that management's figure is already dwarfed by the projected operating expenses.
Such a loss will undoubtedly put additional pressure on the company's cash position. Given that management has already accrued an unsustainable amount of operating liabilities in Q1, I suspect that the cash flow from ops figure may be even worse than the $23 million operating loss. I expect management to downplay these financial figures in favor of emphasizing how much progress is being made with respect to subscriber growth, renewal rates, etc. However, the fact of the matter is that achieving a record operating loss is neither a positive development for a company nor for a stock. In light of all this, I expect that the release of Q2 2012 results could be a major negative catalyst for ANGI's stock that existing or prospective investors should carefully consider.
Conclusion
When market historians and pundits look back on all the raw deals of the Social Media Bubble of 2011-2012, Angie's List may well end up being this generation's Pets.com. The company faces very challenging business conditions, not least of which is a questionable and unproven business model that increasingly pits its financial interest in conflict with its subscribers and has historically generated increasing losses with increased scale. There are many other additional negative data points about the company and the stock. The company's paid-subscription business suffers from high attrition rates which require it to spend massively and unsustainably on sales and marketing expenses in order to grow revenues. The company employs aggressive financial and accounting practices that serve to obscure what upon closer examination are clearly distressing financial results.
The company's cashflow situation is much worse than the headline cashflow from operations figure indicates because the company has been unsustainably boosting this figure by accruing operating liabilities. Future revenue visibility is decreasing and the company's operating cashflow faces additional pressure as growth in sales and marketing expenses greatly outpace deferred revenue growth. Additionally, ANGI faces major existential competitive threats on the horizon and gloomy macroeconomic conditions likely to affect demand from their target customers. On the supply side of the equation, ANGI's free-trading share count has recently increased 96% via a prospectus offering that saw management, directors and early investors cashing out at $12.38 and the company receiving only 7.9% of the funds raised.
Connecting the numerous data points suggests that, in spite of upbeat assessments from BofA - Merrill Lynch and other Wall Street analysts that are underwriting large share placements, at this juncture ANGI's business is troubled. With results from what was likely a very costly and challenging Q2 due in August, the stock appears positioned for substantial downside going forward.
Since 2010, I have warned readers about many questionable companies and stocks. Based on all the evidence presented above, I am comfortable adding ANGI to this list. For reference, my track record to-date is below.

Disclosure: I am short ANGI.