Almost two years ago, I wrote about Centrohterm Photovoltaics (OTC:CPHVF), based in Germany, because of big equipment contracts the company signed with state-owned enterprises in China (see "Centrotherm Photovoltaics Continues Its Success in China"). I used this news as an example of how companies like Centrotherm were lowering barriers to entry for Chinese solar companies well-funded by government subsidies and loans. It never occurred to me that this very business could contribute to wholesale bankruptcies in the industry. Now, it is Centrotherm's turn to feel the sharp pain of an industry in decline.
I first realized something was wrong with Centrotherm when the company warned on June 13th the following:
Due to the continued poor market environment, and the resultant strained financing situation, merchandise credit insurance companies have today informed centrotherm photovoltaics AG that they will no longer insure merchandise deliveries to the centrotherm photovoltaics Group. Based on this information, the Management Board anticipates a negative liquidity effect in a low double-digit amount in millions of euros.

In coordination with its banks, centrotherm photovoltaics AG has mandated a renowned management consultancy company to prepare a reorganization report that is to form the basis for further discussions with banks to secure the Group's financing. Until further notice, open credit and guarantee lines can no longer be utilized given current financing discussions with banks.
Essentially, Centrotherm faced a crippling credit squeeze where insurance companies lacked confidence in the operations and finances of the company (and/or its suppliers!). Almost a month later, on July 10th, the company announced a bankruptcy filing: "Chapter 11-type proceedings under its own administration". The company reassured its customers and investors that operations will continue as it plans to remain a going concern:
The Management and Supervisory boards of centrotherm photovoltaics AG are convinced that this step is the best option in the company's current difficult situation to successfully conclude the Group's reorganization (which has already started), in the interests of employees, customers, suppliers, shareholders and creditors, and to thereby secure the Group as a going concern…

…Business operations at centrotherm photovoltaics AG and the other Group companies are currently continuing as usual. 'Our customers continue to receive the same first-class quality engineering and services, technology and products from centrotherm to which they are accustomed…

The protection provided by the ESUG creates the necessary scope to realize a balanced and sustainable future concept that lies in the interests of all participants in the proceedings. At the same time, centrotherm photovoltaics AG continues to be able to manage its operations itself. Since we remain solvent, we can both process customer orders to schedule, and also pay our suppliers…
Strangely enough, the company goes on to promote its competitive technological edge, opportunities in new markets, and the imperative to continue investing in R&D to keep up with the march toward grid parity. This sounds like a tall order for a company that must now focus on remaining solvent.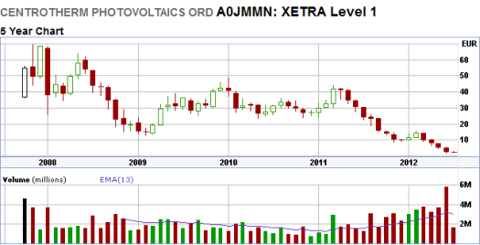 Centrotherm's collapse unfolded over the past 15 months or so
Centrotherm's stumble now makes me ever more critical of GT Advanced Technologies (GTAT). While the two companies are not direct competitors, I believe they face very similar market headwinds in the solar industry - especially when it comes to competition from low-cost (and subsidized) Chinese companies. Both companies also develop very advanced, high-tech products, the kind of products I previously figured would allow both companies to ride out the solar recession more or less intact.
I have not written about GTAT in over seven months, but its recent earnings reports confirmed that the stock market no longer believes even GTAT can remain above the solar carnage piling up all around its customers in Asia. As late as June, 2011, GTAT continued to discuss its results as though it would do just fine in the coming solar recession (see "From GT Solar to GT Advanced Technologies - Business Continues to Strengthen"). I even called a negative report from SolarBuzz the following month a great buying opportunity. Unfortunately, GTAT has lost about 2/3 of its value since then.
As of its last earnings report, GTAT reported record revenues and earnings. Yet, the market responded with a 16% sell-off that took the stock to fresh three-year lows. The company continues to insist its massive $1.8B backlog is secure (despite 55% of it still residing in the solar sector): "nearly 36% of the total backlog is comprised of approximately $196 million of deferred revenue, $109 million in letters of credit and $332 million in non-refundable customer deposits." Over the next three quarters, almost 1/3 of this backlog will roll off.
In the last quarter, GTAT registered record bookings of $34.6M, including $4.2M from polysilicon orders, $6.9M from PV orders, and $23.5M in sapphire orders. Yet, this extreme imbalance between backlog and new bookings means that the company will be ever more reliant on its customers honoring their previous commitments, most of which occurred during much better times in the solar market. In fact, GTAT acknowledged:
We do not believe that there will be a rebound in PV equipment demand during the balance of CY12 given the backdrop of overcapacity, continued subsidy cuts, tariffs, lower prices and considerably weakened margins.
With its eyes firmly locked on the future, GTAT plans a 50% year-over-year increase in R&D spending. If everything manages to work out as planned, GTAT's current price of $4.97 may seem very cheap in hindsight although its price-to-book ratio is still well above 1 at 1.74 (for some comparisons, First Solar's P/B is a paltry 0.39, Applied Materials is 1.62, and Intel is 2.8); price-to-sales is 0.60. So far, GTAT continues to be a survivor. With $351M in cash and cash equivalent and only $75M in debt, I am also hanging in there with GTAT. But the rash of bankruptcies in the industry are starting to lap a little too close for comfort.
Be careful out there!
Disclosure: I am long GTAT, FSLR.