After a fairly weak June for gold and a rough start to July, many are wondering when this "safe haven" commodity will start to act like one again. We wanted to take a look at how gold has performed historically in the July period to see if current movement in gold is a countertrend or if we should expect more weakness for gold in the month.
To do so, we looked at the average gain, the max gain vs. max loss, and the percentage of times different stocks with gold and silver exposure have increased or decreased. The companies/ETFs covered for gold were AngloGold Ashanti Ltd. (NYSE:AU), Barrick Gold Corporation (NYSE:ABX), Goldcorp Inc. (NYSE:GG), Yamana Gold Inc. (NYSE:AUY), Newmont Mining Corp. (NYSE:NEM), SPDR Gold Shares (NYSEARCA:GLD), Market Vectors Gold Miners ETF (NYSEARCA:GDX). The companies/ETF's covered for silver were Silver Wheaton Corp. (NYSE:SLW), Coeur d'Alene Mines Corporation(NYSE:CDE), First Majestic Silver Corp. (NYSE:AG), Hecla Mining Co. (NYSE:HL) and SPDR S&P 600 Small Cap ETF (NYSEARCA:SLV).
Below you can find the average gains for the past 16 years provided the company/ETF has been around for 16.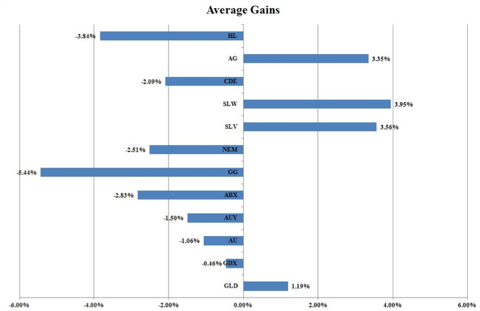 Click to enlarge
Only four of the twelve companies analyzed showed an average gain for the 16 years covered. For a better understanding of these companies in order to provide trading ideas we looked at the max draw downs or max gains.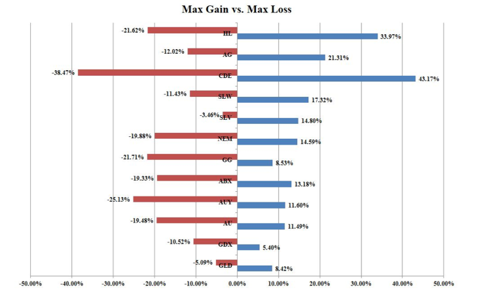 Click to enlarge
Looking at this chart with the average gains, some of the most compelling areas to look for trades seem to be in silver. SLV has never lost more than 3.5% in July as well averaging a gain during this time. GLD, additionally, has never lost more than 5% and also averages a gain during this time. Yet, are these results skewed by some severe max highs?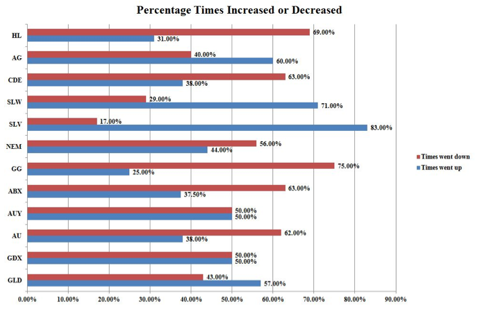 Click to enlarge
Based on this information, we can see that SLV has only declined 18% of the time during this time period. SLW has also increased 70% of the time. This information is compelling as well considering that SLV is already down about 3% this month. A good support line seems to be 25, so we may look at selling puts around that area. GG has been very weak during this time period, and CDE has been very violent during these times, so we may look at a reverse iron condor.
Trade Idea #1: Sell $25 Puts on SLV
Trade Idea #2: Pair Trade SLW Long; GG Short
Disclosure: I am long PNRA.