The 20+ year treasury fund (iShares Barclays 20+ Year Treasury Bond ETF: TLT) shows an interesting dynamic developing. After consolidating, following a long run-up on the premise it was a volatility hedge, TLT looks primed to upside breakout on the Fed's rhetoric of continuing with its expansionary policy.
Click to enlarge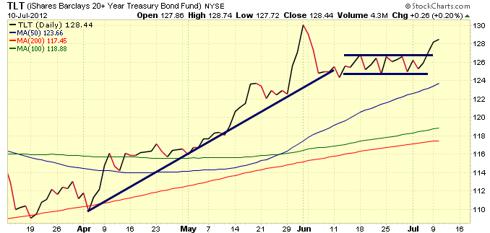 So far it has only been newspaper excerpts calling for expansion, but there may be some justification. The employment data has shown continued weakness, and with the belief that inflation will stay low, there may be room for action. The same premise is seen in speculation on China, after the lower-than-expected inflation readings. Below is a chart of the Nonfarm Payrolls data. The blue line is each data point and the black thin line is a 4 period MA. This indicator makes the case for increased economic weakness.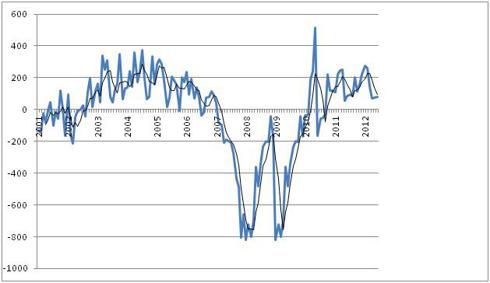 With the waning correlation between volatility and long-term treasuries, TLT motivation may be driven by QE3 speculation.
Disclosure: I have no positions in any stocks mentioned, and no plans to initiate any positions within the next 72 hours.