by Daniela Pylypczak
The second quarter's earnings season has gotten off to a rocky start, with lackluster reports and forecasts already bogging down investor sentiments. Blue-chip powerhouse Alcoa (NYSE:AA) posted quarterly losses, while earnings outlooks for the technology and industrial sectors remained rather dour. Despite an initial rally spurred by renewed optimism in the eurozone's newest bailout program, U.S. stocks drifted lower: the Dow Jones Industrial Average dropped 0.7%, while the S&P slid 0.8%, and the tech-heavy Nasdaq came in at the bottom of the barrel with a 1% loss.
After coming under recent scrutiny of investors around the globe, China's economy was once again in the spotlight Tuesday. China's trade balance was reported at $31.73 billion, well above analysts' expectations. Taking a closer look at the data, however, reveals that the large increase primarily arose from a significant slowdown in imports, as well as a modest slowdown in exports growth. UK GDP was also announced Tuesday, showing an economic slowdown of -0.2%. UK industrial and manufacturing production also fell in the month of may, but not as much as economists had predicted.
The Barclays iPath S&P 500 VIX Short-Term Futures ETN (NYSEARCA:VXX) was one of the best performers, gaining 2.76% on the day. Alongside renewed eurozone optimism, this ETF gapped slightly lower in early trading hours, only to turn around and surge higher after investor sentiments surrounding this quarter's earnings season significantly declined. VXX settled just shy of its high of $14.78 a share.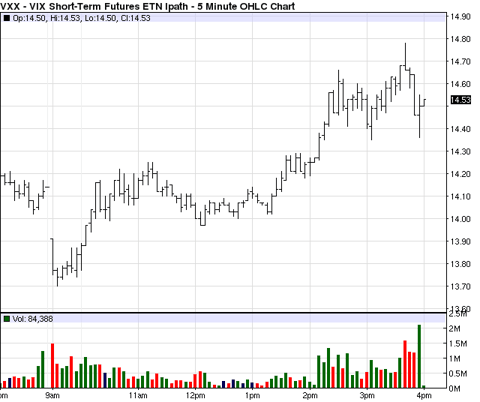 Click to enlarge
The United States Natural Gas Fund (NYSEARCA:UNG) was one of the worst performers, shedding a dismal 4.83% on the day. After a successful day of trading on Monday, this ETF cooled off its winning streak as profit taking investors sought to lock in gains. UNG gapped significantly lower at the open, only to continue sliding lower throughout the day.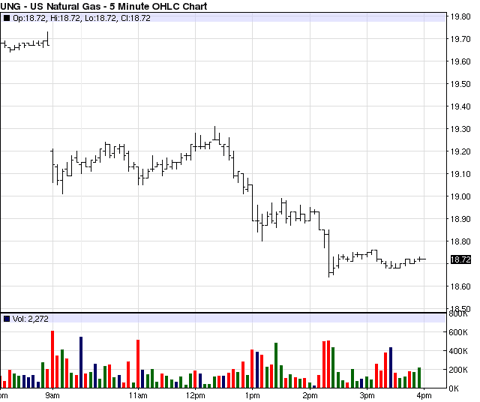 Click to enlarge
Disclosure: No positions at time of writing.
Disclaimer: ETF Database is not an investment advisor, and any content published by ETF Database does not constitute individual investment advice. The opinions offered herein are not personalized recommendations to buy, sell or hold securities. From time to time, issuers of exchange-traded products mentioned herein may place paid advertisements with ETF Database. All content on ETF Database is produced independently of any advertising relationships.