Amid increasing cancellations, declining land balances, and shrinking backlogs, something funny is going on among the nation's homebuilders: their stocks are going up! We view these stocks as "canaries in the coal mine" and just as they first signaled how bad things were going to get last summer, they may be telegraphing an improvement in the broad market. Many homebuilders have "V bottomed" and unless it is a cosmetic relief rally induced by gleeful short covering, the recent sponsorship behind these stocks is impressive.
Fist, a word on the major index: Although the Dow is still well under the 200 moving day average, the MACD reading shows the first climb above zero since right before the Dow topped north of 14,000 in the early Fall. We attribute the latest relief rally to the fact that people simply "feel better" about stocks right now and shorts are winding positions, even as headline after headline continues to evade negativity. A 5.1% unemployment rate, a legion of write offs among financials, and sordid home sale data is not enough to wreak havoc across the tape, apparently.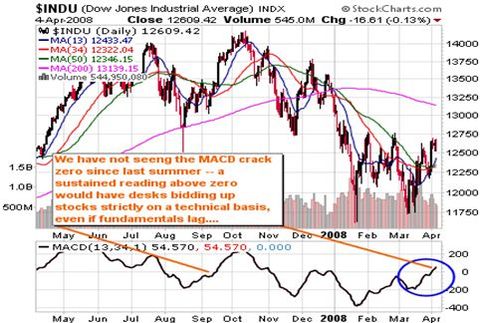 In trying to determine understand of a potential bottoming in the broad markets, we couldn't help but look at the recent rally in some homebuilder stocks, many of which seem to have hit ground then ricocheted off a trampoline. Here is Hovnanian, one of the builders that got most punished last fall, breaking out of a multi quarter downtrend: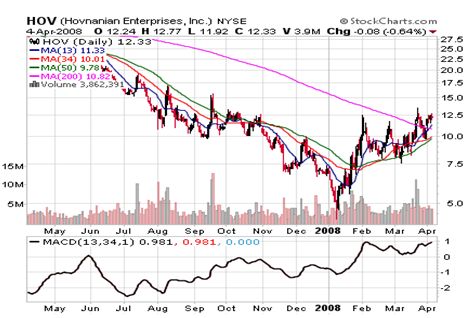 Meanwhile, luxury homebuilder Toll Brothers, our top pick, has also bottomed and breached its 200 day to upside. The luxury segment giant is not immune to the housing downturn, but we think Toll's modest debt levels should help it survive the downturn better than others. Toll's revenue, net margin, and ROE performance is unlikely to match 2005 peak levels for a few years, but it remains one of the least toxic ways to play the homebuilding space given its seasoned management and affluent Baby Boomer customer base.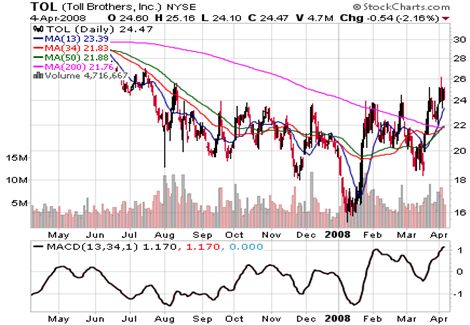 These charts suggest that the worst had been discounted into some homebuilders at the start of the year. It may be premature in calling these stocks strong buys, but we did want to point out the technical similarities between the Dow and homebuilding space. History has proven over and over again that when headlines are most negative and consumer sentiment can't get any more pessimistic, the smart money is buying stocks. And no space – other than the financials – has gotten more negative press than the homebuilders.
Risks: Investors have to consider the escalation of JV-related write downs, since many builders do not have a controlling interest and thus cannot force these parties to fulfill their obligations (many of these parties hook up with larger homebuilders to develop land); Lennar, for example, is looking at over $1B in recourse exposure. Like any builder, TOL faces the possibility of more land write-offs. That said, TOL is not sitting on outstanding revolver debt and has significantly lower recourse exposure on its JVs, mitigating the chances of an all-out liquidity crunch.
Bottom line: Homebuilder stocks have come out of the penalty box
(the group is up ~28% on average YTD, with a couple of names already having doubled in the last quarter alone). If the Dow is indeed bottoming out, we would feel comfortable saying that homebuilders will have telegraphed a recovery in the major index -- only the future will tell. In the meantime, investors should take the grim headlines with a grain of salt and remember that homebuilders are taking actions to weather the industry blowup: reducing inventories, amending covenants, and maximizing cash flow as they shift to a supply rather than demand driven model. We're incrementally more positive going into the spring selling season, where there is arguably room for consensus to be surprised -- looking at the charts of some homebuilder stocks, it doesn't look like we are the only ones.
Disclosure: The author does not have a position in any of the stocks mentioned.