There's deal news from Take-Two Interactive Software Inc. (NASDAQ:TTWO), but it has little to do with Electronic Arts Inc.'s (ERTS) $1.9 billion hostile offer for the company.
The game developer's Rockstar Games unit, which produces the popular Grand Theft Auto title, said it would acquire independent development studio Mad Doc Software LLC. The nine-year-old company offers game development contracting services and has previously worked with Rockstar, most recently on the XBox 360 version of "Bully: Scholarship Edition," a game where the player is a troublesome schoolboy who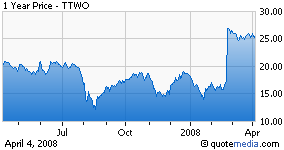 navigates his way through reform school. No deal terms were disclosed.
The transaction continues a trend of established game publishers buying up smaller development houses. But on the bigger consolidation front, stalemate appears to be the word of the day. Take-Two has been trying to fend off EA's advances, arguing that its offer undervalues the company. After being rebuffed by its would-be prey, EA, the world's biggest video game publisher, launched a tender offer, which it recently extended to April 18. EA conditioned the offer on the removal of Take-Two's recently-approved poison pill provision. -- Olaf de Senerpont Domis
See April 4 press release from Take-Two
See March 31 post from Tech Confidential
See March 28 story from Tech Confidential
See Jan. 15 post from Tech Confidential