JP Morgan: Estimating Q2 Numbers and the Whale Trades Impact, Part 2
In the last article, I submitted that JP Morgan (NYSE:JPM) likely will report approximately $5BB of losses in Q2 from the Whale Trades. Here I quickly calculate what this will mean for Q2 numbers, and more importantly conclude what shuttering the CIO division will mean for returns on equity at JP Morgan, as well as the company's valuation.
To offset some of the Whale losses, JP Morgan has reportedly sold some $25BB of other assets and or securities. These sales have generated $1BB of gains that will help offset Q2 numbers. If net income excluding unusual losses ends up around the same as in Q1 of $5.7BB, then likely net income looks like $3.1BB on a tax adjusted basis. That isn't horrible, and still "solidly profitable" at $0.79 in EPS. This math surprisingly exactly matches the street's estimates.
The good news is that IG 9 has tightened by almost 20 basis points since the June peak of over 170, meaning the losses are not getting worse for the bank, they are making back a little money on them.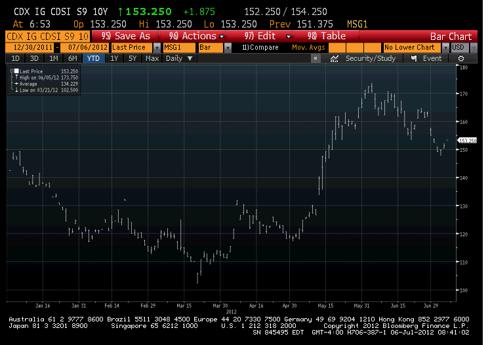 Click to enlarge
Long Term Implications
I honestly don't spend a lot of time worrying about quarterly noise. I am a long term investor. Most important to me in investing in JP Morgan stock is determining what the long term implication for the firm's profitability and ROE's.
The losses from the CIO division mean that, in all likelihood, the trading activities there will end. The offenders (Ina Drew and Bruno Iksil) have been tossed out and the trades are being quickly unwound. Going forward, we need to look at the bank's CIO division and take it out of future expectations.
So, below are the profits from the last 5 years at the bank's CIO division: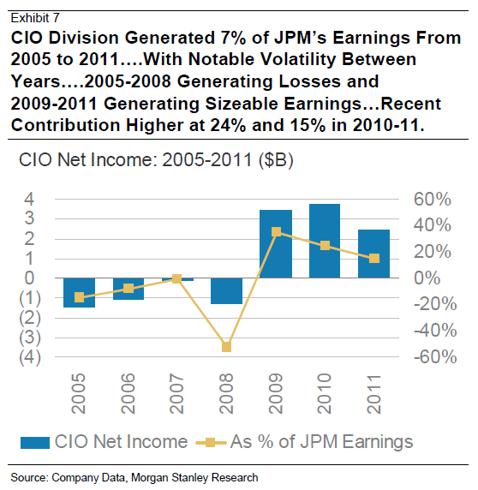 Click to enlarge
The three year average looks to be around $3BB in profits. If JP Morgan generates $21BB in profit per year today on a runrate basis, less $3BB from the CIO division, it seems that $18BB is a reasonable estimate for 2013 profits. At least.
This of course entirely ignores management's goal of $25BB of profits in a normalized loan loss world. (Make that $22BB now?).
Profits of $18BB still equates to $4.59 in EPS, seemingly quite achievable in 2013 and possibly this year too. This level of earnings implies ROTEs of 13.6%, only 1.4 percentage points lower than the past 2 years' results. Does JP Morgan deserve now to trade at a 7x earnings multiple (instead of 10-12 historically) because its ROEs will be 1% lower going forward?
Here is an annual summary of the bank's price to book ratio over the past 10 years, as well as the returns on tangible equity (ROTE). The most recent 10K can be found here.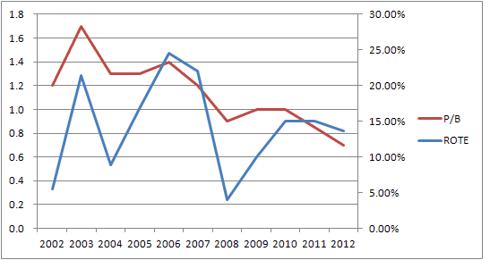 Click to enlarge
Generally the stock's valuation (P/B) has continued to fall over the past 6-8 years. At the same time, its ROTE really hasn't fallen, but rather bounced between 10% and 20% depending on the cycle. Credit quality has to be better today than in 2008, so a recession here likely means a much smaller dip in ROTEs too.
Historically, if JP Morgan stock traded at least over book value, and its current book is $46 per share, than to me that is my minimum price target.
Realistically, I think JPM can trade back to 1.1-1.2x book, or 12x X $4.59 in earnings. Seems reasonable for a company that can generate near 14% ROE's. Morgan Stanley (NYSE:MS) and Goldman Sachs (NYSE:GS) continue to suffer mid-single digit ROEs. Not to mention near zero ROEs at Bank of America since 2009.
That values JP Morgan stock at $55 per share, upside of 60% without dividends over a 12-24 month period.
In other notes, the noise of the LIBOR scandal and the energy trading investigation both seem to be minor. The company has lost $25BB of market cap just since May 10th, and $46BB of market cap since the peak in early April. Even a highly conservative $250mm estimate for these other losses seem to pale in comparison to the market's reaction to JPM stock.
I don't think JP Morgan makes much in the way of energy trading profits, either. I couldn't even find a breakout of JP Ventures Energy segment data in the 10K, i.e. it doesn't pass the materiality test. Not to mention that Constellation Energy, a far bigger energy trader than JP Morgan, paid a $245mm fine last March, the largest since 2005, to settle market manipulation charges with the FERC.
The Durbin Amendments impact on 2012 (debit card fees) and spread compression seem to be bigger concerns. But with branch growth, new fees on cards and accounts in addition to productivity gains, I think the net impact will be negligible.
Conclusion
Generally I have quite a bit of faith in Jamie Dimon. His record is impressive. I like that he fessed up to the Whale losses here quickly and honestly. The CIO group wasn't really hedging in my opinion, but it doesn't matter really. The losses won't be repeated and long term the impact to the bank's returns are not enough to induce the kind of selling we have seen in the equity.
Bears probably argue that this will mean further regulation and lower profits. But even taking out the CIO group's earnings, book per share will continue to grow, ROTE is among the best among big cap banks, and the history of performance is solid. The five year summary shows nice gains in revenue, earnings, book value per share and also a stronger balance sheet. Lots to like.

Click to enlarge
If the quarter is a miss and the stock trades down, I'll look to buy more at $30.
Disclosure: I am long JPM.