We all know that Netflix (NFLX) management hasn't made the best decisions over the past year. Whether it was the price hike that made customers leave, the buybacks at high prices that were followed by the company selling shares at extremely low levels (and saying they didn't really need to raise capital), or a host of other poor decisions, investors have been left scratching their heads. Shares that were over $300 last year now barely fetch $80, and that's only after a more than $20 rally over the past month or so.
So the latest announcement by the company, a questionable one at best, only increases the questions of this company's management. For those that haven't followed, Netflix CEO Reed Hastings announced on his Facebook (FB) page that Netflix had surpassed 1 billion viewing hours in the month of June. There was no official press release for this, it was purely released on Reed's Facebook page! I can't confirm this for sure, but does Ford (F) release their monthly auto sales on Facebook? I don't think they do, but they do make a formal press release. Does this violate the Fair Disclosure Rule? CNBC's Herb Greenberg argues that this is a gray area, but Netflix could have done a much better job with this announcement. Netflix does use social media as part of its marketing strategy, and does maintain an active Facebook page. This move could have potential implications for Facebook as well. Should Netflix get in trouble for this, companies may need to adjust their social media practices, and that could include leaving Facebook in some respects. Facebook relies on those advertising dollars, so look for them to watch this issue closely.
This is another time when Netflix has made a formal business announcement that didn't make its investor relations page. Back in February, I discussed Netflix's announcement to bring back DVDs, sort of. It really wasn't an announcement. It was actually a post on their company blog, buried some where most people didn't really know existed. But it's just another questionable move.
But I haven't even discussed the best part of this yet. No matter what your view of Mr. Hasting's Facebook posting are, the announcement doesn't have the financial value that many think it does. Just because Netflix users have viewed more hours doesn't necessarily mean subscribers, revenues, or profits are going to be increased.
Think about it this way. Netflix has 20 customers, who stream an average of 4 hours per month. The 80 hours viewed is a new monthly record (for purposes of this discussion). Next month, each of those customers stream an average of 5 hours that month. Netflix can come out and say they broke their streaming record, with 100 hours viewed! But guess what, those 20 customers are still paying the same rate. They are just watching more. Netflix competitor Amazon (AMZN) faces the same issue with their Prime service. The price is fixed. If you watch more, they can report more hours viewed, but that doesn't really have any impact on their financials.
So where does that leave Netflix? Well, you have to look at their competitive landscape. I've already mentioned Amazon's Prime. Amazon is a company that only seems to care about growing its revenues, not its earnings. Amazon will spend millions to bring in fresh content for its users, in the effort to get more subscribers to Prime. If Amazon loses some money there, they don't care. They just want to increase revenues, and steal customers from Netflix. Amazon continues to take shots at Netflix, and even Wal-Mart (WMT) has entered in some respects. I covered that news just a few months ago.
Then there is the DVD business. Netflix has decided to not really focus on the unit that was extremely profitable for them. That move has really benefited Coinstar (CSTR), who is seeing sales soar at its Redbox rental kiosks. Coinstar has announced plans to form a join venture with Verizon (VZ) to expand the Redbox business, including going into the streaming business, in addition to the DVD business they already have. For every DVD customer that leaves Netflix, Coinstar smiles and says thank you to Netflix. Netflix had about 15 million DVD subscribers at the end of Q2 2011. At the end of Q1 in 2012, they had just 10 million. Given the current pattern and losses, Netflix could be lucky to have 7 to 8 million DVD customers by the end of this year. That number will continue to fall over time, and Coinstar is loving every minute of it.
So given the expanded competition and questionable announcement, where does Netflix stand right now? Well, they said during the Q1 earnings release that "seasonal factors" would cause subscriber growth in Q2 to be rather slow. They blamed seasonality, but investors were not truly believing that argument. Investors saw growth slowing. It's one reason why shares declined so much post-earnings.
Currently, analysts are calling for 12.7% revenue growth in Q2 to $889 million, and earnings per share of $0.05, compared to last year's $1.26. Netflix's costly move into the UK and Ireland has caused profits to fall for now, and those locales won't start to pay off for several quarters. For the full year, analysts expect just 13% revenue growth to $3.62 billion. Earnings per share are forecast to be just $0.11, after last year's $4.26. Revenues are forecast to rise faster in 2013 by 15.4%, and earnings per share are forecast to jump to $2.12. But that's still less than 2011's $4.26. Also, Netflix has stated that if their financials are good enough, meaning Q2 is good and the rest of 2012 looks good, they will potential enter new international markets. That will cause profitability to decline again and the company will lose money for 2012.
As an investment, Netflix appears to be a very good short candidate right now. I've never been a fan of their management, and the recent events I have discussed only prove the questionable moves they make. The company is moving to a lower margin business and growth is much slower than it was a year or two ago. International markets will boost revenues over the next couple of years, but they will also weigh down profitability. Also, Netflix shareholders could potentially face serious share dilution in the coming months.
With the recent rally, as seen in the chart below, Netflix is trading at about 38 times currently expected earnings for 2013. That's much higher than the 20-30 P/E Netflix traded at for a number of years, and very lofty for a company who isn't profitable right now, and whose revenues are growing in the mid teens. Netflix is a good long term short candidate, but it is rather volatile, so if you are going to short it, pay close attention to it and be ready to close your position at any moment. The big announcement will come on the 24th when Netflix reports Q2 earnings. I'm eagerly awaiting real results from the company, not the recent announcement that is just another stupid move from Netflix.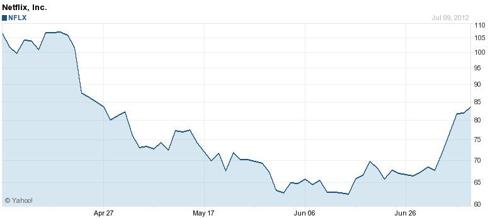 (Source: Yahoo! Finance)
Disclosure: I have no positions in any stocks mentioned, and no plans to initiate any positions within the next 72 hours.