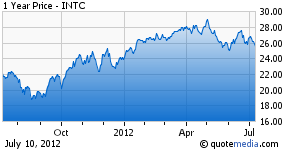 For investors looking for broad exposure to technology, semiconductors provide an attractive option. They target all end markets in the sector by providing the "infrastructure" behind the latest gadgets and gizmos while offering solid dividend distributions. One producer that I am particularly optimistic about is Intel (INTC), which is the global leader in its field. Even though Intel is expected to have less than half of the annual growth that it had over the past 5 years, it still maintains a powerful brand and is forecasted for double-digit momentum. The extent to which growth is decelerating does not justify the fact that the current PE multiple is 37% below the 5-year historical average PE multiple. I thus encourage investors to open a particularly large position in Intel and supplement it with smaller stakes in higher-risk competitors.
It's always interesting to see how semiconductors held up through time compared to the market at large, since they are typically growth-driven stocks. Over the past 5 years dating back to the recession, Intel appreciated by 3.6% while peers Altera (ALTR) and Xilinx (XLNX) appreciated by 35.2% and 16.1%, respectively. The NASDAQ, which largely consists of tech firms, gained only 8.8% as the Dow Jones fell 7%. The story notably changes over just the 12 trailing months. During this time, semiconductors largely underperformed a flat Dow Jones and NASDAQ with Xilinx and Altera losing 11.9% and 32.1% in value, respectively, while Intel actually appreciated by 10.7%. Thus, Intel's growth was hard hit against peers during the recession but appears to be on pace for a recovery.
While it's interesting to make speculations based on a stock chart, one shouldn't get too caught up into analyzing trends since research suggests that markets follow a random walk. It is more meaningful then to analyze why a given company may be undervalued.
As it stands, Intel is expected to realize 2013 EPS of $2.67 and grow 10.8% annually thereafter into the near-term. 2016 EPS of $3.63 translates to a future stock value of $54.45 at a 15x multiple. Discounting backwards by 10% yields a price target of $33.89 for more than a 30% margin of safety. The 15x multiple is only 87% of the 17.1x historical 5-year average. My result also comes on top of a 3.3% dividend yield.
Despite the evidence of undervaluation based on analyst estimates, the analyst themselves are tepid about the stock. According to FINVIZ.com, on a scale of 1 to 5 with "1" being a "buy", analysts rate Intel a 2.4 with a $29.41 price target. Northland Securities recently issued a "market perform" rating with a $30 price target, which followed a $29 price target by Maxim Group. No analyst appears to dislike the stock, but no analyst appears to love it either. Part of the reason why I think the stock is undervalued is because Intel has unreasonably lost its luster after years of operation.
By contrast, Intel's more speculative peers are more expensive. Intel trades at a respective 10.8x and 9.6x past and forward earnings versus corresponding figures of 15.7x and 14.8x for Altera and 16.4x and 13.6x for Xilinx. Perhaps the reason why Intel is more expensive has to do with its lower growth forecasts? The answer is mixed on this question. While Intel has a lower PEG ratio (1 vs. 1.13 and 1.19 for peers), annual EPS growth is expected to be nearly 400 bps less over the next 5 years. With that said, this lower growth does not justify the PE multiple being roughly 33% or more less when you consider Intel's diversification, leading market share, and excellent fundamentals.
Analysts are as reserved about Intel as they are for Altera and Xilinx - all of which are rated around a "hold" according to FINVIZ.com. The benefit about investing in Altera is that it is cash-rich with a quick ratio of 4 and assets are not tied up inventories. Xilinx has even stronger liquidity with a quick ratio of 6.6 and a current ratio of 7.2. By contrast, Intel's quick ratio stands at 1.8 while its current ratio stands at 2.1. Even still, the dividend yield at Intel is the highest at 3.3% versus Xilinx's 2.8% and Altera's 1%. Accordingly, Intel has simply too much risk factored into the stock price.
Assuming Xilinx is able to meet expectations with a 2016 EPS of around $3.44, it is fairly valued now at a 10% discount rate and 15x multiple. Assuming Altera is able to meet expectations with a 2016 EPS of around $3.18, it is slightly overvalued at a 10% discount rate and 15x multiple. Thus, I recommend an investment in Altera and Xilinx only if you are bullish on technological innovation over the next 5 years like I am. In the context of a mild recession or technological innovation, however, Intel remains the winner.
Disclosure: I have no positions in any stocks mentioned, and no plans to initiate any positions within the next 72 hours. We seek IR business from all of the firms in our coverage, but research covered in this note is independent and for prospective clients. The distributor of this research report, Gould Partners, manages Takeover Analyst and is not a licensed investment adviser or broker dealer. Investors are cautioned to perform their own due diligence.