About 14 months ago I went long on a portfolio of mortgage REITs, one of which was Invesco Mortgage Capital (IVR).
Here is the stock chart of what happened since that time, with my entry point annotated: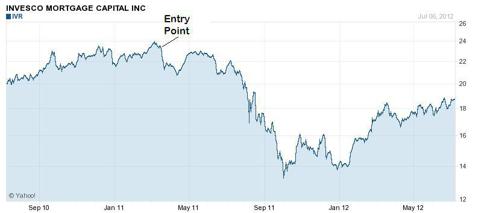 I entered at just under the 52-week high of 24 and as of this morning it is sitting at just under 19. I've collected six rounds of dividends, as follows:
Ex-Dividend Date
Record Date
Announce Date
Pay Date
Amount
Frequency
6/22/2012
6/26/2012
6/14/2012
7/27/2012
0.65
Quarterly
3/22/2012
3/26/2012
3/14/2012
4/27/2012
0.65
Quarterly
12/20/2011
12/22/2011
12/8/2011
1/27/2012
0.65
Quarterly
9/15/2011
9/19/2011
9/8/2011
10/27/2011
0.8
Quarterly
6/15/2011
6/17/2011
6/9/2011
7/28/2011
0.97
Quarterly
3/18/2011
3/22/2011
3/14/2011
4/27/2011
1
Quarterly
 
 
With my total of $4.72 in dividends, plus the current selling price, I am very nearly breaking even on my trade after 14 months, and will be ahead after a couple more dividend payments, and the investment will have accomplished my goal at the time I made it, which was to provide me with a nice income stream.
I wrote this article back in January. I had gone back through some of IVR's financial statements to try to figure out what had gone on over the previous six months, and had basically come to the conclusion that I should stay with the investment as a potential hedge against interest rate increases, since IVR's hedging strategy was set up to give them some benefit in the event of an interest rate increase. I have to say that was a pretty good decision, since the stock has gone up a respectable $4 since that time.
So, I would not feel terribly bad if I were to exit the investment today at $19 or so, but the question of the day is: should I? Is there a compelling reason for sticking with this fund rather than walking away? Alternately, maybe I should reinvest some of the cash I have accumulated from collecting all of these mREIT dividends over the past year.
Portfolio
IVR's portfolio is as follows: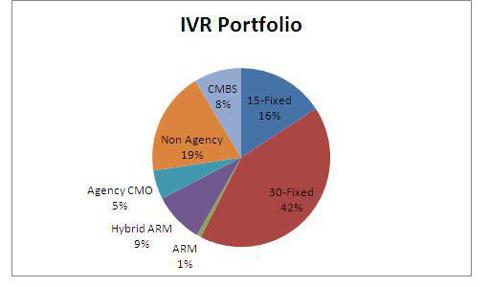 About 80% of the company's $15B portfolio is in agency-backed residential mortgages, and the remainder are in commercial and non-agency mortgages. The advantage to these mortgages is that they have a higher coupon value, but the disadvantage is that their default rates are much higher. The source of this information is Page 12 of IVR's most recent 10Q.
We went through a discussion of the advantages and disadvantages of being in the non-agency mortgage business in this article on Two Harbors Investment Corporation (TWO) in which we decided that for them, the calculation made sense.
In the case of Invesco, the coupon value of its non-agency and commercial portfolios are 4.97% and 5.57% respectively, and so they are not in quite the same marketplace as TWO, who is getting upwards of 9% from low-end mortgagees.
IVR's portfolio spread, net of borrowing costs, is 3.73% which is actually quite good, higher than Annaly Capital Management (NLY) (2.45%) and Two Harbors which was 2.70% in the last quarter, per the research we did in this article.
Growth
I've noted many times the idea that growth is good in this industry, and the most aggressive of these companies tend to do better and have a more secure dividend. In the case of IVR, growth is slow. The company's portfolio increased by about 7% between the first and second quarters, according to its most recent 10Q. This company had a bit more than $5B in assets in the fourth quarter of 2010, and about $9B in the first quarter of 2011, so the rapid-growth phase of the company happened in that time frame, and as we have seen quite frequently, when the growth trajectory slowed down in mid-2011, the dividend cuts began, and the stock price stagnated.
The good news in all of this is that the company is making money at a higher rate. The company had comprehensive income of $300M in the first quarter, compared to $91M in the first quarter of 2011, thanks to "Unrealized gains on available for sale securities" (in other words, their derivative trading was more successful).
Risk
We have been looking at the discussion of quantitative and qualitative risk associated with these mREITs with regard to potential changes in interest rates. The source of this data is the last three 10Q statements for IVR. The IVR management has set up their strategy in anticipation of an increase in interest rates: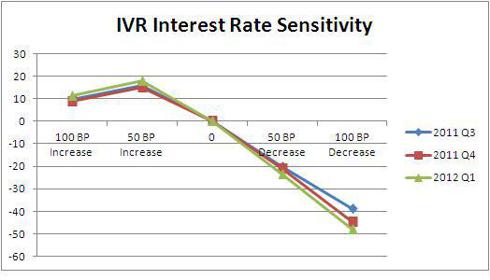 As of the end of the first quarter, the company was staying with its strategy of anticipating an interest rate increase. This still remains a pretty big departure from the norm in this industry, which hedging against an interest rate decrease. We discussed this at length in this article some time ago. This topic is also due for some revisiting, in light of the events of the last several months, wherein if anything, interest rates have continued to go down.
Here in fact, is a mortgage rate chart: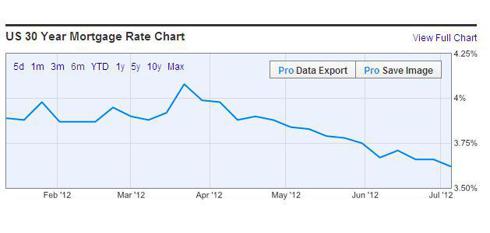 The second quarter interest rates will be lower than the first quarter. What the effect of this will be on IVR's bottom line will not be revealed until the next conference call which will be toward the end of the month.
Awhile back, the mREIT American Capital Mortgage (MTGE) came onto our radar screen. Here is an mREIT with about 14% dividends, and authorized to participate in the non-agency and commercial marketplaces, but with their hedging strategy set up for interest rates to remain the same. Importantly, this fund is still trying to grow aggressively by issuing shares of stock.
If I thought that interest rates might go up, I might be more tempted to stay in IVR, but instead, I am not. I think interest rates will stay the same or be lower between now and the election, and if that is the case, MTGE may be a better place into which I can allocate my portfolio, and avoid the interest rate risk if more efforts are made to stimulate the economy.
If that is the case I need to go long on MTGE in the next few days, now that the dividend has been recently paid, and wait for a good day between now and the earnings conference call to exit IVR.
As we are so fond of saying, the world is chaotic and there are no guarantees on anything.
Disclosure: I have no positions in any stocks mentioned, but may initiate a long position in MTGE over the next 72 hours.
Additional disclosure: I will wait a few days to exit IVR.