I have to admit that for the past few years, I wasn't wild about eBay (EBAY) as an investment idea. I thought that the online auction market had peaked - and that the aftermath of the financial crisis would put a crimp in the consumer's willingness to spend money overall.
But year to date, eBay has been outperforming the overall stock market, so obviously I was wrong.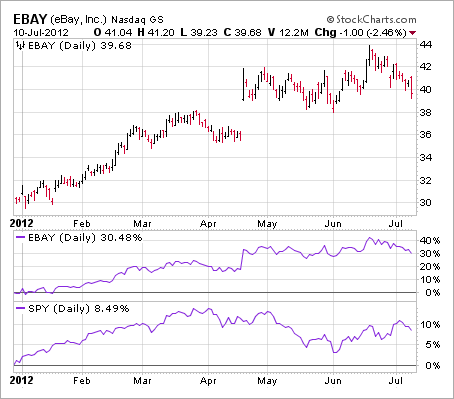 As it turns out, eBay's 2002 acquisition of PayPal was one smart move. Why? Consumers may not be spending as much now as before the financial crisis, but when they do spend, PayPal has become one of the payment methods of choice.
A chart from Statista shows that more and more of eBay's revenue can be attributed to payment revenues from PayPal. Of eBay's approximately $11.7 billion in revenues in 2011, PayPal was responsible for about 38% of that total.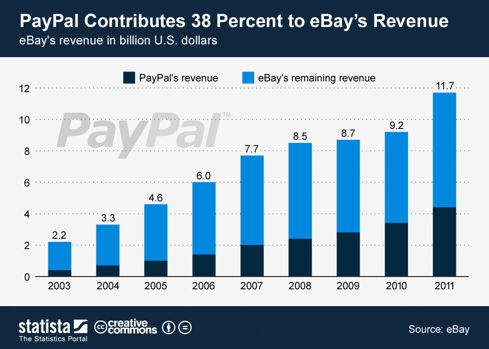 (Chart courtesy of Statista)
Statista made some estimates based on these trends to show that by sometime in 2014 revenues from payments will exceed the revenues from eBay marketplace sales.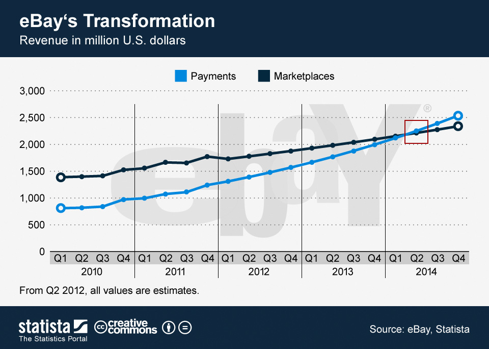 (Chart courtesy of Statista)
It seems to me that PayPal is giving more traditional payment processing services such as Visa (V) and MasterCard (MA) some competition in the merchant services space. PayPal has become more and more of an acceptable payment alternative, especially when paying online.
So when you review eBay's earnings report next week, pay attention to how much of the company's revenues come from payments and merchant services. That will provide some clues on the diversification of the revenue stream and perhaps what might be in store for Visa and MasterCard.
No I'm not long eBay - and I did have a bad payment experience with PayPal about a decade ago - but that's ancient history now, so I'm certainly not going to let that stand in the that way of buying into eBay if it I see an attractive entry point.
Disclosure: I have no positions in any stocks mentioned, and no plans to initiate any positions within the next 72 hours.