Devon Energy (NYSE:DVN) dedicates a significant part of its capex budget to develop new projects in its vast North American holdings. These are generally low risk projects, which tend to provide reliable production and increases in reserves. Its joint venture with Sinopec for $2.2 billion for the development of these holdings should significantly improve its future prospects.
Devon's focus is on oil and liquids as the conditions for natural gas are challenging. The major portion of its 2012 drilling program will be focused on oil and liquid rich gas properties. Management has the flexibility of switching its capital expenditure plan based on the changes in the outlook in the price of commodities. This provides it with the option to focus on high-return assets.
Additional reasons to be bullish on Devon Energy
Five-year dividend growth rate of almost 6%
A low payout ratio of 6%
A very high retention rate of 94%
A strong institutional presence; percentage held by institutions is 78%
A good five year cash flow average of $12.31
A 5-year ROE average of 16%
A good current and quick ratio of 1.45 and 1.38 respectively
A strong interest coverage rate of 12
Net income increased from $2.4 billion in 2009 to $4.7 billion in 2011.
Cash flow per share rose from $8.80 in 2009 to $11.92 in 2011.
Sales increased from $8 billion in 2009 to $11.4 billion in 2011.
It had roughly 3.00 billion barrels of oil equivalent (NYSE:BOE) at the end of 2011, of which roughly 52% were natural gas and the rest were liquids. It has steadily increased its reserves over the past five years as indicated by the graph below.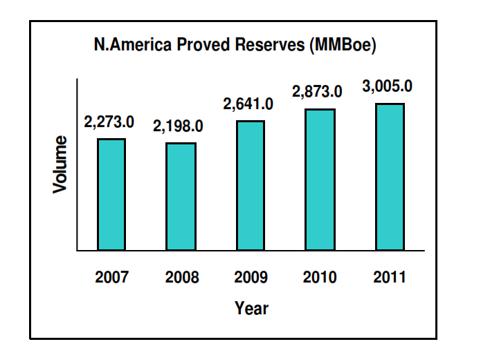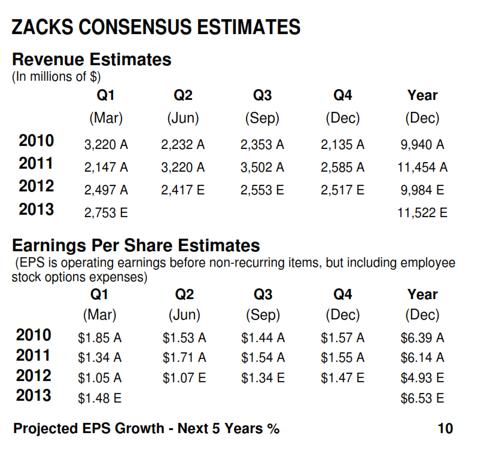 Cons of owning Devon Energy
Its profitability is subject the commodity prices (oil, natural gas and natural gas liquids), which tend to be volatile and cyclical in nature. A rapid change in prices could boost or significantly lower profits and earnings.
Management tends to hedge a substantial portion of expected oil, gas and Natural gas liquids production. While this can protect it from price declines it could also prevent the company from capitalizing fully should commodity prices rise beyond the hedge prices established in the contracts.
Company: Devon Energy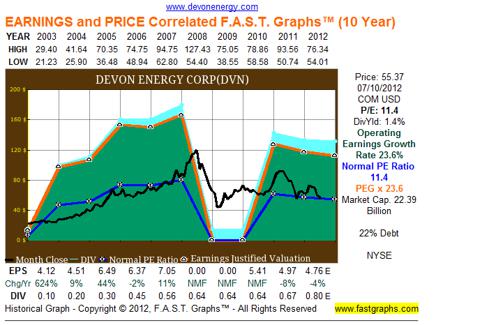 Brief Overview
Levered Free Cash Flow = -2.56B
Relative Strength 52 weeks = 34
Cash Flow 5-year Average = 12.31
Profit Margin = 44.12%
Quarterly Revenue Growth = 1.6%
Quarterly Earnings Growth = -5.5%
Operating Cash Flow = 5.99B
Beta = 1.3
Percentage Held by Institutions = 78%
Short Percentage of Float = 1.8%
Growth
Net Income ($mil) 12/2011 = 4704
Net Income ($mil) 12/2010 = 4550
Net Income ($mil) 12/2009 = -2479
Net Income Reported Quarterly ($mil) = 393
EBITDA ($mil) 12/2011 = 6890
EBITDA ($mil) 12/2010 = 5861
EBITDA ($mil) 12/2009 = -2069
Cash Flow ($/share) 12/2011 = 11.92
Cash Flow ($/share) 12/2010 = 11.02
Cash Flow ($/share) 12/2009 = 8.8
Sales ($mil) 12/2011 = 11454
Sales ($mil) 12/2010 = 9940
Sales ($mil) 12/2009 = 8015
Annual EPS before NRI 12/2007 = 6.00
Annual EPS before NRI 12/2008 = 9.91
Annual EPS before NRI 12/2009 = 4.03
Annual EPS before NRI 12/2010 = 6.42
Annual EPS before NRI 12/2011 = 6.14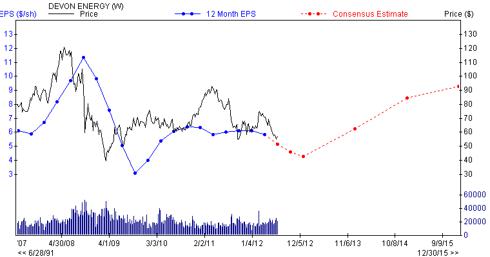 Dividend history
Dividend Yield = 1.40
Dividend Yield 5 Year Average = 0.90
Dividend 5 year Growth = 5.66
Dividend sustainability
Payout Ratio = 0.06
Payout Ratio 5 Year Average = 0.11
Performance
Next 3-5 Year Estimate EPS Growth rate = 9.8
ROE 5 Year Average = 16.02
Current Ratio = 1.45
Current Ratio 5 Year Average = 1.06
Quick Ratio = 1.38
Cash Ratio = 1.18
Interest Coverage = 12
Retention rate 94%
Conclusion
Devon is still in a downtrend and could potentially trade all the way down to $50 before a bottom is in place. Consider waiting for a test of these ranges on low volume before getting into this stock if you are bullish. Alternatively, you can sell puts at strikes you would not mind owning the stock at. The benefit of this strategy is that it provides you with the chance to get into the stock at a lower price or get paid for trying to.
EPS and Price Vs industry charts obtained from zacks.com. A major portion of the historical/research data used in this article was obtained from zacks.com. North America proved reserves (MMboe) chart sourced from zacks.com
Disclosure: I have no positions in any stocks mentioned, and no plans to initiate any positions within the next 72 hours.
Disclaimer: It is imperative that you do your due diligence and then determine if the above play meets with your risk tolerance levels. The Latin maxim caveat emptor applies-let the buyer beware