To outperform the broad market indices, the contrarian investor must find value where others fail to see it, choose to ignore it or are constrained from participating in it. Sometimes that search for value will lead the discerning investor to a faraway place, to a little known or despised part of the investment universe. It will usually seem like a hopeless situation, the last corner in the world a rational person would allocate investment capital.
But in those securities that are out-of-favor lies opportunity: buying at the point of ultimate pessimism and the correspondingly low prices it causes, creates an optimal investment situation; low risk coincident with high potential for reward because purchase price inexorably dictates investment risk and return. It is often said that investment returns are generated when securities are bought, not sold. That's because investors must purchase securities at a reasonable valuation and patiently wait until more fully priced to achieve high risk adjusted returns.
Today, I submit to readers Billabong (OTCPK:BLLAY), a retail company in turmoil but owning terrific brands, priced so low that I think opportunity has been created for those willing to stand apart from the crowd.
Business Overview
Billabong International Limited engages in the marketing, distribution, wholesale, and retail of apparel, accessories, eyewear, wetsuits, and hard goods worldwide. It provides surf, skate, snow, and sports apparel. The company offers its products under the Billabong, Element, Von Zipper, Honolua Surf Company, Kustom, Palmers Surf, Nixon, Xcel, Tigerlily, Sector 9, DaKine, and RVCA brand names. Billabong International also involves in licensing its trademarks. The company distributes its products through specialized board sports retailers; own branded retail outlets; and online sales channels. Billabong International Limited was founded in 1973 and is based in Burleigh Heads, Australia. (source: Yahoo Finance)
Why is Billabong Priced So Low?
The first thing to do when presented with an alleged investment bargain is to investigate why it is priced at a discount. A house hunter would ask when confronted with a bargain priced house: "What is wrong with it?" Investors in equity securities should do the same. Here are a few things causing Billabong to trade at less than intrinsic value.
(click to enlarge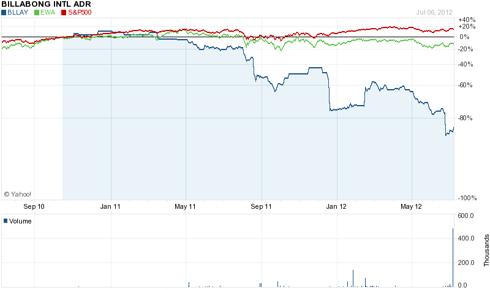 Weak balance sheet, equity issuance and share dilution:
As part of a recent brand acquisitions (RVCA) and strategic changes to its business model, Billabong impaired its balance sheet when it recently acquired retail chains and other assets in order to vertically integrate and create a direct to consumer model whereby it cuts out the margin reducing middle man. For a lucid discussion on the state of the retail market and the "Big Squeeze," see Arne Alsin's article where he provides compelling evidence of the shift towards a more efficient direct to consumer retailing model. Billabong's strategic vision (online sales and branded retail outlets) only adds credence to his assertions.
Nonetheless, Billabong's retail location acquisitions stretched its balance sheet and management decided to issue equity at a discount to recapitalize the business rather than sell off brand assets (like it did when it sold a 48.5% stake in Nixon for $285 million in 2011). The announcement caused a drastic decline in the share price, more than the dilution of the new equity. The company now has 410 million shares outstanding and a A$434 million market capitalization at the time of this writing.
Let's put the current valuation in perspective: Billabong generated A$192 million and A$253 million in EBITDA in 2011 and 2010, respectively (cumulatively totaling about 103% of the current equity market value in two years' time). The Nixon transaction was valued at 9.2x last twelve months EBITDA. Using a discounted multiple of say 7 times Billabong's 2011 depressed EBITDA yields an implied enterprise value of A$1.24 billion (A$1.34 billion for the equity, less pro forma debt of A$100 million after the capital raise), representing about a 47% premium to the TPG Capital offer and a 286% premium to the current share price.
Trading platform:
US investors must purchase their equity claim on Billabong's business through an unsponsored American Depository Receipt (ADR). To many retail investors, the over-the-counter market is synonymous with a risky investment; however, the pink sheets are unfairly associated with speculative penny stocks of dubious businesses. But I assure you skeptical investor, buying Billabong ADR shares represents ownership of a real business, which generates a lot of revenue and throws off considerable free cash flow.
In fact, the ADR represents two shares of Billabong's ordinary share capital that trades on the Australian market. That's why the price is about double the ordinary shares, give or take some currency fluctuation. ADR's are just a mechanism for providing foreign companies access the U.S. capital markets; ordinary shares are held on deposit at a banking institution (in this case Citibank) which then issues ADRs to U.S.-based investors as claim on those ordinary shares held in deposit.
In other words, ADRs most definitely do represent a claim on the underlying value of Billabong's business, although these ADRs happen to be lightly traded (only 3,600 shares traded on July 9 and the average daily volume over the past 3 months is 9,500 according to Yahoo Finance). But lightly traded securities are fertile ground for bargain hunting, less information efficient and marauded by institutional investors than those popular (and likely fairly or overvalued) investments in the S&P 500.
Rejected takeover bid:
In February 2012, private equity firm TPG Capital made a A$3.30/ordinary share bid for Billabong (or A$6.60 per ADR), representing an A$842 million ($906 million) valuation for Billabong's equity. The founder and controlling shareholder Gordon Merchant (owning about 17% of the business) declined the offer, stating that "in his view the price is significantly below the underlying value of the business." I agree.
Billabong owns some of the most iconic brands in the board sports retail segment, which are both highly salable and that throw off considerable cash flow. I wouldn't be a surprised if an established retailer like Nike (NYSE:NKE) or Under Armour (NYSE:UA) made a white knight takeover bid to gain a bigger foothold in the niche board sports retail market, potentially at a premium to the TPG Capital offer. To further illustrate how absurd the current $434 million valuation of Billabong has become, we can look to the aforementioned Nixon sale (48.5% stake) for guidance. If you believe the remaining 48.5% of Nixon owned by Billabong (Nixon management owns the remaining 3% interest) is worth a commensurate amount, that brand asset alone represents 66% of the current market capitalization.
Dividend reduction:
As part of shoring up the balance sheet, management reduced the dividend to $0.03/share, which represents about a 2.9% yield at current price levels. This likely caused a lot of forced selling by institutional investors forced to sell because of investment constraints as a result of the dividend cut. Other investors were likely forced to sell due to the equity raise consummated in June 2012.
Conclusion
Successful investing involves a rigorous search for securities selling at a large discount to the intrinsic value of an underlying business' assets and its ability to throw off cash flow to its fractional owners. Many times it requires investors to seek refuge not by allowing the market to guide their investment decisions, but by viewing price swings and volatility as a creator of investment opportunity. It also requires investors to have a broad investment mandate; the ability to examine opportunities outside that which is well known, familiar and confined to conventional wisdom. Of course, investments that sell at a discount for deserving reasons must be avoided.
When the closing bell rings on Wall Street at the end of the trading day, all that matters is that investors buy securities at less than others are willing to purchase them at some point in the future. I think that time is near for Billabong, especially since Mr. Merchant is open to a takeover (at the right price).
Disclosure: I have no positions in any stocks mentioned, but may initiate a long position in OTCPK:BLLAY over the next 72 hours.